Following the pledge to combat obesity globally, The Coca-Cola Company has started to deliver on promises by launching its first all-natural, low-calorie cola in fully recyclable bottles with unexpectedly green labels under the brand name Coca-Cola Life—in Argentina. Although the new light-brown drink features a mixture of both sugar and its stevia-based substitute, it has almost twice fewer calories than a regular Coke—108 per 600 ml bottle. Stevia has been previously used as a healthier alternative to sugar in 45 Coca-Cola's products such as Vitaminwater and Fanta, but never in colas.
Another innovation of this new brand is its packaging—an eco-friendly PlantBottle consists of up to 30% recycled natural materials, and is lighter than a regular PET bottle.
The agency responsible for the new package design, green label and the "Life" wordmark on it is the Seattle-based Platform.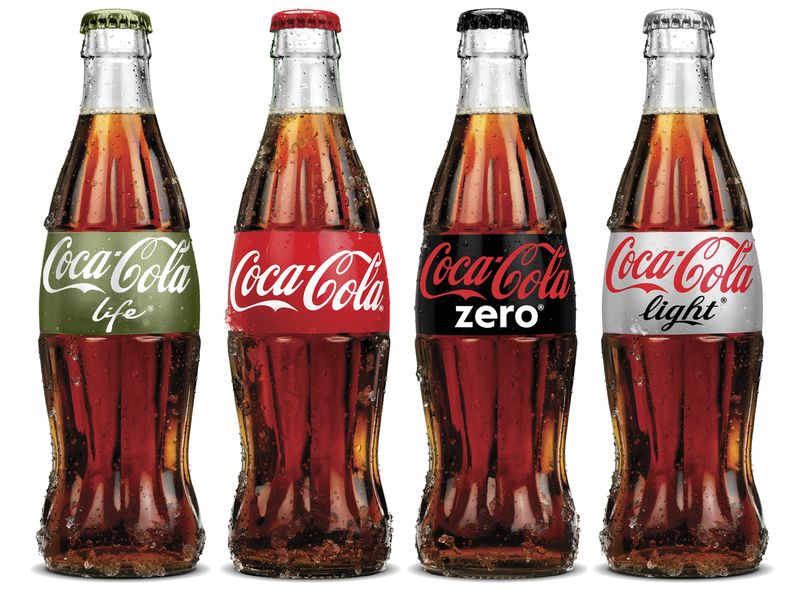 While the green-labeled bottles of Coca-Cola Life are currently available in Argentina only, in another South American country, Colombia, Coca-Cola has recently introduced an even "eco-friendlier" innovation—ice bottles that melt after the beverage is consumed. To produce these bottles, the company creates the ice molds frozen at -25ºC and then fills them with cold Coke. Each bottle is etched with the Coca-Cola logo.