Google is offering its users a deeper insight into English words from the linguistic point of view—all with the updated search feature. In addition to previously offered short definitions of the words, pronunciation and synonyms, from now on "profiles" of words feature extra bites of knowledge, including etymology, sample sentences and translations.
To get grammar instructions for any word, users of Google Search can use a query "define [term]." The word profile card popping up above the search results will feature sample sentences with that word and its translations into more than 60 languages—choose the target language from the drop-out box. The system will remember the choice, and the future definition searches will offer a translation to the same languages. Currently, translation suggestions are not provided with sample texts. Moreover, the updated search will provide an insight into the word's etymology and its frequency of use over time. For some words the results will be displayed as a flow chart, and for some they will come in form of a regular text.
Now, users are also invited to leverage the audio feature of the Google Search app. Once they voice a request concerning the linguistic details of the word (like "what's the definition of [some word]" or "what are the synonyms [of it]"), Google will give a prompt audio reply.
Google wrote that the update was made "to give you more information about these words beyond just their definition." The update made for desktop and mobile has been restricted to the USA, and Google doesn't comment if it's going to roll it across other English-speaking countries. It also hasn't shared any plans on localizing the dictionary feature—so far, the linguistic insights directly from the search page are available for English words only.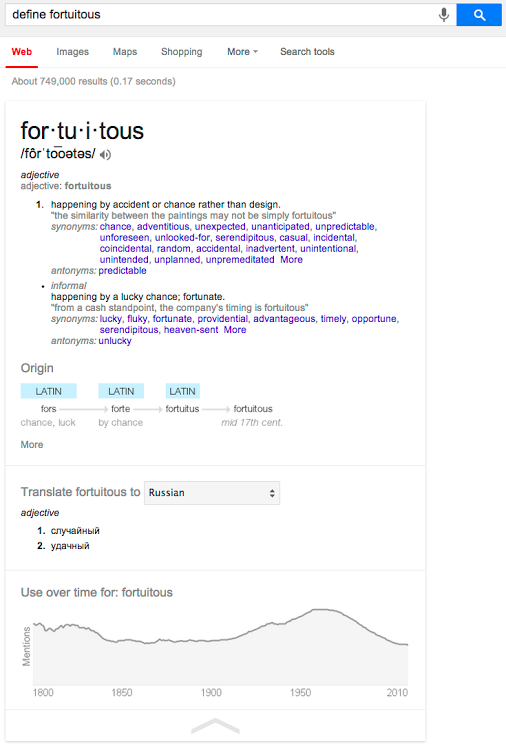 * Picture on the thumbnail is from www.macmillandictionaryblog.com