Mercedes-Benz promotes its new CLA in Singapore with a new campaign that revolves around music. The auto brand has launched a digital platform, Corporate Rockstar, where users can discover their rockstar personas by checking in with their Facebook profiles to the site. On analyzing the profile, the hub detects the users' musical alter egos and offers them special playlists based on their social graphs.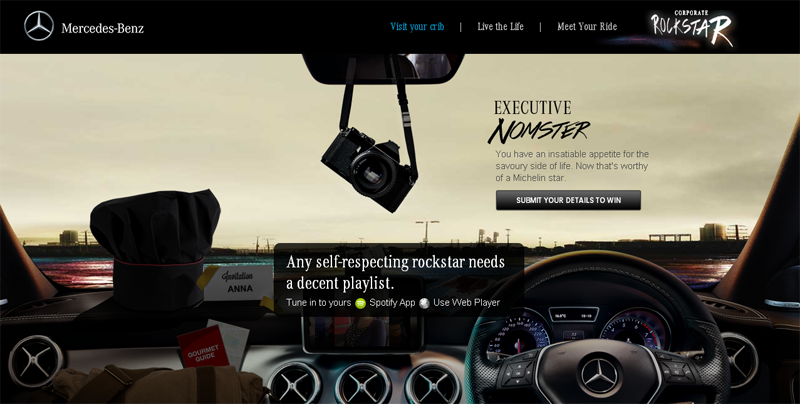 Users fall into six groups—Master Explorer, Minister of Thrills, Supreme Spartan, Media Wizard, Extremely Secret Agent, and Executive Nomster (foodie),—depending on what they write about and comment on their Facebook page. Participants also can sign in using their LinkedIn profiles to let the Corporate Rockstar app explore their music personality through professional connections. Based on LinkedIn data, the microsite builds a personalized rockstar business card and an unconventional CV, which can be downloaded and shared via Facebook. Users are also invited to skip to branded playlists on Spotify—each of the lists was specially build to sync with the mindset of the user.
Through its Corporate Rockstar promotion, Mercedes will be also sharing nice prizes. While the digital experience is available for people all across the globe, girfts are reserved for locals only. Residents of Singapore can submit their basic personal details for a chance to win 50 Spotify Premium subscriptions and 3 Rockstar Weekend Experiences.
The effort by creative agency BBDO is quite unique for the market as it's the first time a major brand partners with Spotify since the music streaming arrived into the region three months ago. The campaign also marks an important marketing switch for Mercedes—the brand used to be advertised to older consumers like business execs, and now it appeals to "younger, more corporate audience," commented Sunita Kaur, director of Asia at Spotify.