The U.K. edition of the global "Not Normal" campaign showcases different unconventional incarnations of MINI cars, which have been re-imagined by the brand's fans for pleasure, not for money or fame. Still, fame is to come to some of them, drawn by the latest marketing effort, developed by iris Worldwide. The brand has sourced around the web some images of the avant-garde MINI-inspired inventions—ranging from a cake to a "bug" MINI car with human legs— to turn them into ads.
Over the web, MINI spots numerous impressive creations that celebrate the car's style and philosophy, but sometimes it's hard to identify the creators of these pieces. In the film that aired on August 1, the brand is asking online community to help find people behind ground-breaking creations like the MINI with "wooly wheels" and a chandelier decorated with tiny MINIs. The brand wants to celebrate these craftsmen in the next phase of the campaign by indicating their names in the ads. The "orphaned" creations have been featured on the dedicated hub, where users can leave their comments on who might be the father or mother of the MINI-inspired pieces.
The brand is also encouraging fans to showcase their own off-beat MINI-inspired tributes. To join in, users have to create a new unexpected incarnation of MINI, take a photo, video of it or write a story and share their works using the hashtag #mininotnormal. The most inventive ways to show the passion for MINIs can also be featured in one of the ads.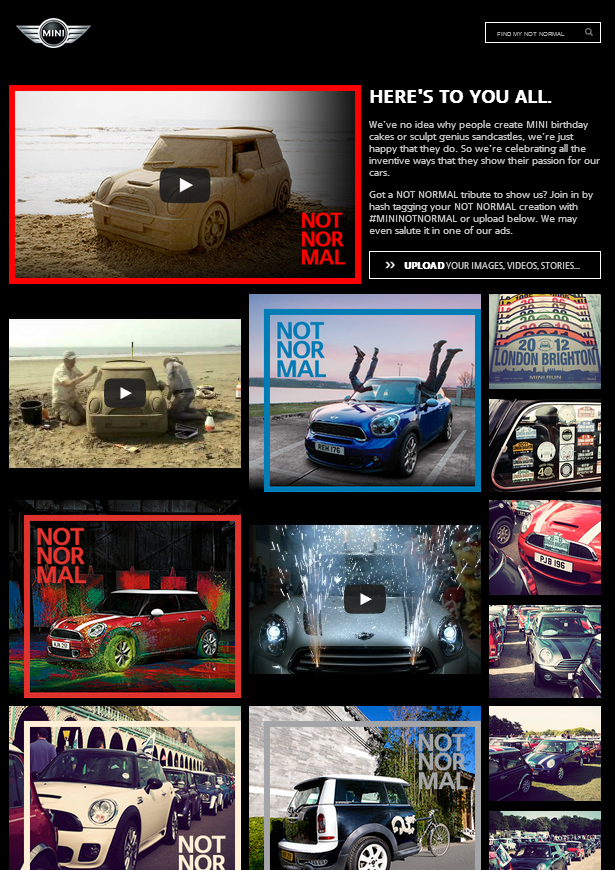 The outdoor part of the campaign will launch on August 12. MINI will roll out seven large digital screens on London's Cromwell Road—the huge ads will be featuring a personalized message to MINI drivers as they pass through the screen. Special spotters at one end of the road will identify the gender of the person behind the wheel as well as the model and the colour of their MINI. Based on this data, different pre-planned «saluting» messages will be displayed on the digital screens, with the most relevance possible.
The promotional on-road activity will also feature a giving element. On passing the screen, the MINI drivers will be able to get a gift from a special Mini-branded roadside stop after the digital screens.
"We're going to deliver a message that is tailored to them as well as, hopefully, an experience they can take away, like a really nice breakfast if they're driving into London early in the morning, or a free tank of petrol," commented Anna Inglese, national communications & direct marketing manager at MINI.
Along with the launch of the digital screen ads, MINI will release a TV commercial on August 12. The campaign is set to run for eight weeks, while its digital element may continue for a longer time if turns successful.