Montblanc, the brand of sophisticated accessories, has unveiled a film about the creation of 2013 year's limited-edition "Patron of Arts" fountain pen. Every year since 1992, the brand releases limited-edition luxury pens to triumph the philanthropists of the past who supported art. This year's piece is devoted to Ludovico Sforza, the Renaissance ruler and patron, who supported painters, artists, architects and men of letters, including Leonardo Da Vinci and architect Donato Bramante.
This year's homage includes two Limited Editions 4810 and 888, which are visually based on the impressive architecture of Sforza's home, Castello Sforzesco, in Milan and Leonardo da Vinci's fresco for the ceiling at "Sala delle Asse" in the Milanese castle.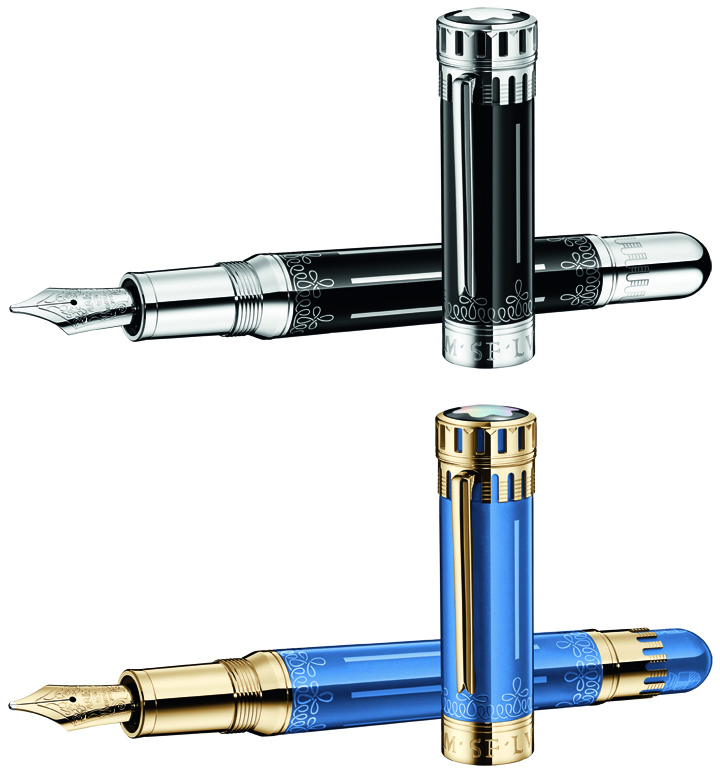 The first design, 4810, is black with 925 sterling silver inlays—the black colour was chosen because Ludovico Sforza was called "il Moro" (the moor) due to his unusually dark complexion. The second design, 888, features majestic blue lacquer and 750 solid gold adornments. Both designs, inspired by cylindrical towers, feature the engraving inspired by Ludovico's initials, and the 888 version includes a crown and the patron's coat of arms. The pens are available for $2,700 (the sterling silver version) and $10,000 (for the gold version).
The product was released in April, and a few days ago the brand launched a video narrating the story of the patron, who inspired the edition, while demonstrating how the watercolour sketches of the new pens were created. Through the series of limited-edition Patron of Arts writing pieces, Montblanc celebrates the people from different epochs who used their power to support arts, and emphasizes its own contribution to the world history. The video ends with a statement, "A writing instrument to tell a story. An invitation to write your own legacy."
The collection of Patron of Arts fountain pens include tributes to the British philanthropist Henry Tate, Pope Julius II, Marquise de Pompadour, Queen Elizabeth I, the explorer and archaeologist Max von Oppenheim, and other prominent figures.
Brands frequently dip their toes into the history of arts or turn their own history into an art retrospective in their promotional campaigns. In May, Chanel released the 18-minute film "Once upon a Time" by Karl Lagerfeld to commemorate its 100th anniversary. Salvatore Ferragamo also created an exhibition and released a graphic story about the brand's founder.