Interbrand's "2013 Best Global Brands" top 100 list has revealed that Coca-Cola, which used to lead the chart for the previous 13 years, has lost its dominance as the most valuable global brand, yielding precedency to the technology giant Apple estimated at $98.3 billion. The total value of all 100 best global brands is $1.5 trillion, which is 8.4% record increase over 2012, Interbrand reports.
The #2 brand last year, #8 in 2011 and #36 in the inaugural 2000, Apple has pushed the iconic soda brand as far as the third slot, while Google has ranked second (+34%, $93.2 billion). The top 10 "2013 Best Global Brands" list includes the same companies as in 2012, the only difference is their ranking—Apple (+28), Google (+34), Coca-Cola (+2% change in value), IBM (+4%), Microsoft (+3%), GE (+7%), McDonald's (+5%), Samsung (+20%), Intel (-5%), and Toyota (+17%).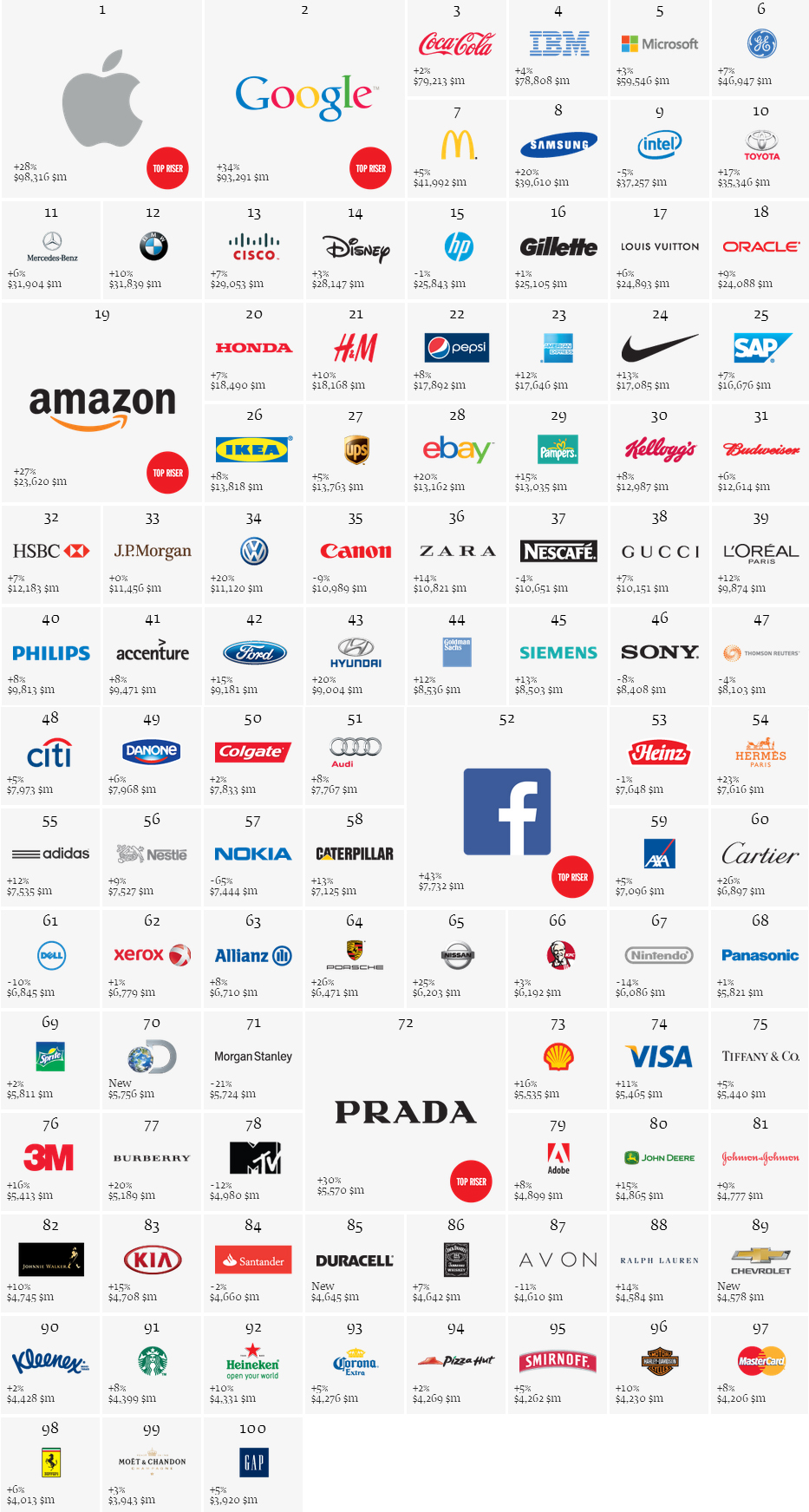 The top risers this year are Apple (+28%), Google (+34%), Amazon (+27, #19), Facebook (+43%, #52), and Prada (+30%, #72)—all of them have managed to offer the market something strikingly new and valuable. The new brands in this year's report are Discovery (#70), Duracell (#85) and Chevrolet (#89) that managed to rush forward with their tech innovations and initiatives centered around public interests. The biggest faller this year is Nokia, which has dropped to 57 this year.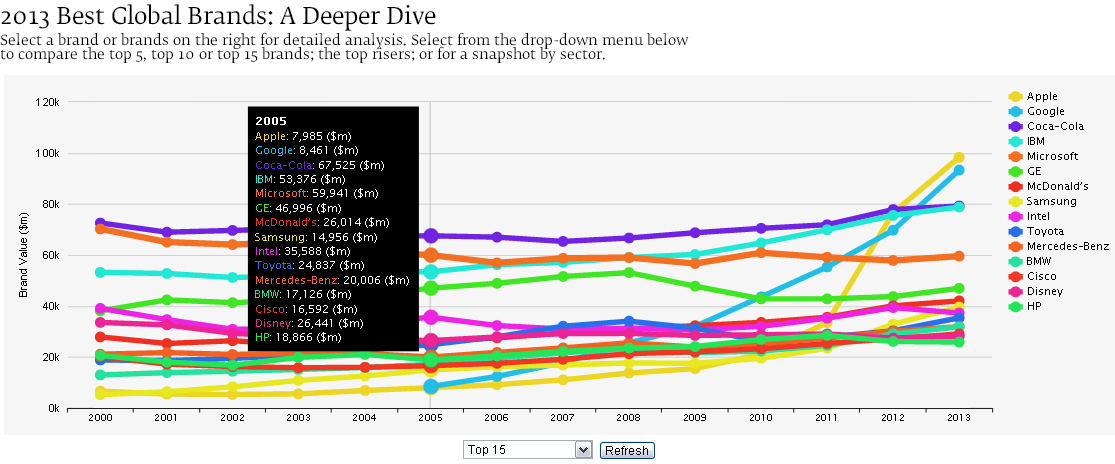 For a deeper insight into the brand's marketing activities during the previous 12 months as well as its overall business approach, Interbrand has created a short dossier that includes a brief marketing strategy, a relevant comparing chart, quotes, forecasts, hopes, etc. for each of the brands on the list. In Apple's profile, Interbrand draws a rather bright picture of the brand's future and gives the tech giant some advice:
"The focus for the future is clear: Apple must succeed in slowing Samsung's momentum and capture the booming Chinese mobile market. Whether or not the brand can accomplish this remains to be seen, but one thing is certain: The world is waiting for the next iteration of Steve Jobs' classic "one more thing" announcement, and clear proof of his declaration that the brand's "brightest and most innovative days are ahead of it."
The site also features sector overviews that shed light on the current conditions and trends in the industries ranging from Food and Apparel to Financial Services and Hospitality. There are also articles and interviews in which top managers of the best global brands share their visions on the business in their sectors. Find the 128-page study here.