Last week we met with Emma Beckmann, Country Director of Landor Moscow in their cozy office on Tsvetnoy Boulevard to talk about the results of their first year in Russia. In the interview, she discusses how the creative industry has changed over the 20 years that she's been in this business across different geographical markets, kindly shares her view on the Russian bureaucracy and ways to tackle it, reveals her personal client wishlist, and gives valuable cultural advice to international agencies looking to enter the Russian market.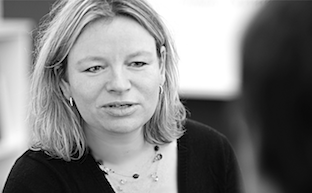 —You've been working at Landor as a Client Manager and then Director for about 19 years. It seems to be your first and the only job. Is that correct?
—Yes, it feels like I've been working at Landor forever! Actually, I did work briefly for a small independent design agency years ago right after finishing studying. My boss and key mentor at the time, had previously worked for Landor and once said: "You'd love it. Why don't you try it?" Later, I had a call from a headhunter who was looking for a junior German-speaking marketing manager, so here I am nearly 20 years with Landor. I spent my first 4 years at Landor London and then I was part of a small team of 5 that opened our Hamburg office.
—And how many of you are there in the Moscow office now?
—We are 16. When I came over 18 months ago, there were just two of us: myself and Nicolas Zeuss, who is our Design and Creative Director. If I could find the right people, we would probably be 25-30 by now, there's still a lot of work to do.
—How has the creative industry changed over this quite a long period of time? Or have the clients and their aspirations changed? 
—It's interesting because I've seen different markets at their different stages. Obviously Russia is a developing market from a branding and communications perspective, it is behind Germany, however even Germany as a market is behind the U.K. and the U.S. in terms of development. If we look back 20 years ago, we'd see that it was design-driven, now branding is much more about strategy and not just design for design's sake. It's about creating an overall experience which may be graphic-driven, digital or physical in the form of the environment, or it could be an experience that responds to a particular idea achieved through any number of possible media. I don't think that the Russian market is quite there yet.
For many of our corporate clients in Russia we are still doing corporate identity programs that we were doing in Germany about 3-4 years ago and in the U.K.—about 6-7 years ago. Obviously, things will develop here as well, and we see that more and more clients here value the strategy and insight-driven work.  So, I started working in the very developed market, but at that time it was obviously a developing industry. And I was able to see the changes and travel from the U.K. market to continental European market, and now to the emerging market, taking those learnings from market to market.
—You're an experienced manager. What a perfect client manager must know and be able to do? What are your requirements? I know you've been recently looking for a Senior Client Director for the Moscow office.
—We are always looking for various talented people. In the Client Director role, there are people who are either general communicators or specialists in particular areas, whether it is planning or detailed project management. I think what makes a good Client Director is the ability to think holistically. People with this ability are probably more generalists, but they understand what the client needs. They listen and translate what the clients think they need into some course of action, then provide the right solutions or the right product, or the right offer, or the right tool—you need to have experience to do all that, experience in asking the right questions.
For example, here in Moscow we receive incoming requests where a client asks for the development of a logo and a brand book. We start by asking them why they think they need a brand book, it's important to dig into the clients' background, try to identify the problem, to analyze what drives their needs for change. Quite often it will be a brand engagement issue where internally people might not understand the identity system, what it represents, what the values of the brand are, what it stands for, and a brand book is not necessarily the right answer. I think that the key competence of a Client Director is to get to the core roots of the client's challenges and propose the right course of action to provide solutions.
Also, as we are an international agency with worldwide representation, a Client Director has not to just understand the client's needs, translate them into actions and become a medium between the client and our own studio, he or she also needs to work closely with our European offices and their teams who have little understanding of the way Russians do business. So that's challenging.
—How successful have you been over these first 18 months? What are the results of the first year in the Russian market? 
—I have to say we had no idea how successful we would be. For a long time we had a track record in Russia: we did the S7 branding, then we did BP, but all that was 5-6 years ago, and we hadn't done much in the Russian market since. For a few years the reason for that was that it wasn't convenient to do it from another office, communicate mainly via email and not being able to meet in person. When we came to Russia, we didn't have a client base here, except a small project for  IKEA Shopping Centres, which I had been running from Hamburg.
But in terms of demand for our services and incoming new business requests, we've been more than lucky. We're ultimately a start-up and we fund ourselves—the investment in the cost of setting up the Moscow office has been covered locally.  Now we're already making profit and we broke even within our first year of operation —we by far exceeded expectations in terms of speed of growth.
In terms of clients, one of our key clients is a Russian Copper Company (RMK acronym in Russian), a mining and copper producing company from Ekaterinburg. We've just completed  their rebranding, which launched this July.  We're doing some airline work with Aeroflot at the moment, working with PMI (Philipp Morris International), with Russian Standard, Mareven Foods (the company which owns the Rollton brand), SportMaster, Mega Shopping Malls. So that's a huge mix—everything from big corporate rebranding programs down to local packaging projects.
We have a small design studio on the ground with 5 people in it—so we know the market, we know the consumer and most of our work is done in the Russian language. We have a good creative team brought together due to a rotating system with designers coming from the other Landor studios. For example, we may have designers from London coming in for 3-6 months.
—Do your prices differ from the ones in the Hamburg office, for example? Have you conducted any research on the average fee for a typical branding project in Moscow?
—No, we haven't. We've talked about it, but decided against it because we can't compete with the local agencies. We know the price range more or less through pitches, or from people who have joined our team from local Russian agencies. We have a feeling of what some of the other international agencies with local representation charge, but we don't compete on price.
—You mean that Landor has no competitors in Russia?
— No, of course we do have. Obviously, Interbrand and TBU are important competitors here. As well as some international agencies that extensively work with Russian clients from their overseas offices—like Fitch from the London office. And there are some very creative local agencies.
—Do you do any proactive business development, like speaking at conferences, building media relations or doing an external PR?
—We do nothing, simply because we haven't had time, and, to be honest, the necessity to do it either. For these last 18 months, we've worked through word of mouth, networking, referrals, numerous incoming requests—we've been very lucky in that respect.
Actually I've spent this morning putting together our PR and marcomms plan for the rest of this year. For the first year, I was 100 per cent involved in the day-to-day client work, so hadn't had time to do it. Now as my team grows, I have more time to focus on PR and thought leadership, which is very important to us—in online and potentially printed media. Just three months ago we finished our first major projects and that gives us something to talk about in the market—I hope that will generate more new business in the long term.
In terms of new business, I have my personal 'wishlist' of clients in Russia, with Rosneft leading this list. In March 2013, after completing their acquisition of TNK-BP, they became the largest publicly traded oil company in the world. I think working with them would be a huge opportunity to move them forward and build their reputation not just in the Russian market, but internationally as well.
—Over this year, have you established any connections within the government institutions? Are you considering any state-owned companies as your most desired clients?
—Not specifically. Although, Rosneft is a state-owned company. Another brand on my personal client wish list is Russian Post. They have so much potential in terms of network and distribution—I don't think that any other retail chain in Russia has got so many locations. They do postal banking, delivery services, and traditionally Russian Post plays a very important role in the lives of Russians.
—Probably they need strong management rather than rebranding? 
—I think that it is the case when the brand doesn't link to business strategy. If you have a clear idea of what you are as a business, and you know what your vision is, it should be reflected in the brand, not just in a visual representation but in the whole experience, which Russian Post certainly lacks. This brand has just popped up in my mind as a dream project, because it's not just a logo change, it's an opportunity to drive transformation of the company.
We've taken part in a few tenders for state-owned companies, however, as a non-Russian legal entity, and a foreign representative office we don't always qualify due to legal restrictions. Also, too much red tape is usually involved in this process, which is a shame. Another problem is that we are not happy to provide free creative as part of the pitching process, especially when it's so unpredictable whether those efforts will pay off. Often with state-owned companies the level of investment you need to make into the pitching process is not in line with what may potentially come out of it.
—In your perception, how is doing business development in Russia any different from doing it in Western European countries—in all aspects, such as cultural norms, business ethics, economic environment, probably, political environment? What an international agency entering the Russian market must be aware of?
—Obviously, there are big cultural differences, and if you are not aware of them you'll struggle to be successful in this market. First off, I never thought of the importance of hierarchy here. For example, quite often I have to go to client meetings just because I'm the Managing Director. I'm not on that project directly, nor am I involved in the day-to-day work for that client—nonetheless, I have to be present there, I have to say a couple of sentences just because the client values what I say, because of my title. And that's something I have to do very often—not because I add particular value at those meetings, but because the client wants to make sure that the boss takes care of them.
The hierarchy of titles plays a big role here. You can use your title to get things done—for example, when the team is struggling to agree with the client on something, you suggest a decision with which the client immediately agrees, but it turns out that it is exactly the same one your junior colleagues have been saying for quite a while. In Anglo-Saxon companies, on the contrary, top managers usually delegate responsibilities to junior colleagues.
Another thing, which is very different, is the volume of red tape around paperwork and contracts. Usually an agency in Western Europe writes a proposal, a client agrees on it with a signature and we start working. It's not as easy in Russia. We are a part of WPP, so we are a public listed company. This means we can't start working on a project until we sign a contract. The difficulty is that there can be a 2-or 3-month gap between winning a pitch, writing a proposal and having a signed contract in Russia due to all the red tape. And you can't work. It is less of an issue for us, because we manage it through our experienced Russian chief accountant. But you can't underestimate the level of bureaucracy in working processes with clients in Russia.
Another important issue is when you're dealing with the clients who are not decision makers.  In Russia, it's common case when you work with a middle management team who may not agree every detail along the way with their top manager. Very often, it will turn out that all the work you've done needs to be changed because the decision maker doesn't like it. So, wherever possible, an agency must make sure that they have access to the decision maker, because they may end up going too far in one direction to have to start again just because the CEO doesn't like the blue color, for example.
Fourth, is probably relationship. Business is more down to personal rather than professional relationships here. In Western Europe you tend to enter into a business relationship, sign a contract and then you might become or not become friends with the client. My feeling is that relationship and personal trust here are much more important, and then business will come afterwards.  It is important to invest time in building relations and networking with a client, maybe having coffee with them for a year and talking about what you could do. And when they trust you as a person, they project this trust on the agency you run—in this way you can get a client for life.  This is very much similar to the Asian market where business is largely based on relationship. I'd say that Russia is a kind of bridge between the Asian style of business and European.
—May I ask you about your family and the relocation experience? Do you have children? Do they go to a Russian school?
—My children go to school at The International school of Moscow, and yes, they do learn Russian—actually, I think it is required by law: international schools have to offer Russian studies to get a license to operate in the market. And my children are young: they are 9, 8 and 5.
 —Was it too difficult for your family to get accustomed to the new language, climate, public transportation? 
—Actually, not. We came from Germany, but opted to live in Rosinka, which is one of the international compounds on the outskirts of Moscow, in the Krasnogorsk region. My children live in a bubble between an international school and an international compound, so they don't quite realize the difference between what they know as Russia and the outside world. On the other hand, it's a shame that we don't live in the city centre where they would have much more exposure to everyday life in Moscow.
—As a consumer, which Russian brands or products do you like most?
— I don't particularly like shopping so when I come to a supermarket, I just pick something that I recognize. There's one brand that I really like, but I can never pronounce it—Azbuka Vkusa, a supermarket chain. In terms of nice shopping experience, the quality of products, the range of fresh deli food they do a really good job. It is kind of the 'Russian Waitrose,' although it's more expensive than Waitrose and generally too expensive to do a daily shopping in.
About the Interviewee
Since its opening in 2012, Emma Beckmann heads the Moscow office of Landor Associates, and is responsible for building business in Russia and the CIS region.
Emma graduated from the European Business Programme (EBP) in 1993, and a year later she began her career at Landor London, managing teams for German clients such as Nöm, Beiersdorf, and Felix Austria.
In March 1997, Emma helped set up Landor's Hamburg office, where she was responsible for leading corporate branding programs for clients such as Astrium, BASF, Bosch Group, DaimlerChrysler, DaimlerChrysler Aerospace, Hoechst, MTU, and RWE. She also managed internal brand engagement programs for Erste Group Bank and UniCredit. Emma worked with clients in Eastern Europe and led the rebranding program for Prominvestbank in Ukraine, as well as TsUM Kiev. She also worked closely with Danone-Unimilk and Mega shopping malls in Russia.