Greenpeace is challenging the global community of designers, tinkerers, inventors, students of all fields to develop a viable concept of eco-friendly irrigation pumps for Indian agricultural sector. The Energy [R]evolution: Clean Pumping competition is launching today, September 3.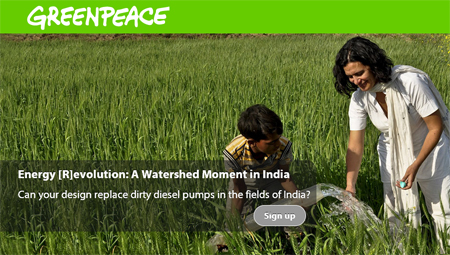 Small farmers in the region now have to use diesel-powered pumps, which help them water their crops year round to feed their families. Otherwise they would have to escape to city slums and look for a job there. However, while saving people from poverty in the city, the costly diesel-running pumps contribute to global warming. Eco-friendly technical approaches based not on the energy of fossils, but on the power of sun or wind could be a solution here. Currently, the market doesn't have pumps powered by clean renewable energy and tailored to the needs of Indian small farmers. Greenpeace is calling creative minds from all across the globe to tackle the problem.
The new pumps developed by the entrants of the competition are to be portable (but with theft prevention), robust and locally serviceable, cheap to manufacture and with sufficient pumping performance to water a typical small plot. The challenge is tough, but the result—preventing environmental dramas and helping people stay in their homes—is worth it. The contest is running here from September 3 through November 15.
The winning design will be selected by the jury of renowned experts, who will also help solvers shape their ideas. The grand prize winner will get a set of prizes with a total value of more than 30,000 euros in cash, along with other rewards and contracts. Along with the competition, Greenpeace will launch a "business booster program" following the challenge to provide support for the winning designs.