Coca-Cola Japan have announced that next month they will be launching the innovative product they've been working on for about four years—the first-ever hot fizzy beverage that remains carbonated even when warmed up. The Canada Dry Hot Ginger Ale in four flavour varieties will be sold in Japan pre-heated through vending machines starting October 21.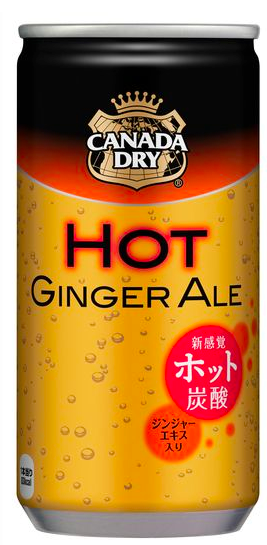 Currently there is no specific details on the technological side of the bottling process or the material or coating of the cans, nor do the company shed light on whether hot carbonated products are planned to roll out in other international markets outside Japan. It is known that the new technology will keep carbon dioxide from escaping when the beverage is warmed to +55 C.
The new seasonal hot spicy beverages come in time when the warmed-in-the-can food & drinks market in growing in the U.S. However, as Daily Mail reports, the Coca-Cola's new drinks will be heated up by vending machines, not by the self-heating cans «powered» via a chemical reaction inside the can, like the ones sold by the Hot Can company in the U.S.
Although the company claims Canada Dry Hot Ginger Ale to be the world's first carbonated soda, another rival Japanese beverage manufacturer, Kirin, is also set to launch its own version called Kirin no Awa in November later this year.