KRAFT Mac & Cheese is promoting its four new flavours with the fictitiously nostalgic campaign that makes the audience believe that the new products have been around in the USA for decades. The agency  Crispin Porter & Bogusky has developed fake online documentaries to "prove" that Cheese Jalapeno, Three Cheese Jalapeno, Garlic & Herb Alfredo, Buffalo Cheddar and Cheesy Southwest Chipotle played their role in the country's history and became true cultural icons.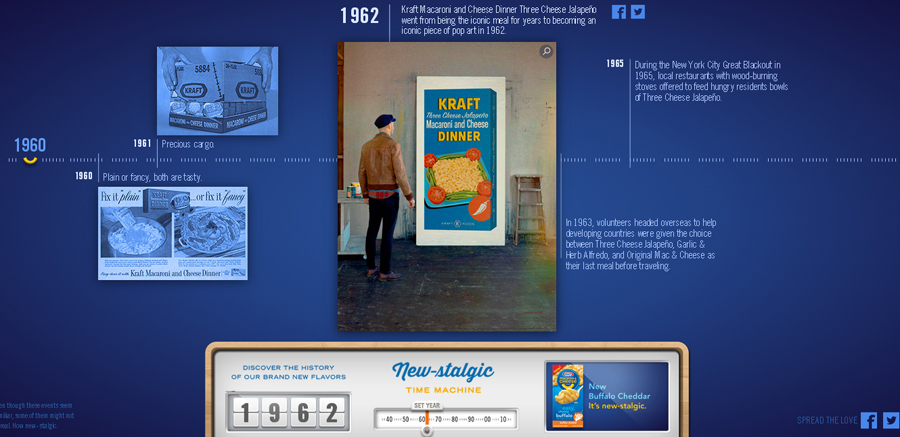 On the dedicated website, one can scroll the "new-stalgic" timeline to discover vintage memorabilia that illustrate how the four flavors have been integrating into the nation's life since 1938. Here are some of the facts: Kraft Macaroni and Cheese Dinner Three Cheese Jalapeno became an iconic piece of pop art on 1962; during the NYC Great Blackout in 1965, local restaurants with wood-burning stoves offered to feed hungry residents with bowls of Three Cheese Jalapeno; after smashing the record-breaking dinger, the new home run king rubbed Cheesy Southwest Chipolete on his sore muscles in 1974, and more.
In the left corner in the bottom of the site, the brand warns that "even though some of these events seem familiar, some of them might not be real."
With the new campaign that revolves around nostalgia, the brand wants to inject authenticity into the new products that have just entered the market. KRAFT Macaroni & Cheese aims to get the nation perceive—and love—the new varieties just like the original product of the brand, launched back in 1938.
The new-stalgic promotion uses the lovely now-retro theme that could be also spotted in the recent "Grandpa" advert by Coca-Cola.