Samsung is presenting its GALAXY Gear, a smartwatch that integrates a traditional timepiece with the latest "micro computer" technology. The Gear is touted as a companion of the larger devices in the brand's range and is designed to "further integrate the Samsung GALAXY experience into everyday life." The wearable device performs a range of actions, syncing with Galaxy mobile phones (in particular, the new GALAXY Note 3) for an enhanced consumer experience.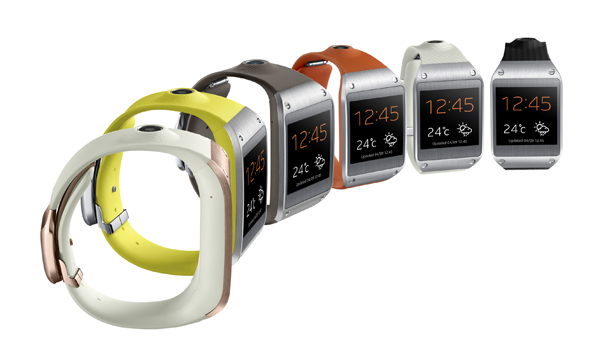 The new product has an 800 MHz processor, a 1.63-inch OLED touchscreen display as well as a 1.9 megapixel camera on the wrist strap that can take 720 HD videos and photos with the Memographer feature. The tech piece worn on a wrist like traditional watches notifies the user on the incoming messages (calls, emails and alerts) with a preview of the texts—the full message will be available on larger Galaxy devices. It allows the wearer to accept or ignore the messages on the go, literally. Users also can draft urgent messages, enter new calendar events and set alarms by touching the device's screens. Moreover, the Gear allows to conduct hands-free calls and make voice memos as it features a built-in speaker.
The Samsung GALAXY Gear is to come with 70 apps at launch that enhance everyday user experience. For instance, it'll contain a feature that tracks physical activity and analyses it with a sensor technology (as a potential take on NikeFuel). It'll also let users find the other Galaxy smart devices if they are misplaced, and allow them to browse, play and pause songs distantly on their smart devices.
The GALAXY Gear's colour range includes Jet Black, Mocha Gray, Wild Orange, Oatmeal Beige, Rose Gold, and Lime Green. The product will be available in more than 140 countries starting September 25. The price is still kept under wraps.
Samsung has managed to release its Gear ahead of Apple's much-anticipated "iWatch," but in terms of time got behind Sony's SmartWatch and Pebble.