On the heels of Nike's new FuelBand launch, adidas unveils its own wristwatch-like motion tracker, miCoach SMART RUN, designed to analyze the running performance of the wearer. The device from the German powerhouse is focused solely on running activities, delivering a detailed picture of each session.
The color touch-screen running watch is packed with key functions to track and rate the runner's activity and state of health on the go. It uses GPS mapping to track speed and distance, monitors the athlete's heart rate by scanning the pulse off the wrist with optical technology, and also features an in-built accelerometer that counts every step and allows to monitor the stride rate. To make jogging yet more enjoyable, the device features an MP3 player with Bluetooth wireless audio, enabling the wearer to listen to music or get audible coaching guidance.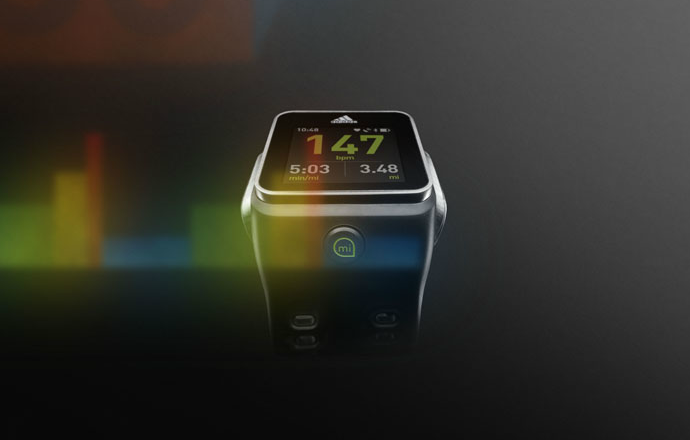 The device uses colors on its 1.45-inch touchscreen display to help make the running session as efficient as possible. Based on the concept of the interval training, the miCoach system splits the training into four zones, each marked with a color—blue, green, yellow and red,—that refers to differed levels of performance. If the runner is out of the required performance zone (slows down or speeds up when he or she shouldn't), the watch gently vibrates on the wrist or politely interrupts the music. Additionally, the device provides «more than 400 anatomically correct animations» on the screen to help runners add strength and flexibility exercises to their workouts and plans.
"Many runners fail to get the most out of their current running watches. Building training plans, transferring workouts and personalizing display information is cumbersome with these devices, with SMART RUN we change this. It is fully integrated with our web platform so training plans, completed workouts and settings are synced seamlessly over WLAN. No cables. No dongles. No hassle!" commented Simon Drabble, Director of miCoach.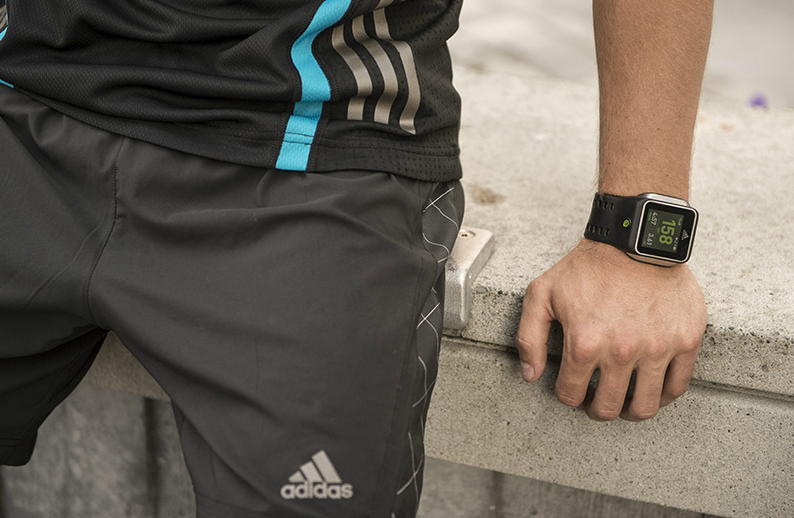 From the design point of view, the new piece is quite minimalistic—the watch is black with color indicators on the screen. It features stainless steel face, a silicone strap, high performance guerrilla glass and magnesium. The device is not sleek at all—it weighs 79 g and is 15.6 mm thick. The resolution is quite low with just 179 pixels per inch. The miCoach SMART RUN has four hours of "training mode" battery life that can be extended to eight hours if the data computing is switched to record performance once every five seconds.
The device, priced at €399.00, will be available for purchase starting November.