Heineken is driving home beer drinking experience to the new heights of sophistication with the launch of "The Sub," a draft dispenser that combines functionality and top-notch futuristic look. It is charged with a special 2-litre keg (a so-called torp) of a brew of choice from the company's lineup—chilled at 2 degrees Celsius and fresh for 15 days.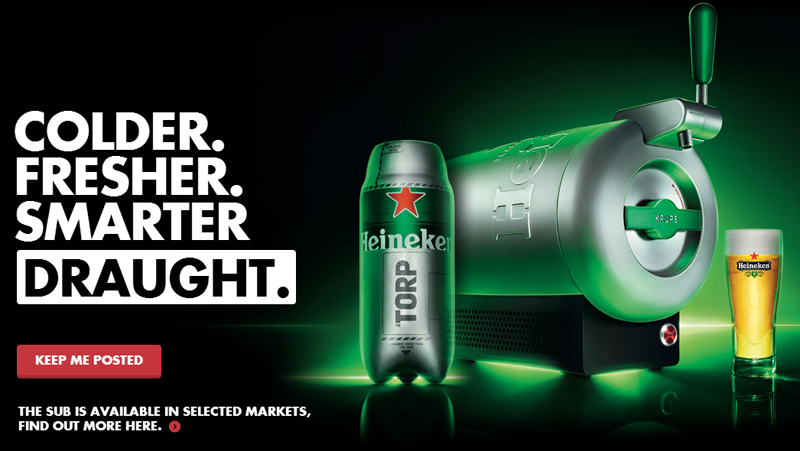 The home draft beer appliance was developed by Heineken in collaboration with the celebrated designer Marc Newson and the consumer technology experts KRUPS.
To promote the new offering, the brand has launched a digital platform, The-Sub, where the visitors can find step-by-step instructions on how to use and maintain the appliance and make a perfect pour. The site also describes the torps—at the moment, there are six different brews available: Heineken, Pelforth blonde, Wieckse, Affligem, Desperados, and Birra Moretti Baffo D'Oro. Each of the brews has its own profile that details its origin, taste, some most important facts as well as "social settings" it goes well with—type of conversation, ideal space, food style, and entertainment.
The Sub will be available for purchase in 2014—France and Italy will be the first markets where it will arrive. Users can pre-register to get informed when the appliance goes on sale. On the digital platform, they will be able to buy the world beers from the Heineken portfolio online and get them delivered to the door. The complete package includes The Sub, a torp and an accessories case.
"The urban, at-home market is one of the fastest growing beer segments," François-Xavier Mahot, Senior Director Global Innovation at Heineken, commented in a statement. "Consumers want to create the high-end experience that they associate with the Heineken brand at home, from the appliance through to the pour of a perfect draught beer. And they also want the convenience of trying a variety of beers. THE SUB is an innovation that delivers this and more.»