Chanel is putting moon phases into the spotlight in a digital promotion that supports the release of the new J12 Moonphase wristwatch. The beautifully designed website allows to explore the lunar monthly cycle and learn more about the new luxurious item.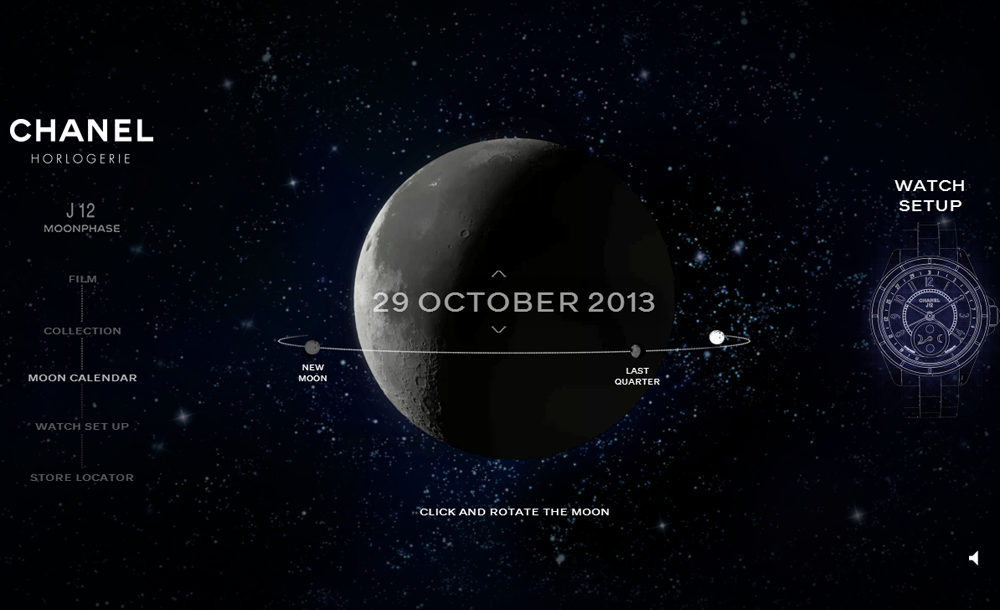 The launch page of the dedicated section on the brand's official website features a realistic image of Earth as it is seen from the moon viewpoint. Users can scroll up to venture further into the dark blue sky and see a quote by Gabrielle Chanel, "I love everything up high: the sky, the moon, I believe in stars," which is all made of sparkling stars. Then, visitors are invited to watch a film highlighting every detail of the new luxury timepiece (view the ad below).
On watching the clip, the users may proceed to the practical part: they can drag the moon all around its orbit to see how differently it's brightened by the sun depending on the date. They can also select a specific day to see into which phase the moon will enter then. The site also provides step-by-step explanations of how to set the moon calendar on the watch.
The Chanel J12 Moonphase timepiece comes in four styles: white or black ceramic and white or black ceramic with diamonds. The price ranges from $8,900 to $23,450. The Chanel store locations can be found using the digital hub—they are marked with traditional baloons on Earth's surface shown from the moon's perspective.