Offering new opportunities and choices, technology dissocializes us, thus makes us unhappy—a series of the latest psychologic researches proves the fact. Especially this concerns young children who usually replace fun outdoors activities with chatting, playing, surfing or reading on mobiles, tablets or (now more rarely) desktops.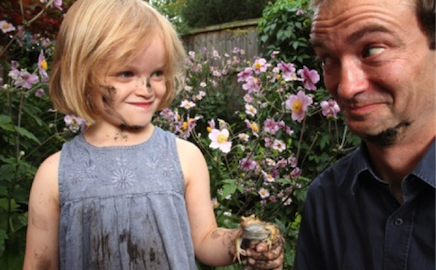 This problem of «the corrosive influence of digital technology on the physical and mental well-being of young children» has been addressed in a new UK documentary Project Wild Thing by the Green Lions film-making studio. Sponsored by Channel 4, the BRITDOC foundation and supported by the charity organization The Wild Network, the film will be released in cinemas across Britain on October 25, 2013.
It is a sentimental, humorous story about a father, played by David Bond, an award-winning director, producer and writer of documentaries at Green Lions, who one day realizes that there is just one thing that can rescue his children from cacophony of screen ads and online games, —and it is ..Nature. Mother Nature. Hence he takes the audacity to «brand» Nature and solely appoints himself Marketing Director for Nature to visit British homes in an attempt to «sell» the benefits of outdoor living to families.
To position good old Nature as a fighting force against «Nature Deficit Disorder» among British kids, David approaches the London consultancy Purpose, which defines qualities and values of Nature as a brand—this storyline is also featured in the documentary.
Despite a gripping, almost fairy-tail plot, the Project Wild Thing is backed with a profound research in which a handful of prominent scientists and marketing people took part, such as naturalist Chris Packham, Professor Agnes Nairn, writer and environmentalist George Monboit, scientist Jaak Panksepp, writer Jay Griffits, Professor Michael Depledge, advertising guru Michael Wolff, and brain scientist Prof. Baroness Susan Greenfield.
The release of the film in the UK will be supported with a PROJECT WILD THING: RECONNECTING KIDS AND NATURE campaign in the media that aims to draw attention of organizations, businesses and individuals to the problem of computer-obsessed kids who need to spend more time outdoors.
View the trailer of Project Wild Thing here: www.projectwildthing.com/the-nature-film