Nike has unveiled groundbreaking changes to its wearable gadget for tracking physical activity, Nike+ FuelBand, as well as re-launched its Nike+ Accelerator program. The updated version of the device, Nike+ FuelBand SE, features an updated software, connectivity through Bluetooth 4.0, along with some new functionality, improved durability and flexibility.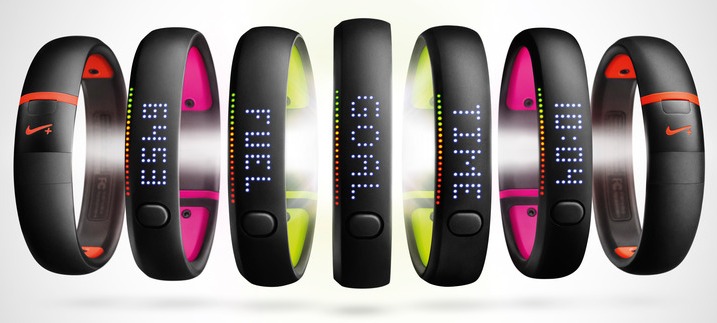 The pool of new options available in the Nike+ FuelBand SE includes:
"Win the Hour" that acts as a motivator by tracking how much movement is accumulated at each hour during the day. It also urges users to move more if they go under the required level;
"Groups" that allow to connect with friends, send cheers to each other and share accomplishments;
"3.2.1. GO! Sessions" that allow to track specific activities throughout the day;
"Fuel Rate" that tracks the intensity of a user's movement—it analyzes the rate at which NikeFuel is being earned per minute. The feature uses colors from red to green to indicate the performance, which can be viewed in real time in a numerical mode on the Nike+ FuelBand App;
Milestones that allow to celebrate achievements not only for NikeFuel total, but also for Sessions, Fuel Rate, streaks, and hours won;
Double Tap for Time lets users discover the current time at two touches of a button.
The new Nike+ FuelBand SE also comes as a designer piece with its impressive futuristic take. The gadget will arrive in traditional black, with colorful finishings (Volt, Pink Foil or Total Crimson) on key elements of the wristband. The upgraded device will be available in the U.S., U.K., Canada, France, Germany and Japan beginning November 6. The gadget's price in the U.S. market will be $149.
Nike has also upgraded the virtual support for the gadget, introducing two new features—Photo Sharing and Auto-Pause—to the Nike+ Running App. The first one allows users to upload photos from before, during and after the run to social media platforms, while the second one uses the app's GPS to automatically pause the workout when it detects that the runner has made a stop. In a nod to Apple's latest smartphone, the sportswear giant has unveiled a new app that serves as an introductory to the NikeFuel experience for iPhone 5S users. It analyses the movement during the day (detecting when, where and how the person moved), and compares the performance with friends' achievements. The apps will be available for free download at AppAtore starting November 6.
The sportswear company has also announced the opening of the new Nike+ Fuel Lab in San-Francisco, which succeeds the Nike+ Accelerator program and serves as a platform for "tech companies with an existing product offering and a desire to help people live more active lives by connecting with NikeFuel." Nike will select 10 companies that will be provided with relevant tools and resources to develop and present their products to the market by the end of the 12-week program.