The spirits brand Pernod Absinthe and the electronic music record label and fashion brand Maison Kitsuné have collaborate for the second consecutive year to launch a new multi-faceted project. The creative effort incorporates passion for adventurous travels around the globe, music and offbeat design. Maison Kitsuné is releasing a series of five short music documentaries to tell the world how the brand's creative team sources inspiration from various distant parts of the globe. To support the launch, Pernod Absinthe released a limited-edition bottle with an eye-catching artistic design by Maison Kitsuné.
For the  music-inspired initiative, the fashion brand has collaborated with frwrd.tv, an ad agency specialized in cultural marketing. The series, which runs exclusively on Life+Times, a digital platform covering art, sports, music, fashion and culture, follows musicians embarking on a long journey to the five of the world's less known (and also forgotten) capitals—Reykjavik (Iceland), Djakarta (Indonesia), Accra (Ghana), Lima (Peru), and Amman (Jordan). The episodes will launch every two weeks until December.
In the first 12-minute episode, "Is Leaving," that debuted on October 15, a UK band Is Tropical head to the Iceland's major city for three days to meet open-minded people from all kinds of creative fields, learn more about their work (like the "Scream Chamber"), discover iconic local pastimes like taking an open-air hot bath, go whale watching on a boat, and more—all in search of a creative inspiration for their work.
The premier spot also features a new Pernod Absinthe and Maison Kitsuné limited-edition bottle that gets integrated into the narration—the band enjoys the absinth at night after the day when they were looking at whales. The bottle design features vivid orange, red, green, rosy, and blue graphic elements (dots, triangles, leaves and flowers placed against the black background). The brands are releasing just 10,000 bottles that will be available globally, and only 1,000 bottles will arrive for sale in the USA.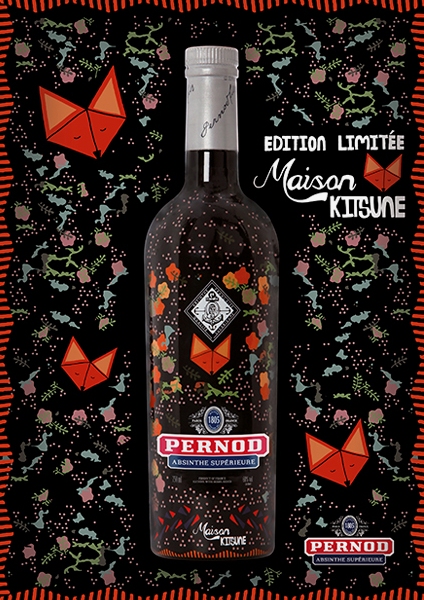 "I wanted to have a pattern that was more subdued than our bold previous edition, the artwork we created is exactly that: a combination of Japanese refinement, infused with our rock 'n' roll sensibility.» commented Gildas Loaëc, co-founder of Maison Kitsuné. See the new design used across Kitsuné records bottle (above) and sleeves (below). Find more about the first collaboration of Pernod Absinthe and Maison Kitsuné here.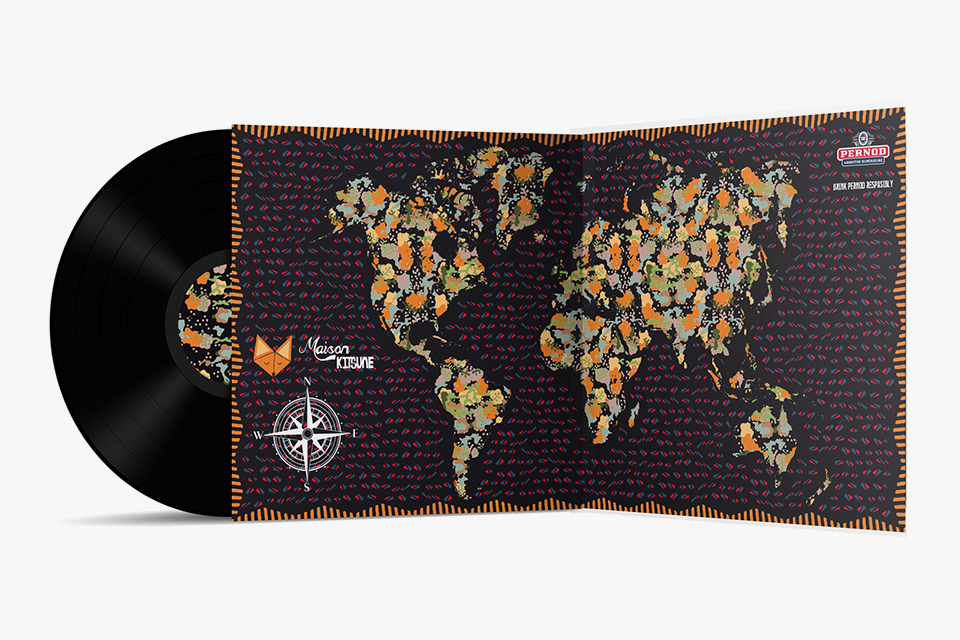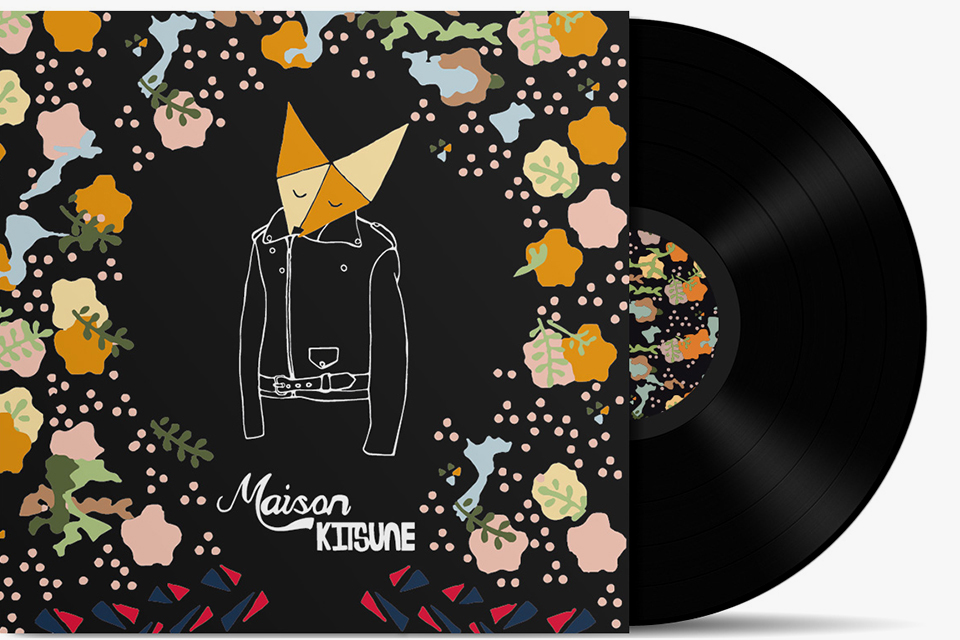 A similar effort, The Beefeater Alchemy Project, was launched in summer by Beefeater. For the initiative, the gin brand tapped music band Bastille that embarked on a across-Europe journey to find inspirations for their upcoming musical piece.