Volkswagen UK believes that the only perfect companion for any driver is a dog. The carmaker rolls out a new campaign that is build on this statement and helps consumers select a car that would fit their dog's personality—and their own life philosophy since dogs do resemble their owners.
The campaign, developed by London-based agency adam&eveDDB, includes a 1-minute spot, Woofwagen, that explores the diversity of Volkswagen models and features a dog of the best-fitting, "proper" breed in each of the vehicles. The advert is set to the light-hearted "Me and You" track by Barry Louis Polisar. Along with the full-sized video, the brand has also released 6-second micro spots featuring canine co-stars of the campaign, which are captured in slow-motion (watch them here).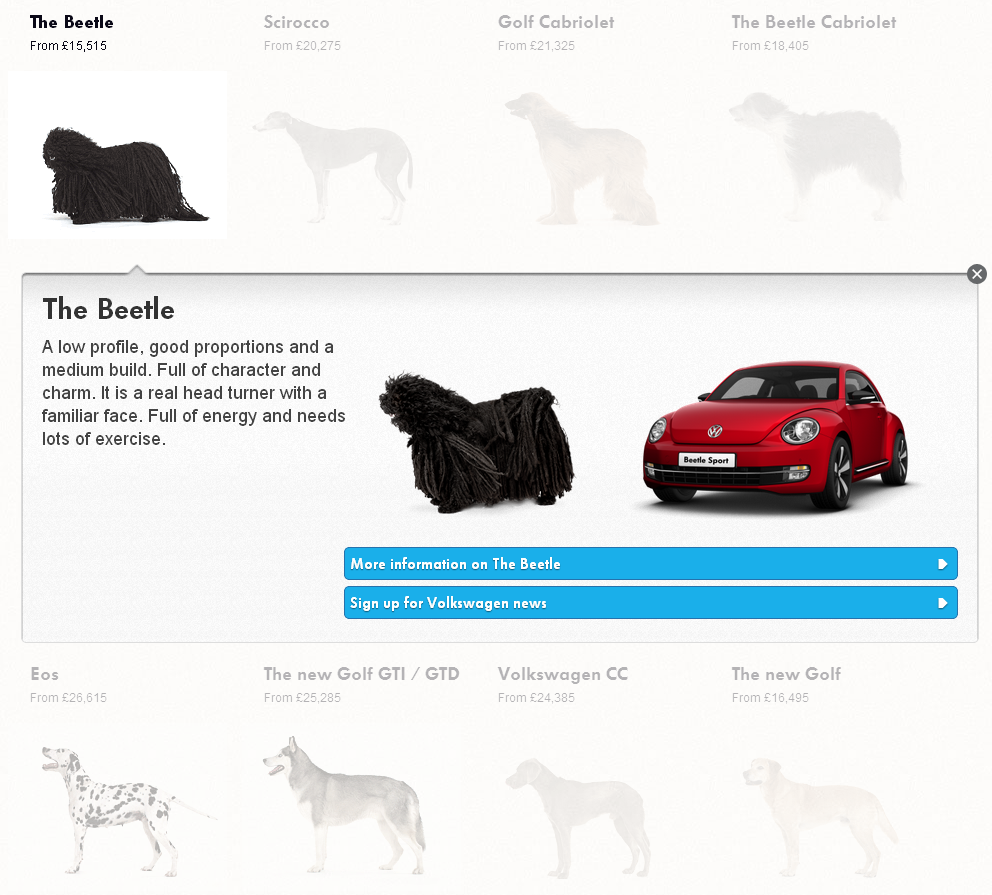 The dedicated site of the promotion lists 21 breeds of dogs, where each of them "symbolizes" a car model. For instance, The St. Bernard stands for Touareg, "a giant, strong and powerful breed. Tall and very well-muscled, perfect for difficult terrain crossing and water wading. Makes light of pulling heavy loads. There is a calm and gentle side, making them patient around children." Visitors to the site can view the models in a "dogs" mode or in a traditional car mode.
Car brands eagerly feature cats and dogs in their promotions. In 2010, Subaru rolled out a cute campaign taglined "Dogs Tested, Dogs Approved," and last year Toyota Corolla released a sentimental spot about a cat in love.