For this year's festive season, the body care label Aesop has released a range of gift kits that visually pay tribute to non-festive design. In 2013, the Australian brand got inspired by the Italian Futurist movement of the early XX century, rendering the crisp, clean and bold visual aesthetics of the avant-garde artistic phenomenon.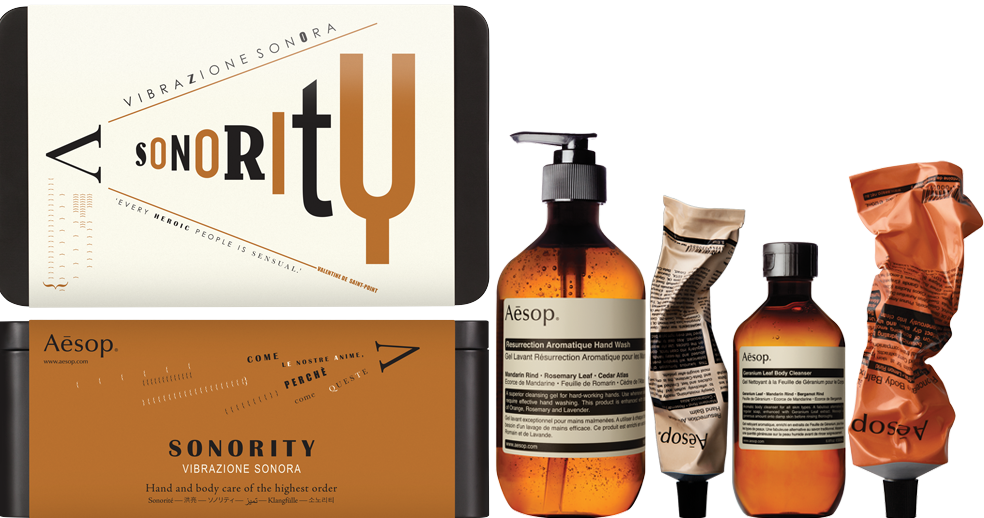 The collection includes six gift kits delivered in elegant tin boxes. The designs of the containers celebrate the vivid and energy-packed Futurist language, art and typography. The color scheme of the designs includes black and white plus one dominating hue, deep and thick. The designs resonate with the names of the pack, which also describe the Italian Futurist movement—the names are Agility, Tactility, Intensity, Sonority, Alacrity, and Potency.
The boxes contain a set of products, ranging from a trio of bathroom essentials for meticulous men to an efficacious Classic Skin Care quartet for all skin types, along with a special brochure. The book is physically constructed in a way that allows to accommodate and protect each of the products in the kit. Additionally, it provides a quick look at the movement and the artists who joined it.
In 2011, the line of Aesop's seasonal kits was dedicated to science and featured seven impressive designs that highlighted the states of matter, laws of motion, theory of evolution and more.