American Express is rolling out a new program, Small Business Saturday initiative, in the UK to promote local brands, retailers and services, encouraging the consumers to shop locally. The credit card brand collaborated with the Ogilvy&Mather agency to deliver its message though a vibrant visual campaign that includes a TV advert, web promotions and prints.
Small Business Saturday is originally an American holiday held in the U.S. on the Saturday after Thanksgiving since 2010. This year, the initiative launches in the U.K., slated for the first Saturday of December, which is December 7th. As part of the promotion, American Express will be rewarding its U.K. cardholders with a £5 credit for every spending of £10 or over made for products and services of the participating small businesses during the Small Business Saturday.
To raise awareness of the effort debuting on the British market, American Express releases six sheets within the London underground, across rail stations and high streets, and also airs a playful rhymed TV spot. The voiceover of the 30-second animated ad encourages to "think big, shop small," supporting "the butchers, the bakers, the vintage dress makers… the heroes of our high street."
"We're excited that Small Business Saturday has made it to British shores and are delighted to be part of an initiative that celebrates the contribution small businesses make to our economy and local communities," shared Melissa Weber, director of UK brand communications of American Express.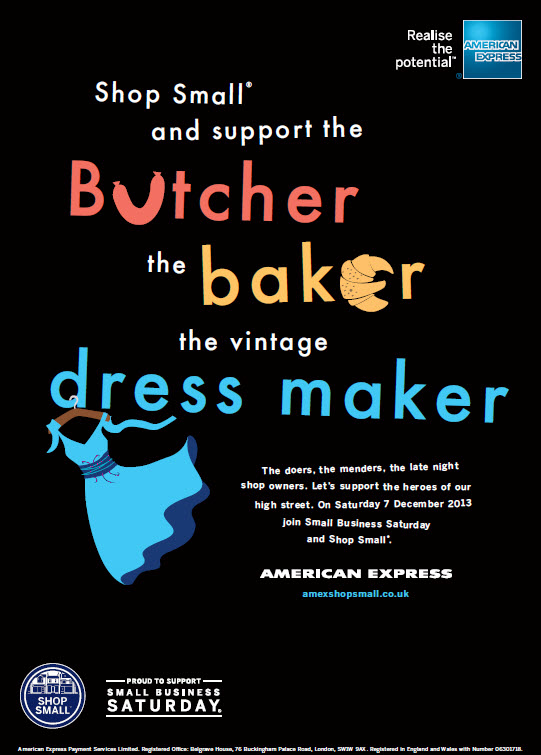 For more information about the initiative in the U.K., go to its official website and Facebook page.