Coca-Cola Zero wants to help people feel less awkward in their traditional, still usually ridiculous Christmas sweaters. The garment, which causes heartache to those who have to wear it at family Xmas parties, now can be fundamentally redesigned. The brand has launched an online destination, Coke Zero Sweater Generator, inviting its US consumers to come and create a Christmas jumper design for a chance to get the physical incarnation of their dream jumper.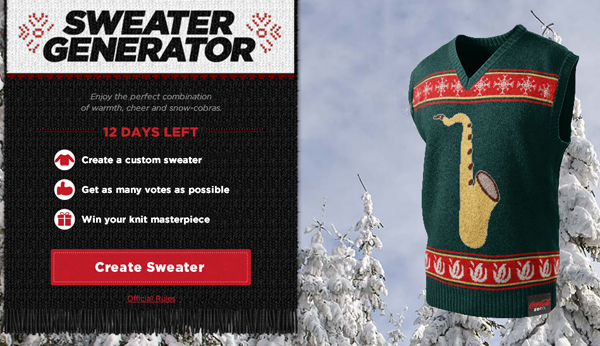 The Sweater Generator, developed by Droga5, allows to build an Xmas jumper in a few minutes. First, the contestants select the style of the piece (The Festive Vestive, The Caroling Crew, The Tacky Tortoise, and The Victorious V) and its color, and then start decorating it with patterns and graphics. While the jumper styles and patterns are traditional, the motifs are wild and wacky—there are unicorns, dinosaurs, menorahs, dolphins, pineapples, cooked turkeys and many more. Users can arrange these graphics elements in the most unexpected way—the more weird and eccentric, the better. "Wield the power of a thousand grandmothers in the palm of your internet," the site says.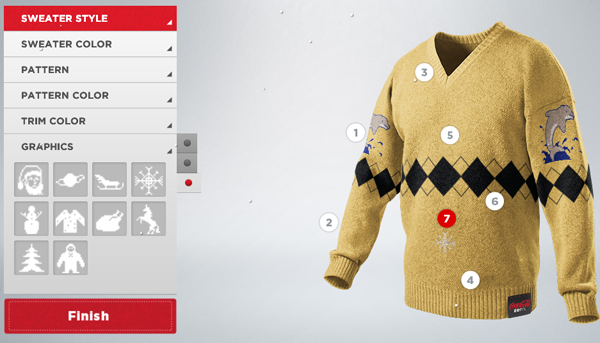 Visitors to the site are invited to vote for the most glorious entries. The top 100 sweaters will be knitted and sent to the contestants who created them, just in time for the holiday. The pieces will feature a tiny Coca-Cola Zero sign on the waistband. The submissions are accepted through December 1 (the competition is only open to the residents of the USA).