Gap is rolling out the holiday extension of its "Back to Blue" campaign launched earlier this fall. The Xmas push taglined "Make Love," is all about returning to the things that matter most in our lives—genuine love, respect, compassion, admiration and caring. The new U.S. campaign, starring cultural icons and activists, encompasses prints and outdoor ads, direct mail, social and cinema ads as well as new digital content unveiled on a daily basis.
"Make Love is about giving love through action, whether it's a service to others or a gift that's a representation of love," commented Seth Farbman, Gap's Global Chief Marketing Officer.
For the effort, Gap has collaborated with celebrities who have been sharing true love with their performances and social activities. The famous personalities—performers, people of art and design, and activists—were modelled the items from the 2013 holiday collection, "injecting" some extra energy to these pieces with their charisma. The stills starring the celebrities and famous models can be found on the official Pinterest page of the brand.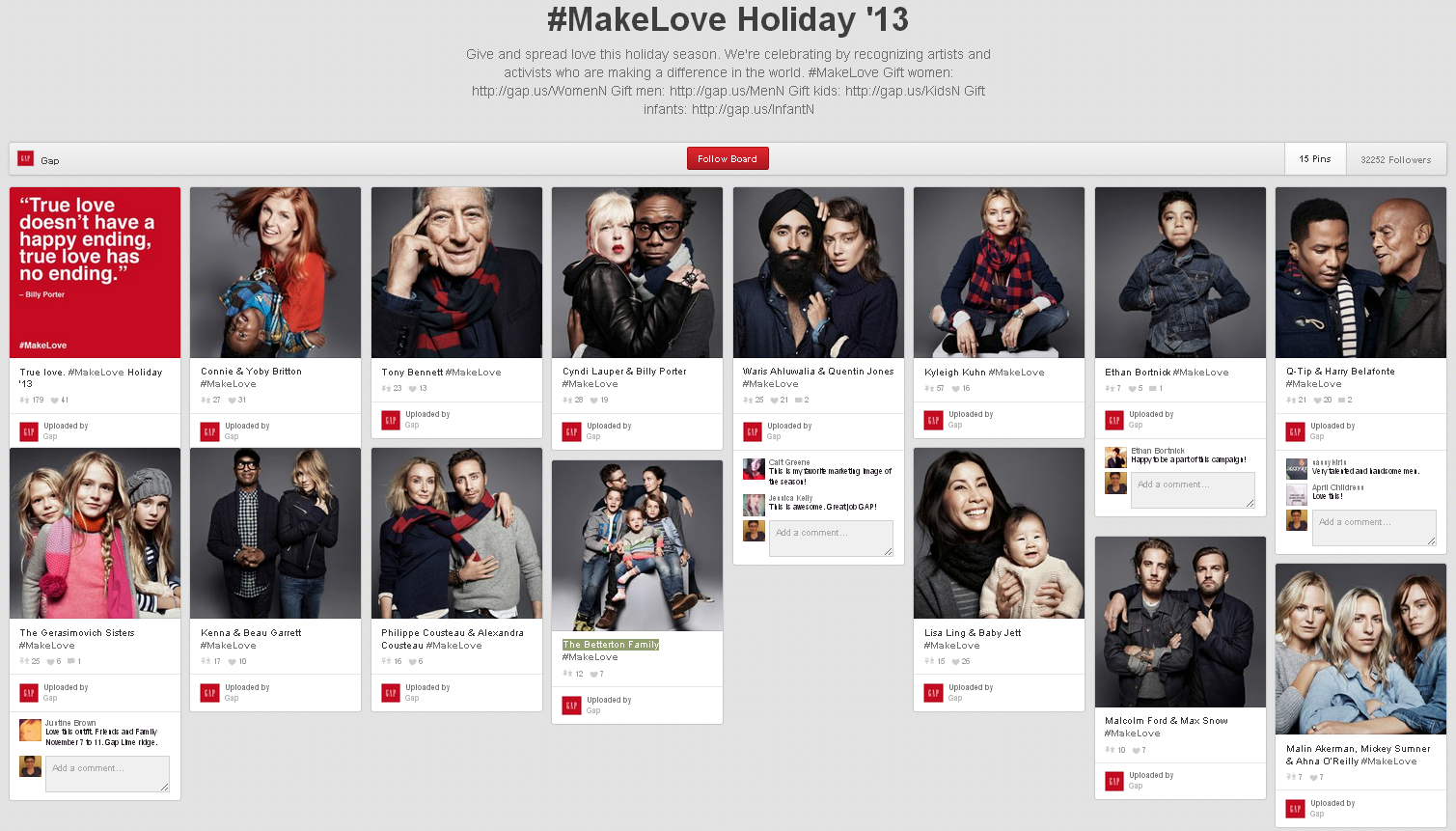 For the marketing push with an emotional message, the brand tapped 87-year old American singer Tony Bennett, Ethan Bortnick who is the youngest pianist to ever headline a concert tour, LGBT rights activist, singer and actress Cyndi Lauper, actress Connie Britton and her adopted son Yoby, actor and designer Waris Ahluwalia, Broadway performer, pop singer and actor Billy Porter, writer and journalist Lisa Ling, filmmaker Quentin Jones, and hip-hop musician Q-Tip. The roster of recognized faces also includes social and environmental activists Alexandra and Philippe Cousteau who advocate the importance of nature conservation, model and humanitarian Kyleigh Kuhn who helps raise funds for schools in Afghanistan, and 86-year old signer and social activist Harry Belafonte.
In addition to the series of heart-warming portraits, most of which feature more than one person, Gap invited Tony Bennett to form an ensemble with five high school students, who are beneficiaries of the Exploring the Arts program established by the legendary signer and his wife Susan Benedetto. Together, they've created a lovely fresh version of Bennett's all-times hit "The Best is Yet to Come," which connected the generations in a very neat fashion. In the behind-the-scenes videos, teens share their impressions of what it was to work side by side with the iconic signer, and also tell what music means to them.
To help its customers find the right presents for the family and friends, Gap collaborated with creators of the popular photo editing app VSCOcam to launch a new gift guide that includes 26 days of curated gift ideas based on Gap's products available in 45 countries. The platforms features a range of personal photo essays by the photographers who share their personal perspective on Gap's favorite holiday products, patterns, and more.