The international initiative (RED), which engages people and businesses in the fight against AIDS, has released a new electronic and pop music compilation to raise awareness of the issue and generate funds to fight it. The album titled DANCE (RED) SAVE LIVES2 is launched ahead of December 1, The World AIDS Day. The decision to release the compilation builds on the success of the 2012 DANCE (RED) SAVE LIVES music album that was #1 in the iTunes dance charts in 33 countries.
The new album includes dance remixes of the tracks by a plethora of hottest modern music stars such as Katy Perry, Tiesto, Madonna, Cold Play, Martin Solveig and Major Lazer to name a few as well as original collaborations from Baauer & RL Grime, deadmau5 & Eric Prydz and Dada Life & Josh Wink. The work, comprising 24 pieces, is produced in collaboration with Capitol Music Group's Priority Records.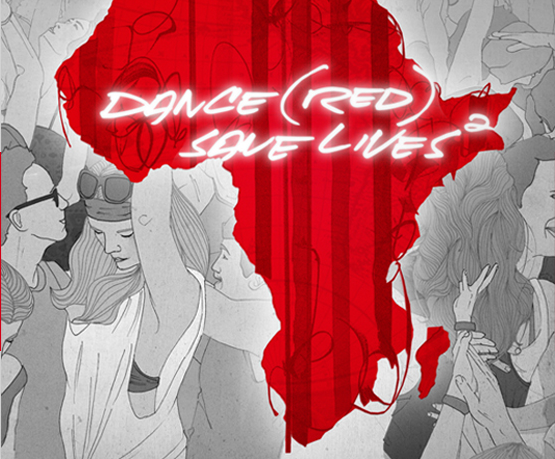 The cover of the album was designed by the winner of the recent Adobe Creative Cloud & (RED) global design competition—German design student Ramona Ring collaborated with graffiti artist and graphic designer Futura to develop the visual piece.
The recently debuted DANCE (RED) SAVE LIVES2, which is already topping the Dance Chart on iTunes, is available for $9.99 exclusively on iTunes. The dance music must-have of today is also a philanthropic piece of work—all the proceeds from selling the album will be donated to the Global Fund to fight AIDS.
To support the release of the album, (RED) in partnership with a number of festivals across the globe will host an annual 24-hour global dance party during the 2013 World AIDS Day weekend. The events will roll across the globe on November 30 and December 1 in six locations, from Sydney (the starting point), London, NYC, Mexico City, Los Angeles to Johannesburg (there the movement will culminate).
In Sydney, (RED) has teamed up with the Stereosonic dance music festival—the dance event will be livestreaming on VICE's electronic music&culture channel THUMP. Anyone can join it online and see Calvin Harris, David Guetta, Armin van Buuren, Sebastian Ingrosso, Axwell and more performing. Fans can also join in the movement by hosting their own dance parties—(RED) provides a toolkit for this.