Today, being eco-minded is an integral part of living consciously. Consumers are switching to "slow" food, "slow" fashion, "slow" living, focusing on quality and durability rather than quantity and growth. People are caring not only about what and how they consume, they are questioning their impact on environment and society: consumerism is gradually giving way to mindful lifestyle.  Now, it's not about owning or digesting more, it's about consuming no more than you really need, making the most of resources and giving back to nature. Below, there are six growing trends that have been driving mindful consumption movement over the year of 2013.
1. Environmentalism channeled through exteriors and interiors
We have seen the evolution of urban areas towards smart planning, architecture, logistics, sustainable systems of water and electricity supply, transportation and more. Gradually, apartments and city districts are turning into futuristic gardens that respond to a person's need for both high-tech and natural environment. You can learn the trends that we've spotted in urban living in more detail here.

Repurposing waste in home&city design. Recycled or re-used domestic household waste can easily be integrated into the city's infrastructure or home interiors. The founder of the US start-up Fireclay Tile Paul Burns purchases used CRT glass, removes any remaining metal and produces colourful bathroom or kitchen tiles from the recycled material. His initiative "This Tile Was Your TV" has recently raised $16,080 on the crowdfunding platform Kickstarter to fund the creation of moulds for a new product line. The Stand urinal, created by a Latvian designer, combines a hand-washer and a flush-toilet. The design of the piece allows to rinse the urinal while washing hands. The ECOntainer bridge concept, developed by the Israeli architect bureau Yoav Messer Architects, is a large-scale project involving reused materials—old shipping containers are assembled together to form a modular metal bridge with observation platforms.
Walls that cleanse the environment. As air and water get contaminated with chemicals quite often, urban chemists research the methods of autonomous purification of the environment. The Carbon Buster building block, introduced in mid-2013, aggregates more CO2 than it is emitted during its manufacturing. The block consists of recycled materials by 50 percent, including wood shavings, glass and shells, and is able to absorb more carbon dioxide (14 kg of CO2 per ton) than it goes into the air while the Carbon Buster is created. Another example of architecture that helps purify the environment is the Prosolve370e façade of the hospital building in Mexico City that, when hit by sunlight, absorbs smog turning it into less harmful elements like water, calcium nitrate (the salt used in fertilizers) and carbon dioxide. Dutch scientists have recently developed a smog-eating pavement that potentially cuts air pollution nearly by half. 

What to expect: For the past five years, urban designers and visionaries have been actively developing various projects for green living. While air-cleaning buildings and water-purifying stations are nothing new, air-conditioning wearable tech, herbs absorbing chemicals from water (like cilantro) or devices that sanitize toilets with a touch might be revolutionary. The concepts in the Electrolux Design Lab 2013 provide a sneak peek into what we might get in the coming years—from an air purifier and stress reliever integrated into a necklace, to an automated cleaning system made of flying mini-robots that clean the surfaces with just drops of water.
2.      "Chick" image of food waste
One of the biggest challenges of tomorrow is to find new effective ways to make food waste reduced and reused. As population of the planet grows, and global demand for food is on the rise, smart management of food waste will become one of the hottest areas for innovations.

Sharing food. A peer-to-peer app, Leftover Swap, encourages users to give away/trade and get for free/buy extra leftovers like fries, or tomatoes from home garden, piece of a melon or a homemade pie. Social networks that let people invite guests to share a dinner are another example of saving extra food from going to waste.
Going beyond expiry date. Danish Rub Og Stub restaurant run by volunteers cooks food from the supermarket products that are nearing their expiry dates—they don't have a regular menu, it changes based on what ingredients are retrieved; all the proceeds are donated to a good cause. Similar concept is behind the Daily Table supermarket to be launched in the USA in early 2014—it will cook, repackage and resell expired food at deeply discounted prices.
What to expect: We are definitely going to find simpler and more rewarding ways to encourage people to share food they can't eat themselves. Of course, it's still important to recycle food waste, but it's much more efficient to use it before it goes to the landfills. Food sharing services and 'freegan' movement will grow into something bigger—perhaps, supermarkets will be sending messages to the interested consumers informing on when certain food products are nearing the expiry date, or special scanners will allow to detect such food.
3. Clean water everywhere
The problem of safe and cheap drinking water is now being addressed with a plethora of projects and initiatives. Now, all kinds of solutions are offered—from purifying tap water on the go, filtering it at special stations to turning other liquids into drinkable water.

Local water is better. The international World Whole Water initiative inspires hotels to sell local water—filtered and bottled in containers designed by Yves Behar's studio fuseproject—instead of offering guests imported water. The program helps reduce costs, eliminate waste and environmental impact, and also generate money—hotels donate 10% of the proceeds from selling their purified water to support water-related causes.
Purify on the go. The biodegradable colorful WaterBean filter, placed inside a 0.5-liter bottle, helps make 140 liters of tap water clean. The simple purifier features all-natural activated, granulated coconut carbon and magnesium calcite—it cleans the water on a shake and swirl.
Distill it from dirty liquid. Rather promotional than practical, the Sweat Machine by UNICEF distills people's sweat into drinkable water. The installation includes a fixed bike connected to a sweat squeezing and cleansing mechanism: participants could ride the bike and have their sweated clothing squeezed in the device for further distillation. The initiative aimed to promote the accessibility of clean water to children worldwide. To tackle the water problem, the Thai company SOS has created a mobile unit that purifies contaminated water —the installation will be especially helpful in the event of flood.
What to expect: Portable water-purifying devices will be a must in a few years. As clean water supply is scarce in many parts of the globe, and the quality of tap water in big cities is highly debatable, people may want to purify virtually any liquid themselves. Micro water laboratories or containers will detect dangerous chemical components and bacteria to eliminate them in a blink of an eye. At homes, there will be installations for purifying and recycling a large body of water used for various needs at households.
4. Shopping with purpose
Today, socially responsible retailers do not only chase profits, but also encourage customers spend wisely, bolstering their guilt-free behavior. As antipodes to consumerism-fostering fashion labels, some clothing brands advocate durability of the apparel and convince people to change their wardrobe only when it is worn-out, not when fashion changes.

Slow fashion. In mid-2013, Nike released a new app, Making, to inform product developers on the environmental performance of the materials they use in their work across five areas such as Chemistry, Energy/Greenhouse Gas Intensity, Water/Land Intensity, and Physical Waste. Levi's, which has been advocating washing jeans sparingly, has introduced a more durable Wellthread line of Docker's apparel, made of innovative firm fabrics. Sustainability also redefines how we carry clothing home from the store. Hangbag is a paper bag that transforms into a durable portable hanger for light pieces like T-shirts or summer dresses. The era of self-repairing apparel and footwear is coming. The concept of self-repairing trainers has been recently unveiled—these 3D-printed sneakers made of synthetic biological materials are programmed to self-repair in a short period of time.
Buying goes hand-in-hand with doing good. TOMS launched its one-of-a-kind brand platform, TOMS Marketplace, on its official site, encouraging consumers to buy items from other ethical brands. Similar idea has been put behind the recently launched the Hucksley platform that features aspiring brands and lets people shop with purpose—on every purchase, the platform donates 25% of the profits to the charities of shoppers' choice.
Analyzing ecological footprint in a quick and simple way. In Italy, the supermarket chain Auchan issued a receipt that, when scanned with a smartphone, linked to a detailed digital report on the chain's environmental responsibility.
What to expect: Creating more durable sustainable materials, wearing clothes longer, finding new ways to repurpose clothing and accessories, —these practices will influence the fashion industry in the coming years. With conscious consumption on the rise, more and more people use special apps to measure their environmental footprint (at home, in a car, in the street, etc.) and get advice on how to reduce the impact.
5.      Recyclable multipurpose packaging
Plant-based, biodegradable, recyclable and multipurpose packaging will be a fertile ground for bio-technical innovation.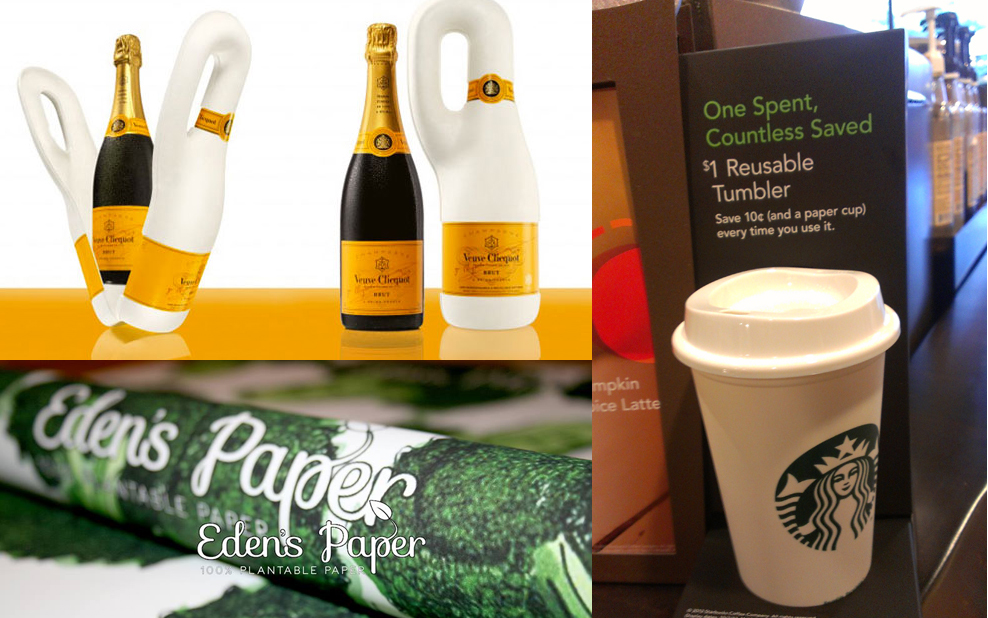 Plant-based packaging. Just like some mass-market brands, manufacturers of luxury goods have also started addressing the packaging waste challenge. The Veuve Clicquot champagne brand has released a biodegradable isothermal packaging based on potato starch, claiming that is has "zero environmental impact." This year, the world also saw the first-ever 97% biodegradable single serve coffee product, OneCup BIO, made using vegetable oil, various plant starches and tree by-products.
Take it once, use it many times. In early January, Starbucks launched a $1 reusable plastic cup to reduce the volume of paper cup waste. The tumbler can be refilled and washed multiple times, and then recycled in the end of its life cycle. A new company BizeeBox manufactures and maintains reusable take-away plastic containers, used by restaurants. Customers can leave these boxes at special drop-off locations, so that BizeeBox staff could collect them, sanitize and return to the participating restaurants. The BizeeBox containers can be reused up to 350 times.
What to expect: In the coming years, the use of biodegradable, reusable packaging will become massive. Most probably, plant-based and plant-growing packaging solutions for food and household goods will also gain momentum. In the foreseeable future, the use of synthetic biological materials for packaging production may create smart containers enhanced with self-cleaning and repairing capabilities.
6.      Sustainability behind the wheel
Sustainable practices have extensively reshaped the automotive industry over the past few years. We've seen the emergence of hydrogen and electric vehicles (EV) that use clean, renewable energy; car-sharing programs that help reduce environmental impact of gasoline cars are becoming more popular; carmakers have started using sustainable materials for car interiors.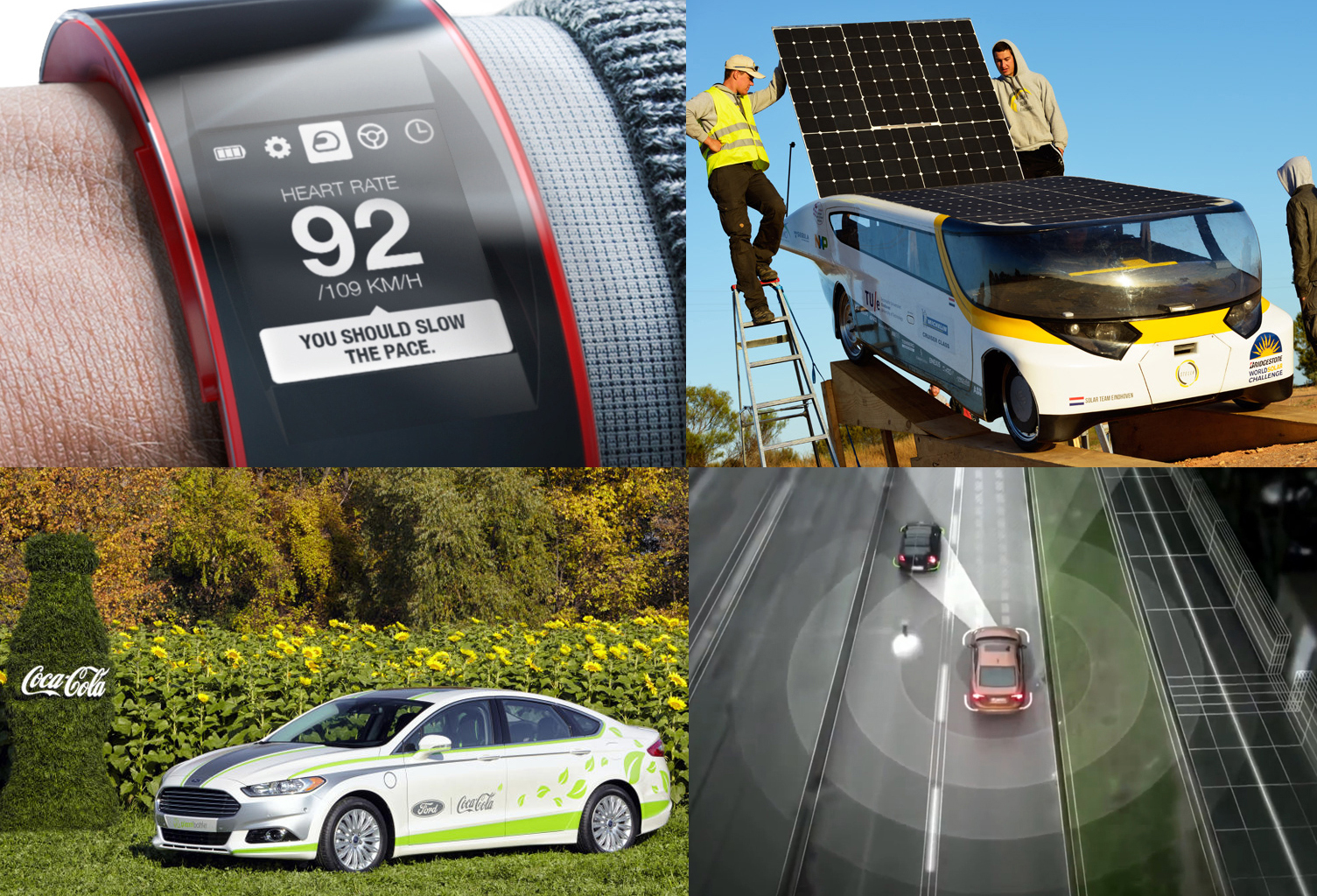 Monitoring the driver's ecological footprint. The farmer SEAT launched the Taxi SEAT Fare project as a promotional effort to demonstrate the benefits of SEAT's Break Energy Recovery System that saves energy (and thus, money) when the car brakes. The amount of money saved during the trip was displayed on a special digital taximeter. The Automatic plug-in car device monitors driving habits and usual routes, gas levels, detects the location of the car and how fast it drives. It analyzes the data and sends alerts to remind  the driver not to brake so hard or accelerate too fast in order to save fuel. The device also provides maintenance tips, and even sends alerts to 911 in case of an accident. Nissan Nismo Watch is another example of technology designed to analyze the on-road performance and even the track the driver's heartbeat.
Charging on the go. As electric cars have entered the market, the issue of charging infrastructure and/or self-charging capabilities of such cars becomes crucial. Volvo is developing a car that stores energy in its side panels—they are able to provide power enough for an estimated 80 miles ride. In summer 2013, the world saw the first ever solar-powered family car, "Stella," that provides room for four people, features a big trunk space, has intuitive steering system, and can drive as distant as 370 miles without re-charging. The car is potentially able to generate more electricity than it consumes, and it can return the excess to the power grid. This way of charging partially eliminates the annoyance of keeping the EV charged when it can't connect to the power grid.
Sustainable materials embedded into cars and bikes. Ford has teamed up with Coca-Cola to produce fabrics for car interiors in the demonstrational model of Fusion Energy that uses the PlantBottle technology. It is the first time that the rPET plant-based material is used in the car industry. The interiors of the Ford Fusion Energy car, which is already available on the market, uses REPREVE yarn, combining recycled plastic bottles (42 for a car) and industrial waste. Making the car giving back to nature as it rides is another challenge for developers. Bangkok's Lightfog Creative & Design Company has developed a concept bike that can purify air as it rides. The bike is equipped with an aluminum frame designed to run on a "photosynthesis system" that generates oxygen as a result of the reaction between water and electric power sourced from a lithium-ion battery.
Driverless cars. Autonomous vehicles (AVs) will be ruling in the coming years as a sustainable and safe alternative to human-driven cars. Unlike people, computers never drink alcohol, can't get asleep or distracted on the road, thus such systems are more reliable. Tapping into this trend, Volvo is set to launch 100 AVs on roads near Gothenburg, the second largest city of Sweden, as part of the "Drive Me" initiative. The test project will reveal potential problems related to the AV operation and infrastructure.

What to expect: Environmentally friendly transporting units—cars, bikes, self-travelling pods—will certainly dominate the market in the coming years, making the automotive industry greener and cleaner. Sustainable solutions for vehicles, ranging from alternative energy sources (sewage, electricity, solar energy, etc.) to cleansing systems that filter the emissions, will make cars as environmentally safe as park benches. Car-sharing and autonomous vehicles will be winning their big share on the market, offering safer and greener options.
Guilt-free, eco-focused practices are going to influence our purchasing decisions in the coming years. Overconsumption will be blamed, and efficient use of natural resources will be welcome, among both shoppers and brands. Living space will be turned into a system that re-uses waste, recycles and purifies not only its own used water, food, etc., but also cleanses the environment.  Slow fashion will be gaining momentum—repairing and restoring worn items should win over buying new ones. Created from recyclable materials, packaging will be durable enough for a multiple use. Within a decade or so, mass-market electric cars will revolutionize driving experience, making it safe, convenient and 100% eco-friendly.
About the Author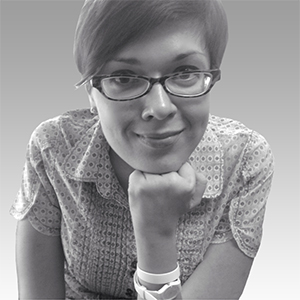 Anna Rudenko is News Editor and Features Writer at Popsop, where she covers philanthropy, future technology and the environmental pulse of the globe. She is an art films aficionado, crafter, avid vegetarian, and sustainability enthusiast who does her best to bring positive change into the world around.