Harvey Nichols, the UK's upmarket department store, has launched a tongue-in-cheek campaign to inspire customers to spend less on Christmas gifts for others in order to save more money and buy pricy gifts for themselves. The effort taglined "Sorry I Spent It On Myself" is developed by adam&eveDDB—it includes a TV spot and a range of low-cost retail items with a self-indulgent explanation on the packaging.
The Harvey Nichols collection of 11 Ultra Low Net Worth (ULNW) gifts includes 100% Real Wood Toothpicks for 47p, Water Resistant Sink Plug priced at £1.13, Multi-bristled toothbrush for £0.95, Christmas Lunch in a Tin (with most of the trimmings) for £1.89, Real plastic door stop £1.43, Authentic Lincolnshire Gravel for £1.61, and more. The "For Them" collection was launched on November 27.
Harvey Nichols told it would be selling the items both offline and online, the cheap items will paired with much more costly ones. At the moment the gifts from this "all under £2.0" collection are sold out online and can be purchased in the brick-and-mortar stores only.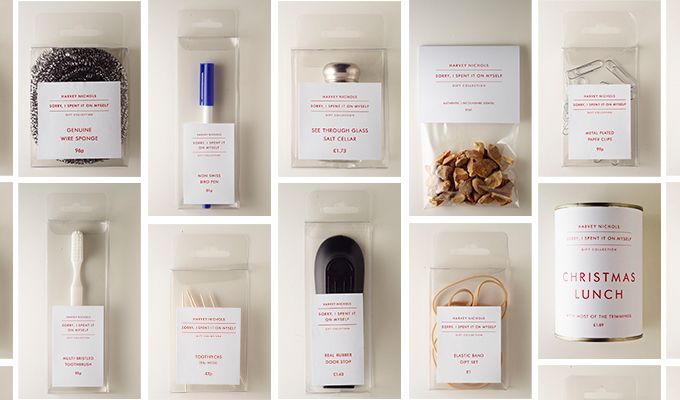 The range is supported by a video titled "Sorry, I Spent It On Myself," directed by James Rouse. It features people on Christmas morning unpacking their gifts given by their dressed up family members and dear ones. Those who get gifts bought at Harvey Nichols look happy and pleased at first, until they see what is there inside.
The retailer also invites customers to try and win one of three £500/€500 gift vouchers to be spent in store or online on the new seasonal full-price products. To participate, they are to take an Instagram picture of a favorite item at Harvey Nichols stores or online and share it using the hashtag #SpentItOnMyself until December 15. The buying team will select the best entries.
"At this time of year it can be all too easy to get caught up in the spirit of giving. We hope that our new 'Sorry, I Spent It On Myself' Gift Collection will provide our customers with low-cost gifting options for others that will allow them to spoil themselves that little bit more this Christmas," commented Julia Bowe, Group Press & Marketing Director of Harvey Nichols.