This year, the health and fitness theme has rocketed with a boost of wearable technology and all kinds of other sensory devices that help enhance physical abilities. In 2013, food brands became more health-conscious, design labels sought for solutions to make physical activity and moderate eating experiences more sophisticated, and tech brands channeled their expertise into making pieces that extend the limits of what a human body can do.
Below, there are six major trends, along with sub-trends, that have been mainstreaming in this field throughout 2013.
1. Know what you eat: every calorie under control
In 2013, this growing trend got on a top-priority list for some fast-food brands. They encouraged people to be active, consume prudent amount of calories and pay attention to nutrition, contents and production record of food products.

Cutting down on calories. In early 2013, Coca-Cola unveiled the ambitious "Coming Together" plan to deliver more informed, healthier choices to its consumers and encourage them to adopt active lifestyles. This message was translated through manifold activations ranging from the Coca-Cola Life soda based on stevia to offering smaller versions of drinks (Coca-Cola sharing cans were a bright, though limited-time example). Burger King also unveiled a new generation of French Fries—Satisfries with reduced fat.
Measuring nutrition info on the go. McDonald's introduced informative packaging to help consumers discover nutrition facts by scanning a QR code on it. The approach is smart, but consumers also want instant information about food on their plate. Currently, a team of researchers at the University of Pittsburgh are developing clothing with small cameras embedded in it that will count calories, analyzing pictures of food. The Prep Pad coupled with a special app Countertop allows to calculate how nutritious the food is, how much it weighs, to count the balance score (out of 100, based on entered data as to exercise level and health goals), and total calories per meal.
Eating ethically sourced, locally produced food. The Chipotle fast-food chain took on the Big Food corporations in the campaign that put sustainably grown food above extra profit. Another famous food chain, McDonald's, converted its name to Macca in Australia for a month to demonstrate a tighter connection with local consumers in time for the national Australia Day.
What to expect: Food giants are to become dieticians for their consumers. They will not only offer healthier choices, but will also teach on how to consume their food through general guidelines (Nestle already does it) or give advice based on facial recognition (Kraft Foods). The health-benefitting advice may be even made at the cost of the brands' revenues—for instance, brands will control the consumption of non-diet beverages by kids (through apps) or make some high-calorie products available only as a reward for some physical activity.
2. Using illusions and sensory experiences to create better foods
Natural authentic food products are usually more popular among shoppers. But sometimes, for various reasons, consumers want their regular food to look/smell/taste differently while preserving its original quality. Cost-efficient, no-harm technologies and illusions can modify the image and taste without changing anything in the piece of food itself.

Minimizing helpings. The Plate-Plate collection by Tokyo-based British designer Duncan Shotton is a set of plates that features printed silhouettes of knife and fork that are actually smaller than should be. This makes any object, like a standard-sized muffin or a sushi roll, look giant on the plate. Designers Fajar Kurnia, Jeremy Chia, Jo Djauhari from Indonesia also tapped into this trend by launching the HALVED dinnerware to help people eat less.
Dining experiences based on synesthesia. Heinz unveiled a collection of five bowls and spoons sets that mirror the taste of the five new soups. The limited-edition sets enhance the flavors of the meals with design and audio magic—the spoons feature a tiny embedded MP3 player that creates sound vibrations when the spoon is put within a person's mouth. The sensory dining spoon set STIMULI, developed last year and revealed as part of a real-life experiment in 2013, is based on the notion that tactile senses can enrich tasting experience. The range of spoons of helps find the most fitting music for recipes.
Scent-based experiences. The Scentee kit features cartridges that disperse the smells of various non-diet foods like cinnamon roll or barbecued meat while eating diet-approved meals such as boiled vegetables or porridge. The cartridges are inserted into a smartphone and managed through a free app. The era of energy drinks may be coming to an end if the products like Sprayable Energy enter the market. This odorless and colorless mix of water, caffeine and a tyrosine derivative is dispersed onto skin to provide a similar energy boost as a can of Red Bull or a cup of ristretto. One of the growing trends in this field is drinks and food that can be breathed in. In fall 2013, there was the "Breathable Tea Room" set up in London that allowed not to sip, but to inhale various sorts of tea, and back in 2011 the Le Whaf glass installation, developed by English aerosol scientist and French cook, allowed to inhale foods to feel their flavor and taste (and even get some amount of calories with it).
What to expect: Brands will be utilizing multi-sensory experiences to transform food in our perception. Zero-calorie smell, optical illusions, lights and temperature will be used to make food tastier and make the portions look bigger, nutritious but tasteless meals be more attractive for people on diet and kids. Modular cuisine is nothing new—there's been already a range of studies on how light, music and shape influences the taste perception,—and it will definitely evolve over the coming years.
3. Grow what you eat: going beyond greenhouses and farms
The DIY (do it yourself) trend is blooming in the food area, and this means not just cooking dinner at home, but also producing ingredients, usually purchased at a local store, right in the own kitchen.

3D-printed food. Not just plastic or metal objects can be recreated at home—now chocolate and sugar decorations for cakes are already produced domestically, and the technology for 3D home-printed bread and pasta is developing. Additionally, NASA also aims to create printers for making food in space.
Home gardens and farms. Gardening in the kitchen or balcony is gaining momentum as more people are tending to consume more vegetables and locally-sourced products. Nourishmat, one of many projects that help make urban gardening simple and fun, lets grow vegetables, herbs and flowers on a sheet featuring pre-planted seedballs.
In vitro meat. Launching artificially grown meat products in the massive market is most likely a matter of a decade. The positive impact of such meat is twofold: it can solve the food crisis and help address the climate change. In August 2013, the first-ever burger with so-called cultured beef cultivated from real animal muscle cells was created and tasted in London. Responding to the trend, the Netherlands-based group of visionaries Next Nature wrote a book titled In Vitro Meat Cookbook, exploring potential meat products that may appear in the nearest future.
What to expect: Now that consumers are able to grow food at home, brands will definitely tap into this trend, offering kits and additives as well as advice and guidance on how to drive the consumer experience to the new heights. With the production process being shared between brands and consumers thanks to 3D printers and wall gardens, the customization will jump to the next level, and labels will encourage it in all forms. These solutions will help lay the groundwork for cooking experience that depends only on the in-house resources.
4. The body's physical life hacked and improved
The most popular wearable technology of our days is wrist devices that track progress, analyze records and motivate their owners.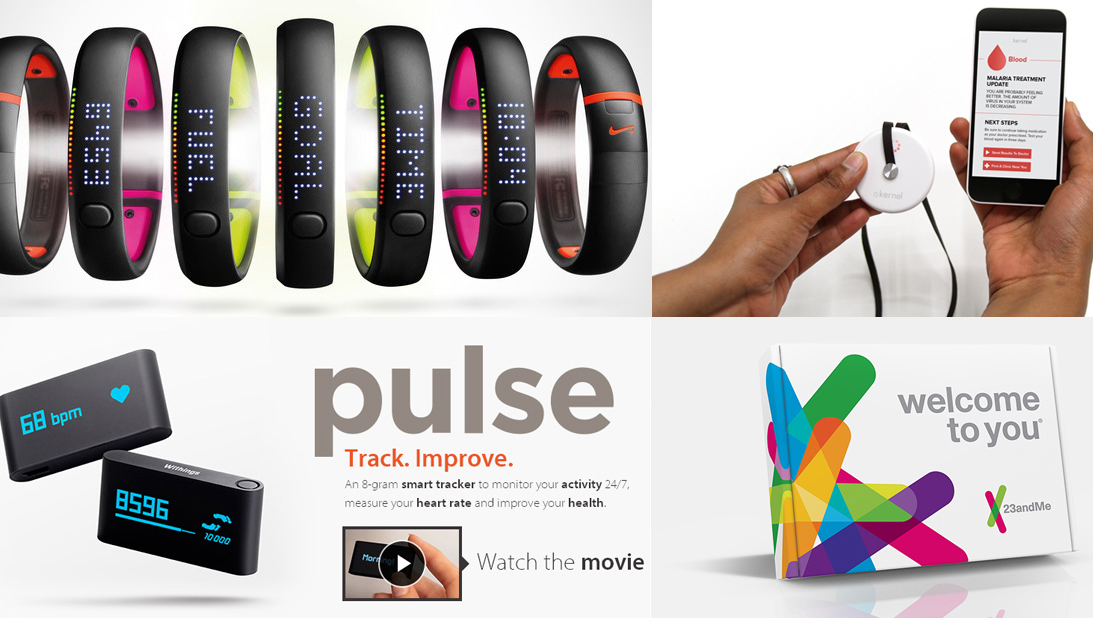 Athletic performance. NikeFuel, which got upgraded this fall, is leading the category of wearable bands that monitor physical activity, motivate athletes to reach the goals they've set and analyze the performance, but it's not the only product of this kind on the market. Adidas launched Smart Run, an on-wrist band designed to track running activity only—the label also integrated microchips into the athletic wear and bands that measured the activity. The similar idea is behind the Sensoria Smart Sock Fitness Tracker, slated to release in 2014—they will feature textile sensors under each foot, all to measure how actively the wearer moves to warn of heel striking or excessive forefoot running that potentially may cause injuries. The data sourced by the socks will be managed by a special app. The tiny Notch tracker comes in a set of modules that can be attached to any piece of apparel and track any movement of the body, whenever it happens, and then share and compare the performance on a social network.
Daily activities under control. Not every consumer is a professional or even an amateur athlete, but we all have a body that spends some energy on everyday routine actions and has cycles that can also be measured. The Withings Smart Activity Tracker does it—it's a tiny device that can be easily placed into a pocket to track physical activity, measures heart rate and sleep patterns. The gadget syncs with the WiFi-enabled scale that displays weight, BMI and body fat and also analyzes indoor air quality. The sourced health data is sent to the cloud via an app.
Deepening into physiological processes. While analyzing muscle activity may be already no surprise, getting to the metabolism level is a revolution. The AIRO Wristband device uses LEDs spectrometer featured on its underside to detect the metabolites in the bloodstream. Developers say that the device is able to "parse the nutritional value of food into protein, fat and carbohydrates," since specific nutrients have different light properties, and the sensor can detect the amount of light that passes through the blood. Additionally, the gadget tracks physical activity, level of stress and analyzes sleep cycles to wake the wearer up when it's the most optimal. The prototype TellSpec device is also said to calculate calories as well as ingredients, chemicals, and allergens in any food it scans. The recently unveiled concept Kernel of Life, conceived by the Gates Foundation and Wired Magazine and developed by studio fuseproject, comes as a true lab on the go. The round-shaped pendant features a bio-sensing absorbent pad that is able to test four key body's liquids—blood, saliva, breath, and urine. The results of the tests are automatically uploaded to a mobile app, get transmitted to a cloud then and can be reviewed by doctors remotely to diagnose a developing illness. The device also reminds a user to take a medicine or visit a doctor.
DNA data made accessible to everyone. Now anyone can get a deeper insight into their genetics with kits from companies like FamilyTreeDNA or i-Gene. The popular 23andMe project that aimed to make genetic analyses affordable ($99) without going to a clinic, stopped marketing its product due to FDA's demand. The regulation is based on the notion that if "risk assessment for breast or ovarian cancer reports a false positive, it could lead a patient to undergo… morbidity-inducing actions, while a false negative could result in a failure to recognize an actual risk that may exist." Starting November 22, the 23andMe kits will be providing "both ancestry-related information and raw genetic data without 23andMe's interpretation."
What to expect: Wearable trackers will be able to measure just everything that relates to how the body feels. Wrist devices, tech apparel and home laboratories will deliver accurate medical info that will shape our daily activities to make the most of what our body can. The data will be analyzed and delivered in simplified, guidance-like form, creating personalized programs of workouts, dieting, etc. Most probably, Google Glass will rule in this field in the coming years, allowing to report on the problem and immediately get a feedback from a professional. The direct-to-consumer business model will surely dominate in the medical field. Tech brands will collaborate with fashion-designers to develop more sophisticated versions of wearable technology pieces.
5.  Mood captured and improved with tech    
While physical fitness is one of top priorities for a modern person, mental health and mood are important as well.

Visualizing mental disorders. Depression, phobias, anxiety may cause severe mental problems and lead to social discomfort. To help battle awkwardness and start a conversation about physiological disorders, illustrator Toby Allen created a series of wonderful drawings visualizing illnesses ranging from dissociative identity disorder, paranoia, anxiety and more. The psychiatric charity MindFull targeted the youth with surrealistic illustrations of what a person with mental problems may feel—teens aged 11-17 are encouraged to visit a dedicated site to contact an expert if they experience some of the described anxieties. To inspire sympathy towards people suffering from mental disorders, a charity pop-up store The Depressed Cake Shop was selling cupcakes created to symbolize psychological problems—they were mainly grey and featured sad face expressions.
Tracking mood. Similar to wearable gadgets designed to measure physical performance, there are devices created to track physiology reactions to determine the body's stress. The W/Me band monitors the body's autonomic nervous system, figures out the current mood (pessimistic, anxious, passive, etc.) and provides the wearer with some breathing tactics to improve the mental condition. The OMsignal apparel also monitors the heart and breathing rate, helps determine when the person is experiencing stress and sends this information to relatives and friends, all to allow the loved ones keep track of each other's mood. The Mico musical device, comprising a headphones and an app, captures and analyzes the brainwaves to detect the mood and then plays the music that best matches the current mood. In Sweden, a special wall-mounted kit was launched in partnership with mental health awareness group Campaign Hjärnkoll to spot the early signs of mental disorders by polling readers about how often they experience various symptoms of stress. The installation also featured a QR code with a link to the medical site.
Alternative therapy. A good sleep can be a cure to stress, so big companies continue to experiment with different approaches to deliver short siestas in day time, out of home. Pop-up capsule hotels and sleeping pods are emerging across the globe to let travelers and office workers nap in a cozy and safe environment. Another great method to reduce stress and even improve mental state is connecting with art. London-based The School of Life offers a new service, allowing people to have in-person or remote Skype consultations with a therapist specializing in both art and psychotherapy. The expert will analyze the issue and offer a set of carefully selected works of art that can contribute to improving mental state of the clients. Each of them receives a curated list of images, chosen for the particular case, accompanied with wise commentaries on how to get the most from the masterpieces by looking at them. Inspired by the fact that classic music has a healing effect, Japan Philharmonic Orchestra released a kit of musical cures for psychological problems. The abstracts from famous symphonies, stored in mini SD cards in the form of tiny pills, were given out to patients based on psychologists' prescriptions. The pieces were positioned as alternative medication to improve a range of problems, ranging from constipation and a lack of appetite to bad skin or insomnia.
What to expect: Mental wellness is in fact no less important than physical fitness, so brands will definitely want to contribute to this side of a consumer's life just as they do with diets and fashionable clothing. In the coming years, we may witness the rise of wearable technology that enables people to touch each other over long distances, to show compassion and create a feeling of "being there with you" which adds to mental comfort (Durex underwear and the BOND bracelet/pendant are early birds of this trend).  Social groups will also encourage the audience to speak out and discuss their anxieties, don't be shy of them (Glamour's campaign "Hey, it's OK" was raising awareness of about depression among girls). Depression blood or salvia tests may be also entering the market soon.
6. Physical disability as incentive to innovate
Physical illnesses are now positioned not as an end of the life journey but rather as a transition to a whole new level. The lack of ability to do something in a traditional way is now perceived as a gap that is to be filled with new solutions based on a creative technological approach. Tech-powered projects are emerging fast to support physically challenged individuals in the process of overcoming the boundaries.

Image of a disabled person gets a positive facelift. This year, some cities across the USA, including NYC, agreed to adopt a new, energy-packed sign that symbolizes wheelchair accessibility. Guinness launched an emotional heartwarming video featuring a team of friends in wheelchairs who are playing basketball. In the end of the ad, five of six friends get up except one, a guy with a physical disability who stays in the chair. After the game, all of them go to a pub to celebrate their friendship with beer.
Prosthesis as a technological masterpiece. The rapid development of bionic technologies allows to create artificial body parts that look similar to the real ones and offer similar level of performance. In February, Channel 4 aired a documentary titled "How to Build a Bionic Man" that explores the innovation in this field—on the dedicated site, one can also bionicise their body online. Mind-controlled prosthesis start a new era in the niche, bringing new possibilities to people who don't have limbs. 3D-printing technologies allow to reduce the time and cost of creating artificial body parts—from arms to eyes—and also can be used in creating chick casts for fractured bones, like Cortex.
Improving the damaged sensory experience. The blind people are getting a chance to experience the world in a better way with a range of new devices. These include the Kinect Eyes-Free yoga instructor that analyzes the movement and gives audio instructions, and also the UltraBike ultrasound sensor kit that enables visually impaired people to ride a bicycle and "see" the obstacles. Bikes get equipped with special device featuring sensors that detect various objects ahead and alert the rider through vibrating handlebars. Yahoo! created a dispenser that creates 3D replicas of everyday objects for blind kids—children name the objects they would like to touch, and the machine produces the tiny copies of these items right away. The Sign Language Ring allows deaf people to communicate freely with any person—the rings analyze the moves of fingers and then translate the words and phrases into an audible form through a special bracelet.  
What to expect: From the practical point of view, disability coupled with technology now means even more than ability in its basic form. With the rise of bionic science and easy-to-create 3D body parts, it's possible to deliver missing body limbs and organs that are almost as good as original ones. With the development of transport technology and sensory devices, physically challenged people can get the same amount of activity as healthier people. Mind-controlled prosthesis and other devices are to dominate in the life of people who lost physical ability, partly or completely. A human body becomes a strategic design and technology project of the coming years.
To sum up, the year of 2013 can be characterized by the boost of conscious food consumption (eating less, opting for healthier food), tracking all body signals (both physical and mental), and the rise of technology aimed to drive more ability into the live of the handicapped.
About the Author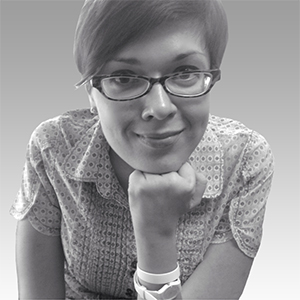 Anna Rudenko is News Editor and Features Writer at Popsop, where she covers philanthropy, future technology and the environmental pulse of the globe. She is an art films aficionado, crafter, avid vegetarian, and sustainability enthusiast who does her best to bring positive change into the world around.