Yesterday Moscow's main hipsterish attraction Gorky Park saw the launch of the most ambitious brand new mobile device so far—the world's first dual-screen smartphone with an «always on» EPD-display, YotaPhone. The new device, whose prototype was first unveiled about a year ago, has been developed by the Russian company Yota Devices, an arm of the Russian WiMax operator Scartell, providing Internet services in the country under the brand Yota since 2008.
So what's hot about the dual-screen device?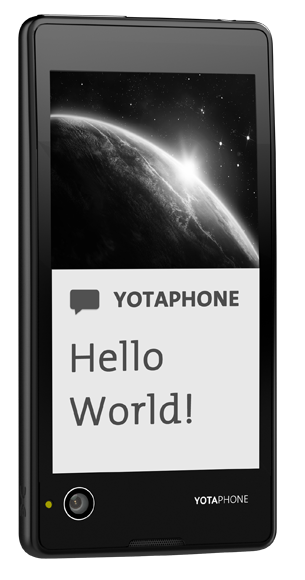 You can use two screens at a time—for different purposes. The YotaPhone has one 'standard' touch-screen LCD display along with a second e-ink, black-and-white screen that may be used for reading, displaying messages and emails at all times. The secondary screen developed by the Taiwanese company E Ink consumes little energy, so lets the phone work even if the battery dies and guarantees up to 68-hour battery life while using the e-paper display only.
Powered by Android OS, the phone features a 1.5GHz dual-core processor and a 12-megapixel rear camera and has more or less the same functionality as most of competitor's smartphones do.
The company's CEO Vlad Martynov says that YotaPhone is to go on sale in December in Russia, Austria, Germany, Spain and France with 20 more markets to operate on by March 2014. The device will sell for 19,990 RUB/ 499 EUR/ 600 USD—in Russia, Europe and the rest of target markets respectively. The sales plan for the first year is rather ambitious—the company plans to ship about half a million units, most of them in Russia.
Mr. Martynov explains the concept and unique selling point of the first Yota's mobile phone:
«The typical user picks up and activates their smartphone more than 150 times a day. Why? Because users worry that messages or information they need or want are hidden behind their phone's black screen. This is a huge distraction and can impede meaningful interaction with our friends, families and colleagues.»

«With many smartphone owners struggling to make the battery on their device last a whole day, the option to have a secondary screen that uses little or no power to capture and display a 'snapshot' of the main screen could be attractive,» he added.