I read in the Wall Street Journal earlier this week that the image-messaging firm Snapchat, founded by 23 year-old Evan Spiegel, rebuffed a $3bn (£1.9bn) acquisition offer from Facebook.
Snapchat—for those of you who don't have teenage daughters like myself—is an extremely popular mobile app that lets users communicate by sending each other photos that automatically delete after a few seconds. This is what's driven its success; people can share pictures safe in the knowledge they won't come back to haunt them in 20 years' time.
What's interesting is that a brand like Facebook, which has invested a lot of effort in helping people create a timeline of their life story, is so keen on a brand that instantly rubs that story out. If Mr Zuckerberg had successfully snaffled Mr Spiegel it would have been his biggest purchase to date, but with Snapchat users sharing 350 million photos per day Evan knows he's tapped into something that's capturing the mercurial millennial imagination. But what does Snapchat offer people that other social media doesn't? Surely it's more than concerns over personal privacy? And what does it mean for how your brand shares its story?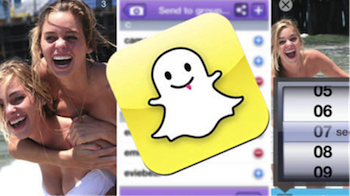 Blink and you'll miss it
It seems counterintuitive, but can a medium that literally disappears before your eyes really work for brands who've spent their days trying to create things that last? Well, maybe it's not so crazy. In a world where we all pretty much have the means to 'shout out' to the planet, there's now a place for those who want to be a bit more discrete.  And with discretion and limited availability comes exclusivity, immediacy and – most importantly – desire. Which is why I'm not sure it's for everyone. Certainly for brands that are edgy or playful, such as luxury handbags, accessories, footwear and apparel brand Rebecca Minkoff, it can work.
Minkoff recently used Snapchat to work around the industry taboo of revealing designs before New York Fashion Week. The big idea behind any fashion week is to give the great and good of the industry a real time exposé on new collections; giving the game away online means there's nothing for the fashionistas to look forward to. But being able to build buzz with sneak peaks over Snapchat, without anyone being able to hold onto or leak the photos, changes the game.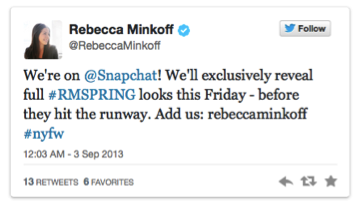 As well as making people feel special, Snapchat also feels more personal because there's no room for super sleek photography. Opening a Rebecca Minkoff Snapchat looks exactly like any other Snapchat created by a friend, and you can send brands a direct reply.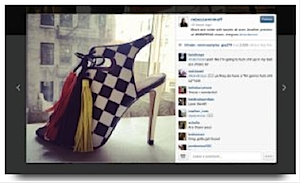 Minkoff have definitely put a lot of thought into this 'up close and personal lo-fi angle', as CEO Uri Minkoff explains: 'We believe consumers are part of [fashion week], and that their inclusion is going to grow. Consumers have a voice and a say in [our] brand – they should get special perks even if they can't attend the show.'
Snappy stories
Obviously there's only so much you can do in ten seconds, so Snapchat has rolled out a new feature called Stories that allows you to add a 'snap' to a feed for 24 hours before it vanishes. The update lets you string together a narrative of your day with clips disappearing as they reach the time limit, and newer ones are added to the end of the story cycle. You can check one of their ads for the new feature on YouTube.
So far not many brands have taken up the opportunity to share longer 'installment' stories, but one that has is US fast-food giant Taco Bell. It's basically pictures of people making a Taco Bell run, with Snapchat's graffiti feature scribbled on top, so unlikely to trouble the Booker prize judges in terms of storytelling. But they have to be applauded for being early adopters, and experimenting with the latest social media innovation. According to Nick Trans, Snapchat's social media lead, 'This is something a lot of fans tell us all the time, they love sharing their stories and trips and adventures.'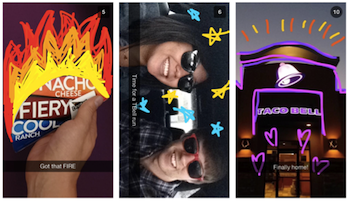 Just be you
For those of us not brought up on social media Snapchat helps break down the relentless nature of the beast, giving young people the opportunity to play about and not take themselves too seriously. Yes, they can get exclusive behind the scenes insights; yes, they can get limited coupons and secret announcements; but perhaps most importantly they get back their freedom to be spontaneous, to be themselves and enjoy life!
About the Author

Greg Taylor became founding partner in global brand design consultancy Elmwood in 1989. Now Director of Brand Provocation, Greg is the creator and facilitator of Step Change™, Elmwood's strategic tool for moving ideas forward. Clients include ASDA, Wal-Mart, Arla Foods, BBC, COI (Defra and DfT), Cable&Wireless, Comic Relief, Debbie & Andrew's, Durex, Glasgow 2014 Commonwealth Games, McCain, and the Met Office.