Doing good can be not just rewarding, but beneficial for all—prove the U.K. ethical food brand for kids and toddlers Little Dish together with the London children's charity Kids Company.
The organisations have teamed up in the run up to Christmas to raise extra funds for the the inner-city children and make their holidays brighter. Everyone who cares can take a pledge via Facebook and donate minimum £2 that will be spent on two hot meals for a vulnerable child at one of Kids Company's centers across London.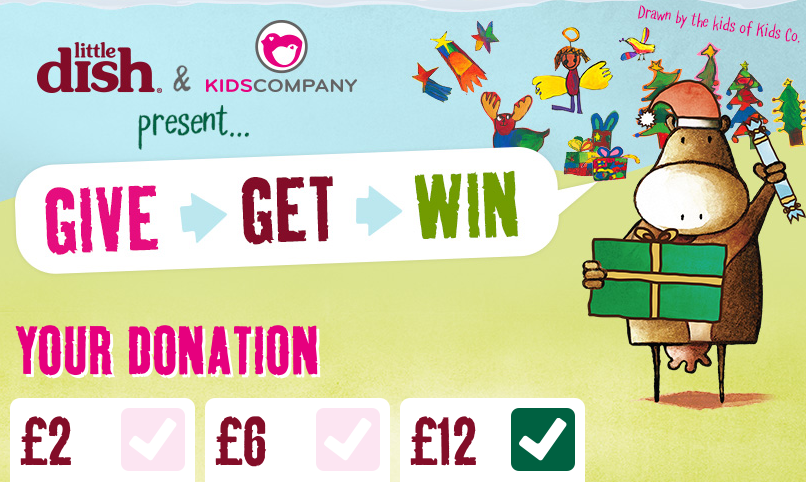 In return, for every £2 donated a donor gets 2x £1 off vouchers that can be redeemed against any Little Dish purchases, moreover, the participant automatically enters a weekly prize draw for a chance to win some fun family prizes ranging from expensive Samsung Plasma screen TV to a cute handcrafted wooden truck (see the full list of prizes here).
The «Give Get Win» campaign is open now and runs on Facebook until the 20th December.
The charitable efforts of both Little Dish and Kids Company are admirable. The former, founded by Hilllary Graves, mother of two, feeds approximately 100,000 children each week, while latter, founded by Camila Batmanghelidjh, has been providing practical, emotional and educational support to 36,000 children from vulnerable families across London since 1996.
Mrs. Graves commented on the partnership with Kids Company:
"We set up Little Dish with a mission of 'healthier kids' and are committed to helping Kids Company look after some of the most vulnerable children in our society.  The 'Give Get Win' campaign is just the first step in our partnership to help make a difference to the vital work Kids Company does and at an important time of year."