Contagious Magazine has released its annual report, Most Contagious, to highlight the technologies, trends and innovations that have been influencing and changing the marketing industry throughout the past 12 months. This year's issue is a 96-page book that reflects on the most game-changing moments and presents the year of 2013 in an easy-to-follow condensed format. Find the summary of the round-up below.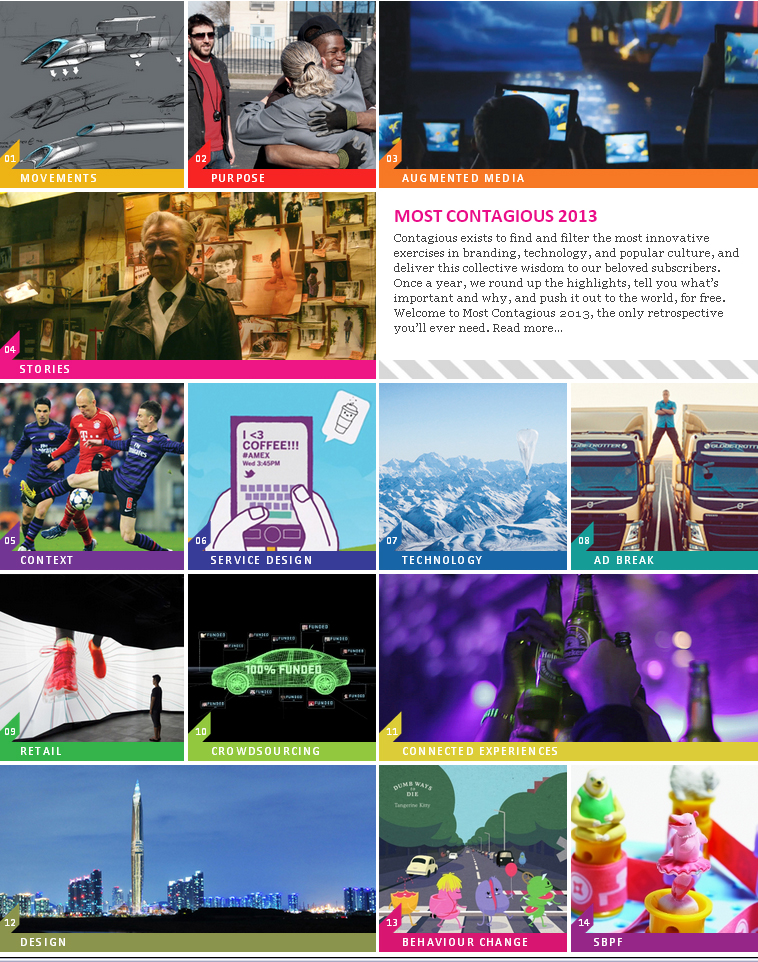 The 2013 report focuses on 14 themes, where innovation in design, technology and marketing sparkled this year. The highlights below feature the major trends, sometimes with subtrends, along with key terms, names and examples in a bit-sized fashion.
01. Movements
The year of 2013 saw all kinds of new physical motions and social movements that had been seeded earlier and finally spread from trendsetters to the broader audience.
Grand Gestures—space exploration (AXE Apollo), rapid transportation (Hyperloop) and transforming government digital hubs into a more engaging online space (UK's Government Digital Service).
Endangered Secrets—Edward Snowden redefined the take on online privacy, anonymity and desire to secure or destroy online messages shortly after their creation (Snapchat, Whisper, Silk Road, Whatsapp, and more).
Permalance Proletariat—rise of freelancing practices and sharing economy services (Airbnb, Lyft, Taskrabbit and more).
Hypersexual Self (ie)—twerking, selfies, sparrow-faced, Drake hands, importance of good sexy portraits leveraged by match-making thumbs-up-or-down service Tinder, and going from just visual into video with Vine.
TV Turmoil—YouTube that reaches an estimated 70 million users globally creates new ways of brand involvement, on-demand steaming services like Netfix are behind the binge-watching habit that disrupts traditional advertising schemes.
02. Purpose
Philanthropy causes behind the brand make it look more appealing. Reports say that 91% of people globally are likely to switch to another brand if it is of similar price and quality but supports a good cause.
This year's philanthropy initiatives by brands included adopting a village and supporting its kids with the consumers' help (Unilever's Lifebuoy), delivering meals to communities that were re-built from a natural disaster (Toyota's Meals Per Hour), starting economics literacy courses (Khan Academy and Bank of America's Better Money Habits) and leveraging mobile technology to convert school books into a 160-character format (TXTBKS) to name a few.
03. Augmented Media
Now ubiquitous, mobile phones and tablets act as second screens and bring a layer of additional functionality into play, triggering extra value and relevance of the traditional media. 2013 has been a year of building engagement and transforming content—packaging, movies, music clips and prints—into a less passive experience.
Augmented reality told more about the meal's background and journey (McDonald's TrackMyMacca's), merged online calls, children's stories and theatrical plays (Penguin's Storytime Hangout), simplified news for kids (Tokyo Shimbun's AR app), and allowed viewers to see synchronized and relevant content in TV programs (NTT's Visual SyncAR) to name a few.
04. Stories
Brands are employing new formats for their stories. They are now switching to multi-screen, fluid, immersive, non-linear and real-time narrations. In such stories, the audience can pick up different pieces of the narration, in any order, from any platform. Users can also participate in the story's creation.
This trend has been reflected through social films that put customers in front and center of the content (Intel and Toshiba's The Power Inside), reality-show that unfolded entirely on social media (AT&T's @SummerBreak) and snackable storytelling to inspire safety (AT&T/ Texting Can Wait), among others.
05. Context/Targeting
Privacy is now challenged by consumer's desire for targeted and relevant info. Statistics by Accenture reveals that 61% of millennial shoppers would trade privacy for personalized offers from retailers.
Targeting and context relevance services have evolved into many forms this year. The approach was helping the police find missing people through retargeted ads in YouTube videos (The Australian Federal Police's The Missing Person Pre-Roll), got pay-TV broadcaster stream live during ads on competitive channels (Sky Germany/ Sky Livespots), forecast the spread of flu (Achoo by Kleenex) and more.
06. Service Design
The evolution of Living Services has started—we've witnessed the rise of all-pervasive utilities that get distributed across many web-connected devices to analyze the users' behaviors and their surroundings. Research by McKinsey reveals that the performance on end-to-end consumer journeys is 30%-40% more deeply correlated with a shopper's satisfaction than performance on an individual touchpoint.
The best ideas that employed this trend in 2013 were: the iGaranti app from Turkey's second largest bank that featured 23 customizable financial functions, the Sync On Twitter service by Americal Express that let users purchase items on the micro-blogging platform using hashtags, and mobile journey-planner app, Reisplanner Xtram from NS, that sent notifications to passengers on how busy an incoming train was and informed which carriages had free seats.
07. Technology
Hardware remained the most important product this year, even with all these apps and web-extensions. Accessibility was named to be the king of 2013 in tech. From delivering Internet access in remote areas to making devices as interactive as possible with virtual reality and gesture control, tech powerhouses want to make their products accessible and useful across all the markets, with a focus on developing regions.
The issue of accessibility has been explored by Ushahidi's BRICK generator that switches between available internet networks, supporting up to 20 devices, with a battery that lives 8h+, and Matternet's transportation network of unmanned units to deliver small packages of necessary supplies to people in remote areas. Motion detector MYO by Thalmic Labs analyzes underarm movements and relays that info to connected objects. 4D printing, where time is the fourth dimension, and adaptable screens will also be developing over the coming years.
08. Ad Break
The 2013 is dubbed the year of the video. Creators of video ads had to be very inventive this year to develop truly compelling spots to reach the audience. Humor, hacked science, super-human abilities, pulling on heartstrings—all this will help to create a truly viral, contagious ad.
Some examples of amazing and gripping ad snippets were: IBM's "A Boy and His Atom" that used 242 photos of amplified individual atoms, MINI's Driving Dogs with rescue canines trained to drive a car, and HelloFlo's tongue-in-cheek ad about a girl who got her first period in a camp and became a Camp Gyno.
09. Retail
This year retail emphasized on customer experience like never before. SapientNitro reported that retailers that provide people with engaging, digitally-enhanced experiences can get in-store sales expending by as much as 40%.
The approach involving all kinds of interactions with consumers was leveraged by a plethora of brands, this way or another. Google and CFDA hosted the first-ever shoppable hangout on Google+, Vodafone in Egypt released "Fakka" cards, mobile phone "micro-recharge" cards for vendors to give to their customers instead of petty change, and Under Armour Experience placed promotional interiors over products.
10. Crowdsourcing
The talent of the crowd seems to be one of the most powerful resources for established and start-up companies. Collective creativity has been leveraged to invent new business models and redefine the existing ones. The research firm Gartner forecasts that by 2015, companies using crowdsourcing in marketing campaigns or creation of a new product will drive revenue by 1%, compared with their "non-crowdsourced competitors."
Crowdsourcing practices have been used in a range of projects including DHL's MyWay service that engaged drivers to deliver parcels along their normal driving routes for a small fee, vehicle-funding project Dodge Dart Registry that allowed users to ask friends and family to fund the car in sections, and MySmartEye app from StarHub that invited people with normal sight to identify objects for the visually impaired.
11. Connected Experiences
There is a range of complicated web-connected devices and wearable tech gaining momentum now. But brands also actively use cheap, small sensors and cutting-edge technology to let consumers connect on- and offline, within everyday life and special augmenting analogue events, in a totally new way.
In 2013, the world saw the Heineken Ignite smart bottle that reacted to the holder and the night club's environment with light, and Durex Fundawear, multisensory underwear, that allowed a loving couple "touch" each others' intimate parts from miles away, to name just a few.
12. Design
This year, design has been actively spreading to bigger object like walls, cities, urban skylies, it was used to re-interpret iconic products and bring in creativity to change urban areas, often with disrupting guerilla campaigns. City objects were created to expand scenery and inspire creativity, not to bring in more mess.
Here are a few examples that mirror these trends: Tower Infinity by GDS in Seoul designed to show what's happening behind using optical cameras, Banksy's Better Out Than In creative experiment that introduced artistic pieces, unannounced, across NYC, Heineken's The Sub draught beer home machine, and Coca-Cola's sharing can.
13. Behaviour Change
In 2013, many brands used gaming, online video and behavioral tricks to keep people health-conscious, safer and more financially responsible.
Prudential's Challenge hub explored why Americans don't save enough for retirement, RAC Australia revealed an Attention Powered Car to demonstrate how easily drivers can be distracted, and Metro Trains Melbourne reviewed Dumb Ways to Die, to name a few.
14. SBPF (Small But Perfectly Formed)
Bit-size format and straightforward ideas are winning the heart of the audience. Small companies and startups are looking how to deliver positive changes with their tiny, but mighty products.
For instance, GoldieBlox, an engineering game for girls, aims to narrow the gender gap in science, the Tinder app allows match-making based on photos and shared friends only, and the Everest app helps people achieve their goal and inspire others to do the same.
The Most Contagious 2013 book can be viewed online and in PDF-version for free. Its physical copy can be ordered for £70 including delivery.