UNIQLO has released a cooking app for iPad and iPhone that matches outfit, food and music. For the "UNIQLO RECIPE" project the brand has tapped 6 emerging chefs from USA, three men and three women, to develop original and simple dishes inspired by the label's LifeWear ethos, "Clothes for a better life, for everyone, every day."
The 24 culinary how-tos are stored within a beautifully designed free application for Apple smart devices. There are four recipes—breakfast, dessert, lunch and dinner—from each of the six chefs. The recipes are unveiled in the form of easy to follow step-by-step instructions—the ingredients used for the dishes are traditional and the techniques are also well-known. All steps are illustrated with clean and crisp photos, which makes it even easier to follow the recipe. Plus, the app displays the diet properties of the dishes—says if its dairy-free, gluten-free, vegetarian or vegan—and the list ingredients one would need to cook the dish for 2 (4)–8 people.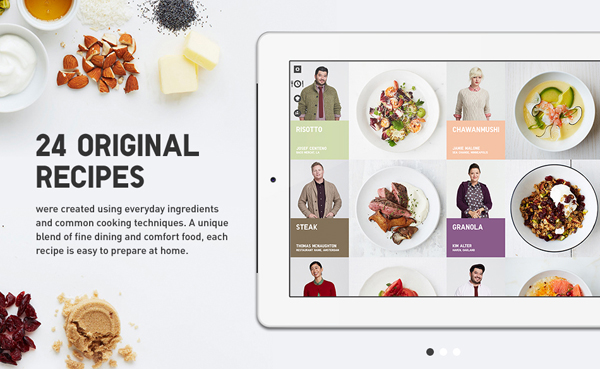 Each of the recipes is inspired by a certain UNIQLO outfit—the chefs pose in the brand's clothing items that influenced the dishes visually, with their colors and textures. The app allows to shop items from the chefs' looks. Users can learn more about the chefs in brief profiles—the profile page features an insight into how and where the protagonist works (the restaurants, training, specialties and style), pictures of his or her meals for this UNIQLO's project, and a video.
The app also features a music timer with light kitchen sounds that can be used while cooking or on its own, just to create a nice dining atmosphere.
In fall 2013, UNIQLO released a hair-dos guide that matched hair-styles with outfit.