Along with Google that has just released its Zeitgeizt 2013, three other social media giants—Twitter, Facebook and Instagram—are also revealing their reports on what has been popular throughout the outgoing year.
Twitter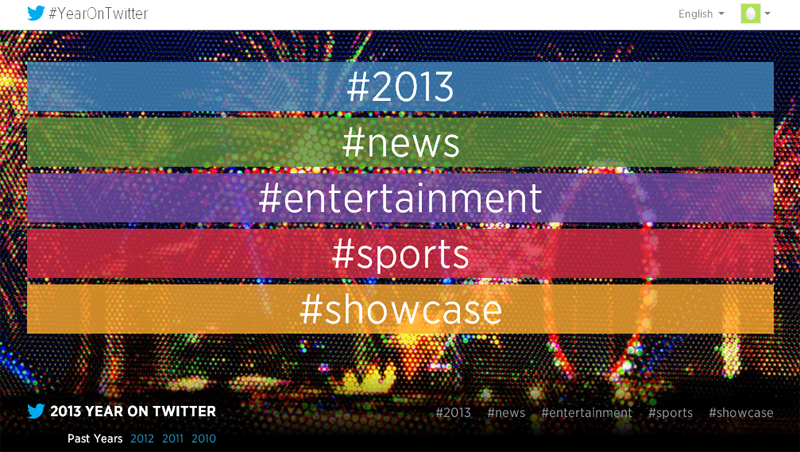 The micro blogging service has revealed the most popular and trending tweets of this year on a dedicated microsite, #YearOnTwitter. The #2013 section features the topics which were discussed actively on Twitter by month. The #news section reveals the updates and shared opinions on global events, breaking news, pop culture and local tales. In the #entertainment section, users can re-discover most popular tweets about music, TV, movies and pop culture. The #sports chapter invites to browse tweets across every kind of sporting event around the globe. For the #showcase section, best tweets of the year were hand-picked by selected publishing partners.
The numbers are reviewed in a dedicated 1-minute animated video. The spot tells that there were 500 million tweets a day and 230 million active users. As many as 40,000,000 people have tried Twitter's Vine service to create 6-second videos. The video also looks back at some of the most popular tweets of the year. For a detailed review, read a post on Twitter Blog.
Facebook
Facebook has encouraged its ginormous community to discover what the world was talking about on the dedicated page on Facebook Stories. It features a video that looks back at the most trending topics, people, events, memes and more.
Below the video, there is a grid wall that reveals:
Top Life Events—it was adding a relationship status;
Top Check-Ins Around the World by country—for the UK it was The 02 in London and for the USA it was Disneyland, Anaheim, California;
Most Talked Topics Around the World—Pope Francis
Most Talked Topics Near You by country—it was Andy Murray for the UK and Super Bowl for the USA.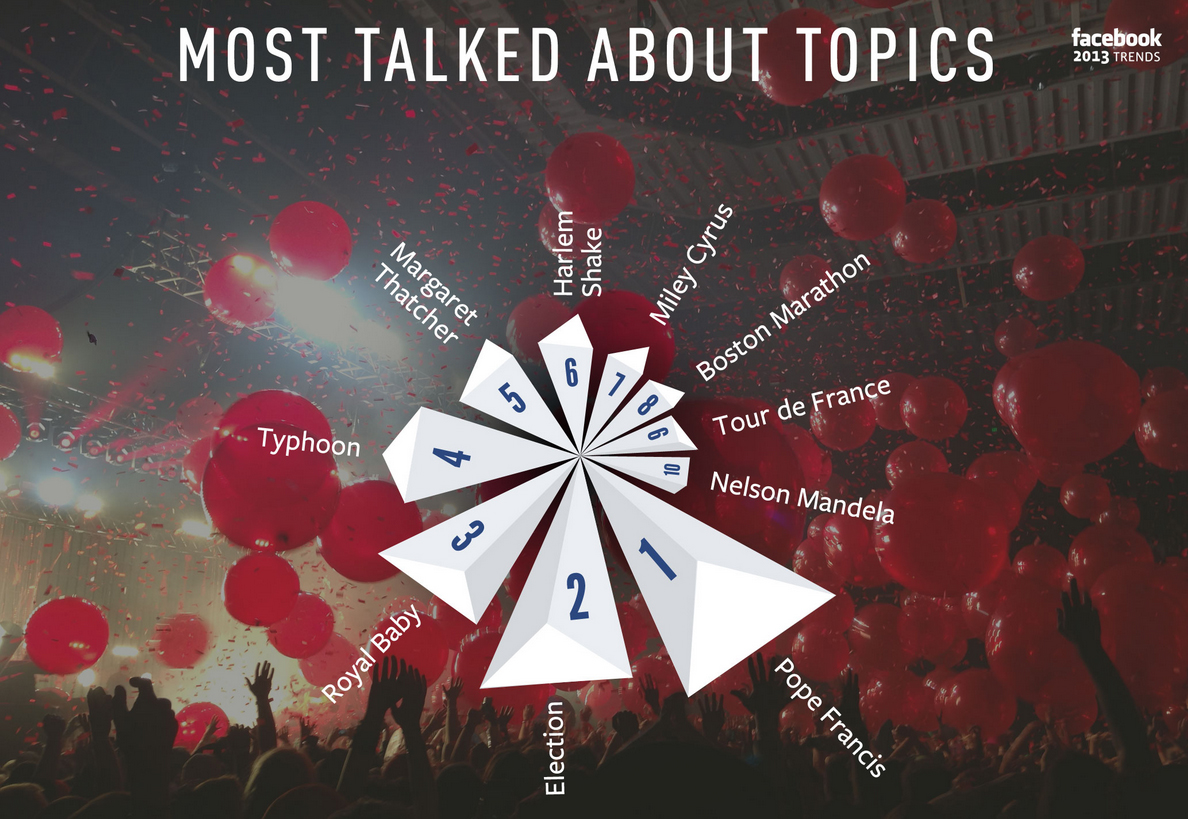 Each chart is delivered as an infographics, in English, French, German, Italian and Spanish. To learn more about trending topics on Facebook and the methodology of the review, read the "2013 year in review" blogpost.
Instagram
The popular photo-sharing service revealed top 10 Instagram locations in 2013. It says that just like in 2012 the top Instagram location was Siam Paragon (สยามพารากอน) shopping mall, Bangkok (Thailand), followed by Times Square, Disneyland, Bellagio Fountains and Disney World on the top 5 list. The most Instagrammed city of 2013 was NYC, followed by Bangkok, LA, London, Sao Paolo, Moscow, Rio de Janeiro, Las Vegas and San Francisco. The report says that the service has gone truly global these years—60% of Instagrammers are now sharing their photos and videos from outside of the USA.