The Vivienne Westwood English fashion brand is communicating its long-standing commitment to ethical business through its new collaborative project, "Vivienne Westwood ♥."
As part of this initiative, the brand has teamed up with five other U.K. fashion labels—Globe-Trotter, Gloverall, Lock & Co., Johnstons of Elgin and Pantherella—that epitomize the British cultural tradition and goodwill values. Together, they've created a collection of apparel, accessories and travel bags with a nod to their local and global visions at the same time.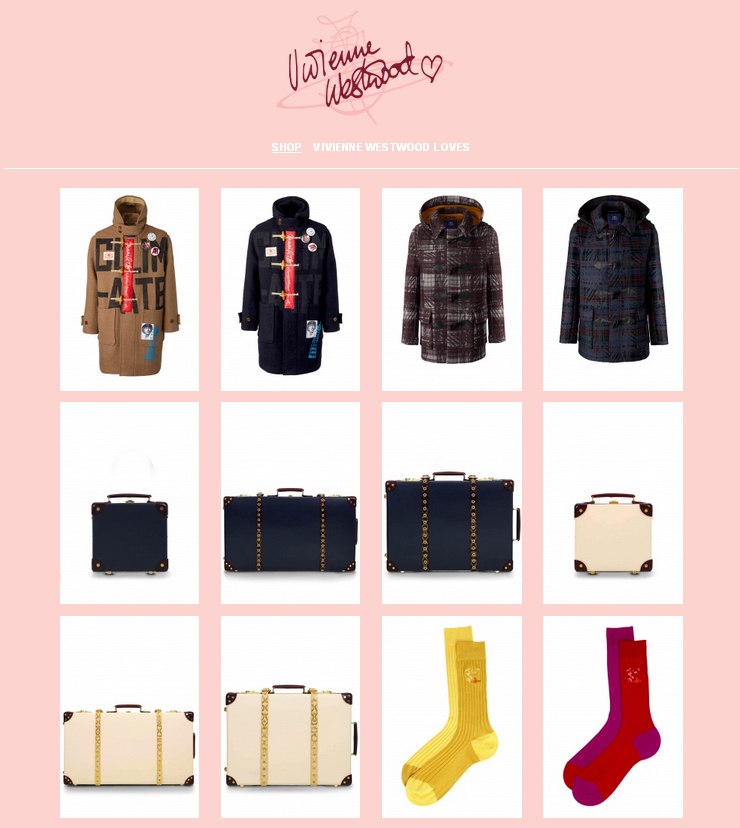 The collection of 27 pieces can be viewed on a micro-site. The prices for items range from €25.00 for socks to €1770.83 for a suitcase. Each of the collaborators shares Vivienne Westwood's ethos of bringing quality, craftsmanship and sustainability. While being quite different, all these brands commit to the "Quality over Quantity" and "Buy less, choose well, make it last" philosophy.
To support the release of the collection, the Vivienne Westwood brand has launched a video in which a romantic scene is interrupted with footage of public resistance and protest. As the visual narration unfolds, the young couple goes from kissing and touching to dressing up for a protest action. The film, directed by George Tsioutsias, finishes with a scene that features numerous posters with calls to better changes in climate, social life, economy, freedom of speech and more.