Cities are gradually evolving into more personalized spaces, allowing citizens to organize their life in the most sustainable way. Originally being areas for masses, cities are shifting towards focusing on individuals—their intellectual and physical needs, their passions, social and environmental views and aspirations.
Within the past year, there have been two major trends in re-arranging urban life: on the one hand, cities tend to be eco-friendly and more comfortable; on the other hand, the urban environment integrates technology for communal living, thus gets more tech-oriented and somewhat futuristic.
Find some most vibrant trends in urban living that will gain momentum in 2014, below.
1. Expanded interiors revolutionize homes
Along with the opportunity to expand—from the professional and creative points of view,—cities also make its dwellers "shrink"—in terms of living space. In megalopolises, most people buy or rent smaller apartments comparing to the ones they would have in towns and villages, so they need smarter solutions to store goods and arrange furniture to accommodate various occasions. Nowadays, our homes can "breath," deliver essential purification, help cook, etc.

Rethinking traditional furniture. The "Make small spaces big" message, the tagline of 2013's IKEA campaign in the UK, epitomizes the endeavors of architects and designers. The Swedish retailer shared its "home with home for everything" tips on the dedicated page. The pop-up furniture trend has been growing this year with the fabric Level Wall Shelf that adjusts to the weight on it, Fusillo bookshelf that features adjustable wooden elements, and a bed by Italian furniture makers Espace Loggia that can elevate itself to the ceiling to provide extra space. Mirror furniture may also be a solution for small spaces—the pieces merge into the settings and don't "overload" the interiors. Augmented reality pieces can add a story to the interiors, just like TexTales children's bed sheets do. 3D-printing is also the part of interior design's future—soon, we won't need to select ready-made piece as we would probably be able to create them at home with a 3D-printer. "Do-it-yourself" furniture kits come as a current alternative to the futuristic 3D printing. OpenDesk now allows to download digital files for free to be then fed into a CNC machine that produces raw pieces of wood to be finished and assembled into a ready-to-use furniture piece.
Restructuring the house. The traditional forms of the house or apartment are all yesterday—today designers are searching for the new ways of managing square meters of the walls, windows and ceiling. The Apostrophy's concept is exploring the multi-levelness of the space—the living areas are separated by levels, and the floors allow to use the podiums for storage. The era of affordable mini-housing may be also coming or rather returning, as this trend used to flourish in Japan. The creators of Nomad Micro Home kits that are easily assembled and cost as little as $30,000, are now looking for external funding through the crowdfunding platform Indiegogo.
Going beyond the living space. The outside space means a lot. Smart architecture house projects are as important as smart interior designs. Turning the multi-unit house in a piece of art and a source of joy, the Alreria project in France featured multiple colored panels all across the social housing building to add more color to the sunlight going inside the apartments. The project aims to boost the mood of the residents with color therapy.
What to expect: The interior and exterior designs of the houses will revolutionize dramatically over the next few years with the launch of affordable 3D-printers. Most probably, furniture retailers, like IKEA, will make a step from selling pieces to be assembled at home to selling materials and files for producing pieces in 3D-printing machines on spot. We may probably get smarter adaptive sofas, moving ceilings and noise-absorbing blinds and wallpapers (the two last ideas have been already realized with Feltone and Form Us With Love wool wood hexagons).    

2. Internet of things serves domestic needs
Production is not the only area where the industry of furniture and home appliances will see dramatic change. Home objects, ranging from coffee tables to window panes, are likely to feature digital sensors, connected with desktops and tablets to add new functions to ordinary things.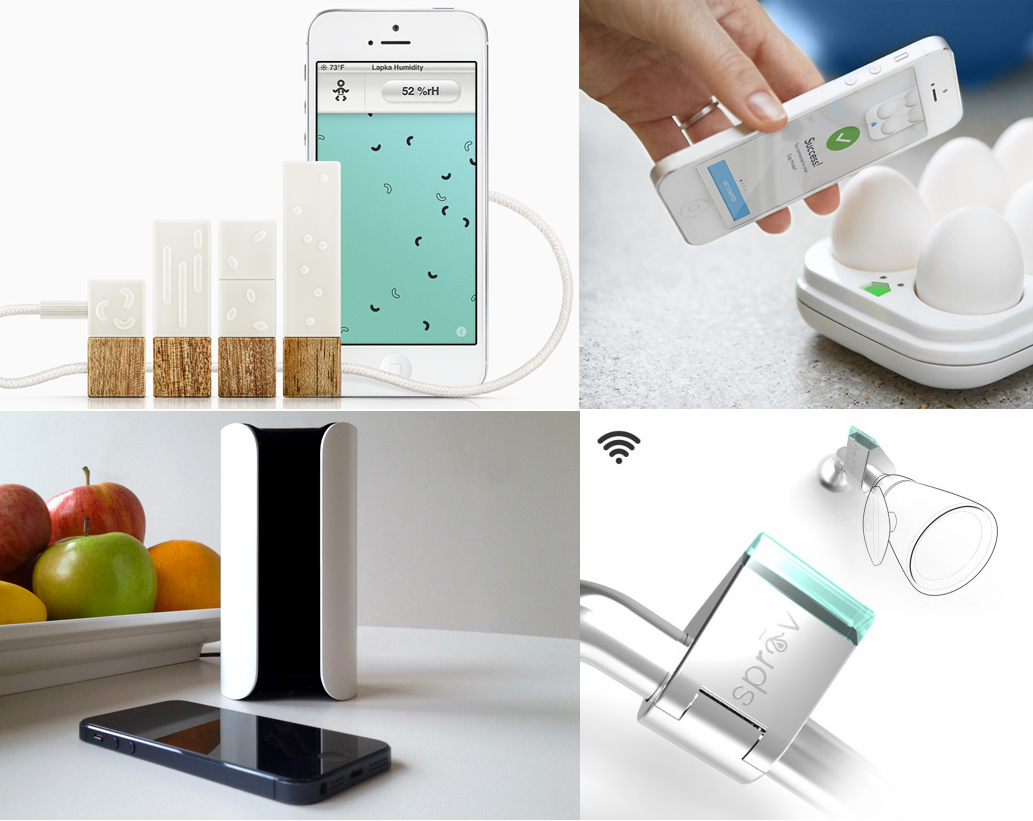 Smart sensitive Internet-based features. Special devices are now created that measure and regulate the intensity of light and noise. For instance, the AirBoxLab device, which has the app and a cylinder sensor element, measures and reports on the temperature and relative humidity as well as on the levels of VOC, CO2, CO in the air. The Lapka kit is similar to the previous product—it works as a personal environmental monitor that measures and reports on radiation, nitrates in raw products, electromagnetic fields (EMF), as well as the temperature and relative humidity. It also compares the results with the guidelines for certain environments. The Sono device, that sticks to the window and helps turn the street noise in the flat into more pleasurable sounds, is designed to work without apps and is not web-connected yet. The device, which is in the concept stage at the moment, makes a window shake slightly in the way that drives down the vibrations of the ambient noise and adds nice sounds to create a relaxed atmosphere. Design student Tashia Tucker has suggested a range of applications that use the power of microorganisms in interiors. For instance, they can remove dirt and dust from the surfaces and also warn people of hazardous chemicals in the air.
Cooking & eating experience improved with tech. Sensors and applications can also help people eat healthier. EggMinder by Quirky and GE is a smart egg tray that keeps track of how many eggs left in the fridge, and also detects stale eggs—owners get this information on their smartphone. Range is an app that captures and processes information sent by special sticks, inserted into a variety of foods during cooking.
Security enhanced with tiny devices. Along with tidiness, quietness and perfectly cooked meals, we also want safety at home. Canary, the Wi-Fi connected multi-sensor, checks what's going on in the rooms while the house owner is out through a wide-angle lens, sensitive microphone, accelerometer and motion detector (more traditional humidity and air condition sensors are also there). The device sends alert messages to the house's owner if something seems to be going wrong in there. It pulled in about $2 million instead of requested $100,000 in just a month on Indiegogo. The Spotter by Quirky and GE, a sensor pack that analyzes a variety of physical conditions in the room—temperature, humidity, vibration, light and sound— can be programmed to deliver scheduled messages to a smartphone, reporting on the current state of appliances and other things in the room, to your mobile device.
Inspiring smart consumption. Smart homes are enabled to adjust heat, water and electricity consumption to our habits, and also warn us when we overconsume. The Netatmo thermostat is designed to control the heating system at home remotely through an app, setting the comfortable temperature according to the user's activities and habits. Sprav, a wireless meter, gets attached to a tap to measure water and energy consumption during showers. The device provides visual and audio feedback to let users balance their water and energy consumption and reduce shower costs by 10-20% per year. Shared consumption may also come as a solution to home-related spending—in its "Families of the future" study Dragon Rouge predicts that in the coming decades single-parent families will also share living/dining and kitchen spaces (Tandem Tribes), all to reduce their environmental impact.
What to expect: Modern homes are getting more connected and enhanced with technology. There will be chairs that measure weight and send diet recommendations, scanners that detect freshness of the food, and more.
3. Tamed nature amid urban jungles
We're entering the era of letting more nature into our lives with the help of technology. Home and on-building gardens, smart tiny farms, solar panels—this all is gaining momentum now.

Solar batteries for homes. IKEA UK has started selling solar panels to individuals this year. Solar energy can also be used at home for one-purpose tasks like charging a phone. This idea was implemented in Window Socket that gets mounted onto a window pane to accumulate solar energy. At 1, 000 mAh, it can provide 10 hours of power and it takes 5-8 hours to fully charge.
Home farms grow smart. While farming in a flat sounds like a dream that can never come true, insect mini-farms change the perspective. Being a great natural source of protein, insects are easy to grow at home as a nutritious alternative to veal and chicken. Farm 432 is a table-top prototype vessel for growing black soldier fly larvae, which contains up to 42% of protein. The LEPSIS terrarium lets breed grasshoppers at home for the same cooking purposes.
Smart gardening in the city. As most city gardens are restricted on space, the smart floating garden Sealeaf is grown in the sea instead of land. This is a modular hydroponic floating agricultural system developed for urban coastal aquatic areas. The unit collects rainwater, uses solar energy and regulates the environment of the plants that are grown in it. While horizontal surfaces are already used, vertical square meters are waiting to get "hacked." On-wall gardens are gaining momentum now as a new way to use the city's surfaces wisely—in 2013, Bosco Vericale in Milano, the first vertical forest, has entered the final stage of completion (it will be officially revealed in 2014) and London's largest living wall was constructed on The Rubens Hotel wall, to name a few.
What to expect: Sustainable cities let the nature in. Home gardening and growing food at home will allow people to reconnect with nature and cut down expenses on food. Solar panels will be as ubiquitous as electric devices. Each empty space will get its permanent or pop-up gardens on the walls, beneath the ground, between floors—to purify the environment and make it feel more natural.
 4. Reimagining urban furniture
Streets are gradually unlocking big potential for expressing thoughts and channeling innovative ideas. With the popularity of pop-up street venues, multifunctional city-furniture or urban micro-gardens, the outdoor public environment is getting more comfortable, smarter and better organized.

Always powered, always on. With so many electrical devices around us—from phones to electric vehicles,—essential charging pods should be seamlessly integrated into the urban canvas. There are more and more benches now that accumulate solar power to let people charge mobile phones—for instance, the Seat-e benches installed in Boston recently. The Street Charge solar-powered plates can be attached to any street sign to enable pedestrians charge their phones—the concept was tested in NYC from early summer through October, supported by AT&T that partnered with solar power company Goal Zero and Pensa Design, the developers of the concept. With electric car industry making waves now, the problem of charging arises—the HEVO Power manhole-cover-size pods could charge cars as they park. The concept plates are to be tested in NYC.
Sustainable urban furniture. Conventional benches for sitting or billboards for viewing are already yesterday—designers are offering new ways to make these pieces smarter. The rainwater collecting park bench, unveiled as part of the BMW Guggenheim Lab project, provides perfect seating while collecting rainwater to further irrigate smaller gardens.To inspire books and magazines sharing, Amsterdam-based design studio Pivot Creative developed red metal clips that get attached to traditional park benches so that it would be easier to place reading materials under them.
Outdoor ads evolve into smart installation for people's comfort. IBM curved its traditional metal outdoor ads a bit to transform them into a bench, a shelter and a ramp. A billboard in Peru, designed by students of UTEC and Mayo DraftDCB, could extract water from the air—the world's first billboard of this kind produced potable water by sourcing it from the atmospheric humidity. The project provided residents of Lima with up to 96 liters of clean drinking water out of air with humidity of 98%—the water was stored in reserve tanks in the bottom of the sign.
What to expect: Cities are now hacked and improved, responding to human needs with every single element. The city of the future will probably feature charging stations embedded in signs, bus shelters, walls and phone booths. There will also be smart bins that automatically sort waste, compress and even recycle it on the initial stage.
5. Lighting up the city
Energy-consuming city lighting is getting more sustainable with the use of renewable energy sources.

Making objects glow. Providing everyday objects with illuminating capabilities may come as an alternative to energy-powered city lighting. Making genetically-modified trees to act as illumination tools may be a solution. The "Glowing Plant" project uses synthetic biology to embed bio-luminescent genes extracted from fireflies and bacteria into plants to make them illuminate homes and streets.
Solar power for illuminating cities at night. The UK-based company ProTeq Lighting is introducing a new technology, Starpath, for creating self-illuminating paths—the coating of the paths absorbs sunlight during the day time and emits light when it goes dark.The unique Onyx Solar's solar panel pavement installed at George Washington University captures "sun beams" to power LED lights beneath the pavement.
Lighting that adjusts to motion. Philips' LumiMotion is an intelligent lamp that senses the activity around it and adjusts the lighting to a maximum level when there is motion within its area of reach, and takes the lighting down when it detects no activity. This helps save up to 80% energy costs, while providing 100% safety on the streets.
What to expect: The most promising trend here is the accumulating solar power to use it in the illumination systems—most of city lights of the future are sure to be based on this approach. Lights will also become smarter and glow bright only when an object, moving along the path, is detected—to save energy and ensure safety.
6. City exploration
With so many travel apps available today, city exploration turns into an engaging and benefitting experience. Developers are creating more ways to reward people for getting around the town, especially on foot, and unlocking new spaces.

Walk the city to be fit and know the area better. The special Walk [Your City] signs indicate how distant particular locations are, in minutes of walk. Pedestrian are encouraged to walk, not cycle or ride, to a place of interest to build a stronger sense of community and inspire city exploration. Nike released a map of London with walkable routes—people are encouraged to cover the distances and collect NikeFuel points at the same time. Hamburg is to create a green network that will cover 40% of the city area and allow to explore it by walking or cycling. The car-free lanes will be linked to parks and playgrounds and allow to get from the city center to suburbs in an eco-friendly way. The plan will be fully realized in 15 to 20 years.
Collective creativity for creating maps. KLM asked travelers to build personalized maps by inviting friends to add their favorite locations and landmarks to it. The airline company then printed out the map and sent it out to customers.
Gamification of the city exploration. GE launched its GE Wonderground project to encourage exploration of science-related facts about key locations in five major cities of the USA—Los Angeles, New York, Boston, Chicago and San Francisco. The online game invited to unlock discoveries about the locations, inspiring people to visit the cities after the game and see the tech wonders with their own eyes. Nathan Pyle created an album of valuable and fun animated tips for the newcomers to NYC.
What to expect: With so many technologies shaping cities now, they turn into real wonderlands offering immersive and engaging experiences. Walkability of urban areas will be one of the top priorities for city planning in the coming years.
7. Minimizing the impact of natural disasters
Tomorrow's cities are to be improved not only with ergonomics and comfort in mind, they also must be disaster-proof. It comes down to constructing buildings resistant to natural disasters and smart urban planning, however, there are less complicated but still valuable smaller solutions to this problem.

Connection 24/7/365. Being online is crucial during emergencies as many people can receive help from themed relief communities. Google introduced its Project Loon that uses high up balloons to give access to Wi-Fi to people in remote places in times of disasters or just in poor regions. The project is soon to enter the second phase after testing the baloons in certain parts of the globe. The Mipwr Dynamo iPhone case allows to charge the phone manually—it takes just one minute to power the device by pumping the push lever.
Temporal housing. Modular housing is believed to be a solution for those who want to get their new homes fast. Houses created in shipping containers may work here—the EDV-01 project is one of them. It is a self-contained two-storeyed shelter that needs no supplementary electricity and can be easily transported and used autonomously. It has a bathroom, cooking and sleeping space and has pre-installed solar panels, hydrogren fuel cells as well as a lithium battery for energy storage. Airbnb launched its "Disaster Response" service on its platform to connect hosts with people who need urgent accommodations.
Disaster-resistant urban planning.   The "Town Square Initiative: New York" city project developed by the global design firm Gensler re-imagine unused (leftover and filler) city space, creating resilient and sustainable communities that will also provide alternative energy in the times of natural disasters. These helpful hubs will be used for collecting solar power, rainwater, and for waste composting.
What to expect: To survive in natural disasters, cities will have to develop new ways of energy sourcing and distribution, to enhance draining systems and create purification systems for contaminated air, water or soil. The concepts of cheap modular homes for hurricane or earthquake victims will be developing in the coming years. They will focus on autonomous small dwelling units that have all the essentials a person may need during several weeks. Devices that purify, clean, 3D-print and restore things within this space will be a must.
In the coming years, urbanization will require building new generation of smart houses efficient in terms of space planning, sustainable materials and clean energy sources. Self-sustained dwelling, alternative food cultivated in the kitchen, autonomous power grids, water purification systems— all these areas will be further enhanced with technology. Rational use of the city space will also be trending—multi-level sites, self-illuminating pavements, city furniture accumulating sunlight and water will be the elements of the smart city of tomorrow.
About the Author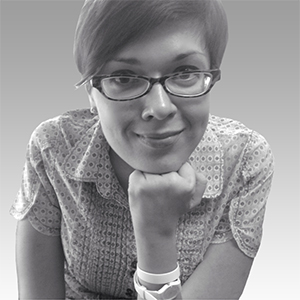 Anna Rudenko is News Editor and Features Writer at Popsop, where she covers philanthropy, future technology and the environmental pulse of the globe. She is an art films aficionado, crafter, avid vegetarian, and sustainability enthusiast who does her best to bring positive change into the world around.