ABSOLUT is launching a new vodka flavor and bottle inspired by the unique visual language of Latin America. The ABSOLUT Karnival limited edition has been developed to demonstrate the vibrating nature of one of the most spectacular events, carnivals. The design of the new bottle was created by Brazilian graphic novel artist and writer Rafael Grampá, who is collaborating with the vodka brand on its ongoing Transform Today campaign.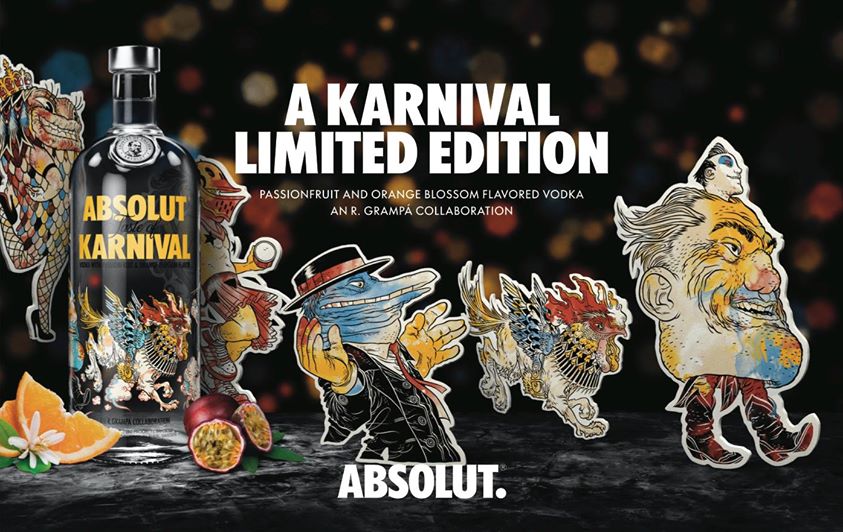 The flavor of the new product is expected to evoke the authentic taste of a true Brazilian celebration, its powerful "transformative energy." The flavor combination of a passion fruit and orange blossom makes the vodka's taste rich, smooth, fresh and tropical.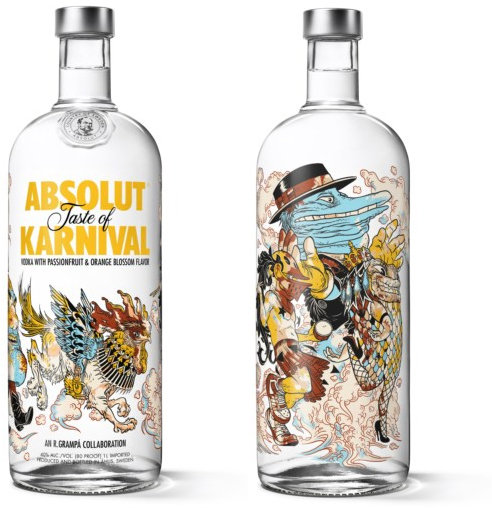 The design of the bottle incorporates flamboyant and whimsical characters, which are an essential part of any carnival procession. In its both vibrant and disruptive design, Rafael Grampá pictured five surreal figures that potentially can be spotted at a carnival show—a young man wearing the head of an old person, a dancing fish wearing high heels and a crown, an alligator wearing a boater, a "taboo-fighting" young guy in a skirt, sneakers and a knight helm, and also a dog with a rooster's head and tail.

"[In a carnival], there is a beautiful, unique and uncontrollable feeling that our differences can be put behind us. We become aware of our own power to change ourselves and the world. To evoke something of that in the bottle design, I knew it had to be colorful and cheerful," commented Rafael Grampá. "In the Carnival parade, normal people transform themselves into extraordinary things. I decided to try to represent that sense of transformation by putting the Carnival parade right onto the bottle."
Absolut Karnival is to be rolled out at local carnivals in January and February. The range of bottles with designs inspired by Latin America cultural motifs also includes ABSOLUT México from the city-centric collection.
"We're very excited to be releasing Absolut Karnival, a new limited edition that seeks to awaken the creative spirit in all of us," says Franz Drack. "It's the first regional limited edition for Latin America. A tropical flavor perfect for creating refreshing drinks at festivals and celebrations."