Pernod Ricard has taken the at-home mixology experience to new heights by introducing Project Gutenberg, a digitally connected and beautifully designed library of spirits. For the «internet of alcohol» effort, the company collaborated with the Breakthrough Innovation Group (BIG), a tech-focused start-up, which developed a one-of-a-kind collection of book-shaped containers featuring best drinks from Pernod Ricard's range.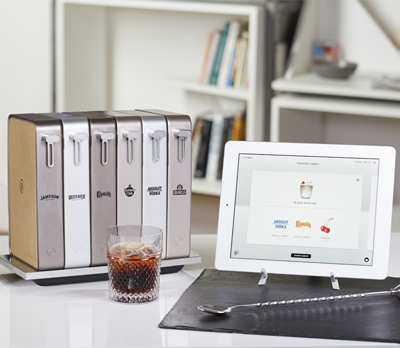 The project is simple and impressive at the same time. The pack includes a selection of sleek container books and has a sealed bottle of spirits inside, all of them are connected to a service platform via an iPad app, which provides tips and tutorials on how to create a favorite cocktail. The system monitors the level of the drinks in the containers, and after a consumer uses all of the liquid, he or she can order a new "book." The empty container can be sent to a dustbin (it's 100% recyclable), and the new one will be delivered as any other regular parcel. Watch the demonstration video here.
"With Project Gutenberg, we are utterly committed to the conviviality of the future: an experience that is connected, entertaining, tailored and responsible… We are still only at a very early stage of the project but the potential of dedicated products, services, personalised offers and experiences is infinite," said Alain Dufossé, BIG's Managing Director.
Project Gutenberg will be trialed by the company in major cities on the global scale before the kit becomes available for anyone interested. This venture is one of a hundred innovations introduced by Pernod Ricard during its recent Innovation Day that revolved around "The Conviviality of the Future" theme.