Absolut is about to draw the map of the whole world with flavours as soon as poossible—the pace it keeps to add new vodkas to the "geography" portfolio signals about it. The iconic alcohol brand has unveiled Absolut Texas, which is the first-ever only state-inspired flavor and the latest addition to the range of U.S.-inspired vodkas. The launch of the bottle, dedicated to the "lone star state," follows the release of Absolut Australia last week.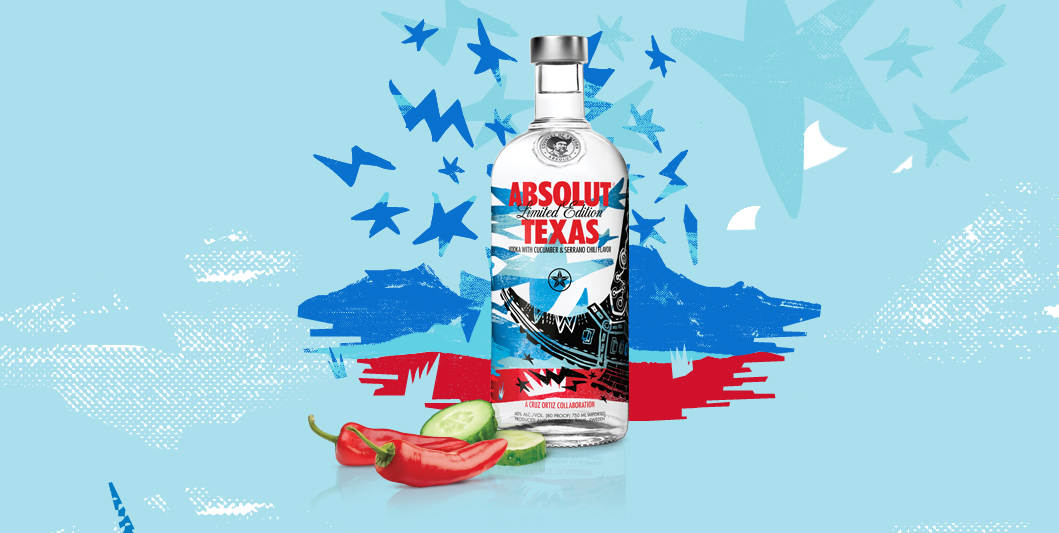 The bottle's design is developed by internationally-recognized San Antonio-based artist Cruz Ortiz. He leveraged the modern take on the classic Texas iconography in his interpretation of the state's image. The label is created in the blue, red, black and white shades, with an emphasis on the state's two major symbols, a star and a "cosmic caballero" cowboy boot. The signature elements of the Texas image are placed against the stylized Texas landscape.
Plus, the design of the new bottles features a unique element which can't be found in other bottles of Absolut today. The logo of the founder of Absolut, Lars Olsson Smith, is featured in a cowboy hat. It's the second time in the brand's history that such a major tweak has been made for the Smith's logo.
"From the unique Southwestern flavor to the one-of-a-kind bottle design, Absolut Texas is our biggest and boldest Limited Edition flavor to-date," commented Afdhel Aziz, Brand Director, Absolut Vodka, Pernod Ricard USA. "Absolut Texas was truly designed as a celebration of all the best that contemporary Texas has to offer."
The 8th addition to the USA-themed Absolut Limited Edition range, Absolut Texas, is available in 750ml bottles at the price of $19.99.
The other U.S.-inspired editions, launched between 2007-2013, include New Orleans, Los Angeles, Boston, Brooklyn, San Francisco, Miami, and Chicago.