The official beer sponsor of this year's championship, Budweiser, is rolling out its 2014 FIFA World Cup Brazil promotional campaign that includes the release of a special gold bottle and a creative effort Rise As One.
The official site of the initiative features loads of visual content delivered on the constantly updated wall. Football fans are invited to proceed to the World Cup interactive planner that opens up as a Facebook app and allows to clearly see what teams and when will meet on the pitch. The PDF version of the calendar can be downloaded for free.
The first TV adverts will be aired on March 5, to "showcase the passion of fans across the world as they come together to celebrate the tournament." The teaser of the key ad is already available—it features a dedicated footballer who improves his running and kicking skills on the roof of a skyscraper, in the foggy morning mist.
With the upcoming limited edition World Cup bottle Budweiser pays tribute to the iconic FIFA World Cup Trophy, which has been awarded to the winners of the tournament since in 1974. The collectible aluminum trophy bottle is created in gold shades, featuring the trophy and the "Rise As One" message on the front and the signature red bow tie on the back and the neck. The bottle will be launched in more than forty countries, and will become the key element of the brand's retail promotion. The promo packaging will also include limited edition glass bottles, cans and secondary packaging.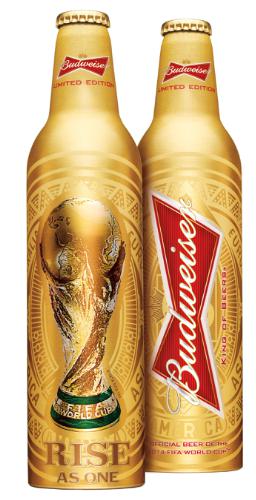 "While football brings out regional pride and fierce rivalries, it also brings fans across the globe together once every four years through shared passion," said Andrew Sneyd, Global Vice President, Budweiser. "With the Rise As One campaign, Budweiser celebrates the world's favorite game and its role in inspiring fans to celebrate the moments that unite us as a global community."