Ahead of the FIFA World Cup in Brazil, taking place on 12 June — 13 July 2014, Pepsi has revealed the soccer-inspired art initiative #FUTBOLNOW, done in collaboration with the world-renowned photographer Danny Clinch, six international emerging street artists as well as A-list soccer players.
The Pepsi cohort of artists is represented by Spain-based visual artist Zosen, Dutch visual artists Merijn Hos, Brazilian illustrator and street artist Ricardo AKN to name just a few, and from the "sports camp" the brand has commissioned Leo Messi, Robin van Persie, Jack Wilshere, David Luiz, Sergio Aguero and Sergio Ramos (all are Pepsi's global 2014 football ambassadors).
Together, they have created a stunning art collection that includes six impressive 10-foot by 10-foot canvases reflecting the power of dedication and vibrating energy of the global players' home countries. Lensmen Danny Clinch took black and white photos of the athletes, and the artists then re-imagined the monochromic portraits, adding a splash of various shades of white, red and blue colors and an edgy twist of urban rawness, the feeling of movement.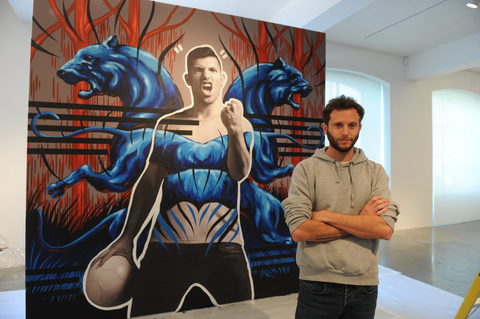 The portraits were first unveiled in the heart of London on February 17.
"There is an instinctive connection between artists and footballers in their energy, passion and creativity—whether it's on a canvas or a pitch," commented Kristin Patrick, Pepsi Global Chief Marketing Officer, PepsiCo. "We were passionate about creating a visual language that brought the energy and movement of football to life in powerful, unique pieces of art showcasing our players in the spirit of now. These are the hero images of this year's global Pepsi football campaign and wonderfully capture our Live for Now brand ethos."