Following in the footsteps of alcohol brands like Hendrick's Gin, Jack Daniel's and Luksusowa, the non-FMCG brand San Antonio Tourism has released its men's guide dedicated to the romance code of a true gentleman. San Antonio, Texas (also known as the City of Yellow Roses) is considered one of the top 10 romantic places in the U.S., and with just two weeks left before V-Day, the city set to promote itself proactively among the men who are in charge of selecting the right destination for the Valentine's weekend.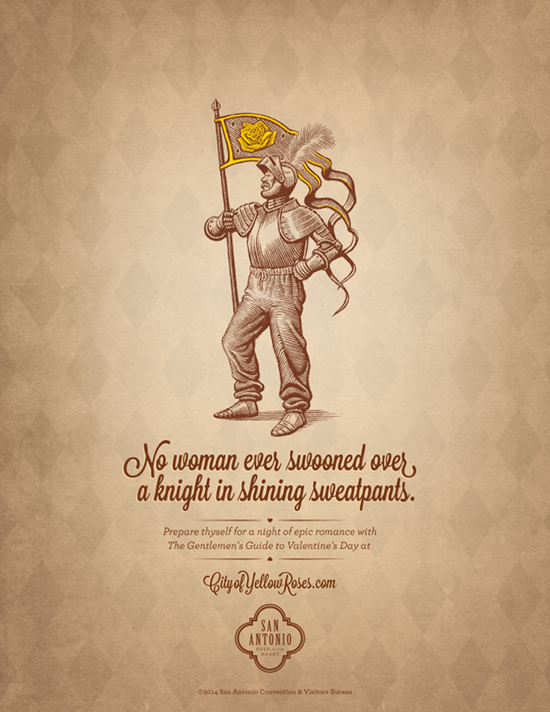 The set of illustrated rules on the "Gentleman's Guide to Valentine's Day" has been developed by Austin-based agency Proof. This year's effort is the second installation of the campaign dedicated to the most romantic holiday of the year. In 2013, the promotion used tips to explain how to be a perfect gentleman, and this year the effort invites to measure the progress with the fun Gentleman's Quiz. The quiz goes along with some new and old imagery that are spread across the digital and print.
In the new installment of the campaign, users can rate their romantic skills using the quiz that has 50+ questions and helps determine how far a man has progressed from the Neanderthal stage. The questions range from basic knowledge about civil behaviors to language and fashion&style expertise.
In addition to this, users get an instant access to deals and promotions at local restaurants, hotels and attractions, which may help plan a perfect love-packed weekend. The campaign also includes newspaper prints, online display ads, store promotions and adverts on TripAdvisor.com.