The struggle for women's independence is experiencing a spike in the past five years. Gender roles are being modified, with a greater shift being made towards dominance of women. Men are adopting new behaviors, shifting towards more sensitive, family-oriented lifestyles, trading in ambitious career goals for a home comfort, while women do the reverse. The voice of a woman is heard now, defending and demanding, destroying the old gender stereotypes, making businesses delete all kinds of sexist implicating from their products. Below, there's a recap of the brightest and most engaging feminism-themed initiatives that have emerged throughout the past months. 
Changing her perceptions about herself
Older age, body shape, physical imperfections… they all are now considered not as a reason to hate your body, but to as a new challenge that must be beaten.
Dove is definitely a role model when it comes to promoting a nature beauty of a female body. The brand has won hearts of public, urging adult women perceive their bodies and faces without prejudice in the award-winning "Beauty sketches" project and inviting teenage girls to take a brighter look at their maybe not that perfects bodies and faces in the "Selfie" initiative. In the world where a woman is forced to give it all just to bridge the gap between her natural features and the artificial standards, accepting the real self might be a huge challenge.
Kellog's called women to change their perceptions of their own bodies and stop calling themselves "fat and ugly" for good. As part of the campaign, the brand arranged an experiment in an apparel store taking on self-depreciation via prints featuring common insults like "I have a muffin top," or "Cellulites is in my DNA," "I look fat in this." The messages, which are frequently used by women themselves, were printed out on labels and ads at the shop to act like the "inner voice" which in fact should be silenced forever.
Celebrating body diversity
There was a breakthrough in this area when A-list Hollywood actress Angelia Jolie wrote candidly about her double mastectomy last year. Much criticized and much supported at the same time, the actress unlocked a new level of women's strength in front of the public, inspiring other women to respect life more than beauty standards that no one really cares about.
Over the past few years, we have seen more and more elderly female models posing for fashion houses' campaigns—recently, American Apparel has once again invited Jacky O'Shaughnessy, who is now 62-year old, to appear in its online ad wearing nothing but the branded lingerie. The rebel brand Diesel has tapped wheelchair-bound 26-year girl Jillian Mercado, who was born with muscular dystrophy, to front its latest campaign that features the most unconventional representatives of modern youth culture.   
Dove is also actively taking on extensive use of photo-editors to "improve" female bodies in the ads of other brands. In summer 2013, the brand rolled out an effort, "Photoshop Actions" that invited users to "beautify" pictures in Photoshop, but in fact turned the portraits back to their original, un-airbrushed state. The Aerie lingerie brand has gone even further by releasing a series of ads in which girls are posing as they are, without any Photoshop-surgery of skin folds, slimming thighs and stomachs, removal of unwanted curves or whatever. Of course, the girls are wearing make-up and the lighting is perfect, but there're no digital tweaks at all. 
There's also a bunch of photo projects emerged in the past few years to reveal the natural beauty of a female body. One of them is A Beautiful Body Project run by photographer Jade Beall who demonstrates how awesome the natural beauty of a woman may be without any photo corrections. She takes breathtaking portraits of female bodies after giving birth, aging, having cancer, still-births, miscarriages, weight-gain, weight-loss, dysmorphia, and beyond. The initiative, which has already morphed into a movement, includes the digital platform as well as books highlighting the real beauty.  Watch her recent lecture at TED.   
Teaching girls to be women of tomorrow
Using a simple carbon paper press, the Dove's ad in Portugal demonstrates how deep bad words like "stupid," "fat" or "worthless" can get inside a child's brand and root there for ever. The Marie Claire women's magazine in Australia also set to prevent any negative attitudes to female bodies—one of the ads features a smaller girl who adopts her mother's self-humiliating behavior.
The U.S. eating disorders supportive, educating and connecting center ANAD.org reports that 69% of girls in the 5th–12th grade said that magazine pictures defined their opinion on what the perfect shape should be. The one of the world's most respectful fashion magazine, Vogue, launched an educational initiative in the UK, aiming to explain school girls that fashion photography and real life are not the same things, and young readers should not compare their bodies with those of models in the ads.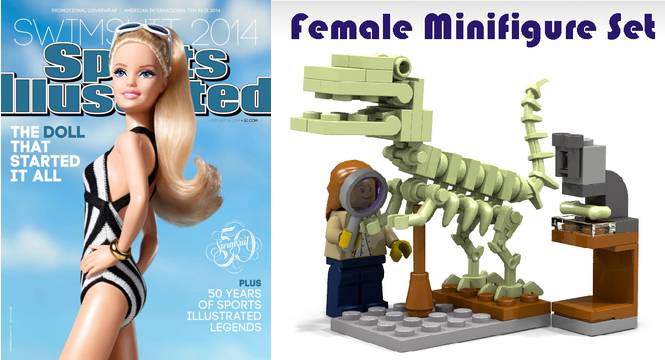 With all this, Mattel's Barbie with super-unreal female shapes continues to add fuel to the fire with its provocative appearing in the latest issue of Sports Illustrated Swimsuit magazine. The campaign is running under the #unapologetic tagline that implies that women whose bodies fit the "skinny" fashion beauty standards of today should be proud, not "ashamed" of it. The doll, which unhealthy body shape has become the unreachable goal for younger girls, was actually not created as it. "Barbie's body was never designed to be realistic," commented Barbie design VP Kim Culmone to FastCo Design. "She was designed for girls to easily dress and undress."

Unlike Mattel, LEGO is proud to be part of the force that chances the general attitude to women for better. In 2012, the company added a female scientists mini-figure series consisting of a chemists, palaeontologist and astronomer to contribute to a positive image of female regardless of her physique.
There is a range of programs designed to address the problem of lower percentage of female specialists in tech-related sectors. One of them, the USA national Girls Who Code organization, was launched in spring 2012 to close the gender gap in the technology and engineering fields. The non-profit's statistics says that 74% of girls express interest in Science, Technology, Engineering and Math (STEM) in middle school, but only 0.3 percent of high school girls choose computer science when selecting a college major.
Indiegogo, one of the most popular crowdsouring platforms that focuses on technology projects among others, launched an initiative to support the upcoming International Women's Day with a weeklong marathon. The site is partnering with organizations and individuals to boost opportunities for women by putting their campaigns in the spotlight during the week of March 3–8.
The gender roles swap
The issue of mistreating women has been touted for years, touching on the sexual slavery, domestic violence and lack of social and professional opportunities. UN revealed that at least 1 out of 3 women is beaten, coerced into sex or otherwise abused by an intimate partner in the course of her lifetime, and between 40% and 50% of women in the European Union reported some form of sexual harassment in the workplace.
Maybe, one of the best ways to stop violence and sexism to give the two genders an opportunity to feel each other. It might seem as a sci-fi idea, but today we already have technology that allows us to virtually swap bodies by "trading places" with your partner. The device called The Machine To Be Another developed by a Spanish design collective merges virtual reality with advanced neuroscientific techniques to allow a man feel what a woman feels, and vice versa.  
While the wearable-tech approach is still far away from being part of every-day life, we can at least imagine what it is to be a person of another gender. Today, this theme needs a totally new approach to reach out to people who, unfortunately, got a bit tired or sad and touching stories of women who have become victims of sexual assault. The "Oppressed Majority" short film by Eléonore Pourriat implies the broad palette of emotions, from light smile to tears in the eyes. The video of sexual assault in an imaginative matriarchal society has been viewed over 8 million times within three weeks after it was posted on YouTube.   
The roles of two genders are being subverted. The thought-provoking recent JWT's research "Masculinity & Modernity" reveals that these days there is as much pressure on male consumers to dress well and be well-groomed as there is on female consumers. The survey shows that 40% of women now earn more than their male partners, and 71% of men agree that the features that define masculinity have changed.
Sexism-free working environment, entertainment and sports
Fathers taking a maternity leave? Mothers taking the senior roles in giant corporations? What looked like a fantasy a few decades ago now is already reality. A range of giant corporations—Facebook, PepsiCo, Hewlett-Packard, IBM, Yahoo, General Motors—already have female CEOs, and the number of women attaining equal and fair leadership positions is gradually growing, especially in developing countries.
The latest research from Grant Thornton, a quarterly survey of business leaders around the globe, revealed the portion of female leaders is bigger in emerging economies. "32% of South East Asian senior business leaders are women, 29% in Asia Pacific and 28% in the BRICs. In comparison, only 21% of senior positions in the G7 are occupied by women, and 22% in the eurozone. At board level specifically, 26% of board members in BRIC economies are women, compared to just 16% in the G7 and 19% globally," the paper says. Still, it's not a stable success—the previous reports show that the global average percentage of senior management has been changing from 19% (2004) to 24% (2007 and 2009), 20% (2011), 21% (2013) and 24% (2013).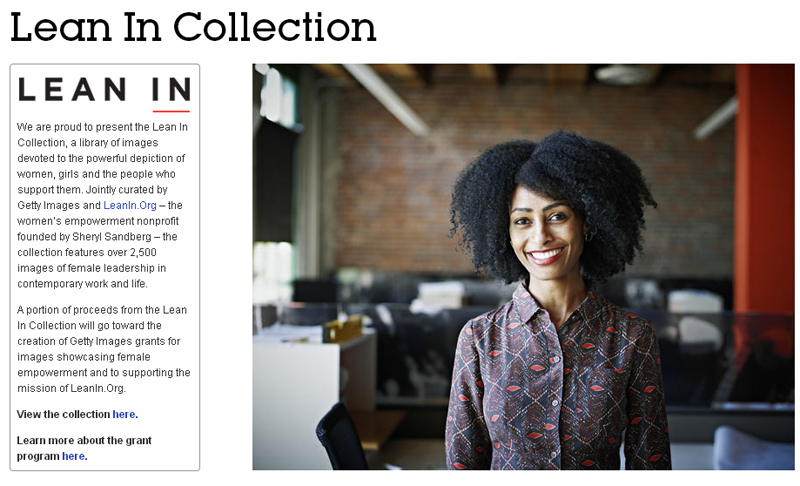 Non-profit Lean In co-founded by Facebook's COO Sheryl Sandberg has recently partnered with the American stock photo agency Getty Images to offer an extended selection of sexism-free images of women, in all areas of life and business. The imagery is to feature women of all races, ages, professions, from all social levels, without any hints of sexist implications.
In summer 2012, Nike released a spot, Voices, to celebrate the 40th anniversary of the Title IX amendment that banned any signs of sex discrimination in U.S. schools, related to academics or athletics activities. The 1-minute video features young girls in sports as well as celebrated female athletes such as Joan Benoit Samuelson, the first female runner to win the Olympic Marathon, and Lisa Leslie, a member of the inaugural season for the WNBA.
The idea of equity in professional areas traditionally dominated by male is channeled by the recently launched CoverGirl's effort, "Girls Can."  The movement destroys popular stereotypes related to what women can't do just because they are not men.  The same idea is behind Pantene's advert focusing on double gender standards and labels that are widely spread in the country and the rest of the world. A research that inspired the spot revealed that 77% of men and 66% of women believe that male candidates deserve employment more than female ones.
Ahead of the 2014th anniversary of The International Women's Day, the world still have tons of unsolved problems related to the women's place in society, professional community, family, sports and more. The UN's official theme for International Women's Day 2014 is "Equality for women is progress for all," inspiring a tangible change that will be rolling on. Hopefully, thanks to these changes we won't have anti-rape underwear, but society where rape is nearly impossible and we won't have anti-sexism labeling on movies because all film will be created based on anti-sexist philosophy.
About the Author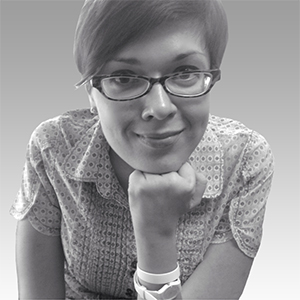 Anna Rudenko is News Editor and Features Writer at Popsop, where she covers philanthropy, future technology and the environmental pulse of the globe. She is an art films aficionado, crafter, avid vegetarian, and sustainability enthusiast who does her best to bring positive change into the world around.