As part of its partnership with the Tribeca Film Festival, Heineken is kicking off a new movie-centered competition calling aspiring filmmakers to go creative and suggest a plot of a super short film for a chance to see it screened at the festival. The #15secondpremiere competition is running from now on until March 7, so creatives have minimum time to submit their screenplays.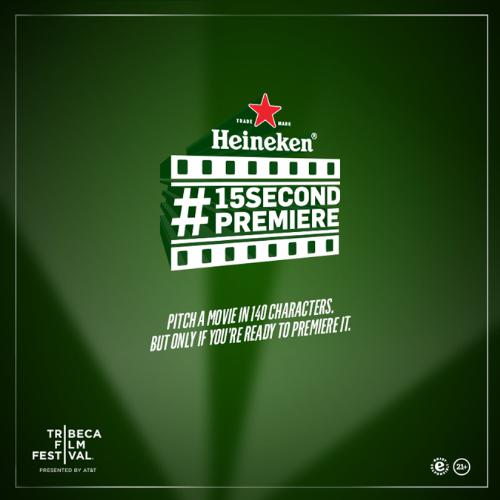 Heineken, the official beer sponsor of TFF for the sixth year, asks to submit the entries in the form of pitches via Twitter using the #15secondpremiere hashtag. Considering the limited length of the tweet, the pitches should consist of up to 140 characters and convey the whole short story clearly enough.
The jury will select just one entry to produce it as a 15-second short that will premier at one of private events during the festival slated for April 16–27. The short will be screened in front of industry experts, influencers and media giants, whose professional support and mentoring can help any aspiring filmmaker enter the big world of independent cinema. Plus, Heineken will invite Tweeterers to share their inspirations and ideas about their tweet in front of the film industry professionals.
"At Heineken, we're always looking for unique moments of tension to push Men of the World outside their comfort zones," said Pattie Falch, Brand Director, Heineken Sponsorships & Events. "We thought #15secondpremiere provided a unique opportunity to bridge the online behavior of tweeting from the comfort zone of your own home—with a really interesting, albeit nerve-racking, offline experience at Tribeca Film Festival."
Heineken is also hosting the second #6SECFILMS Competition, powered by Vine, on the official page of the festival. Entrants are invited to submit their short Vine films using the hashtag #6SECFILMS and one of additional hashtags such as #GENRE, #COMEDY, #DRAMA, #ANIMATE. The contest is ruining from February 24 through March 27.