Last month, March 1-2, Sam Stone, Creative Director at London-based Identica, taught a masterclass on visual identity and branding for the Russian designers and managers in Moscow. Popsop sat down with Sam to discuss how local Russian brands can fulfill their potential to become globally known and iconic, and why Russian FMCG brands choose to imitate Western style rather than developing their own.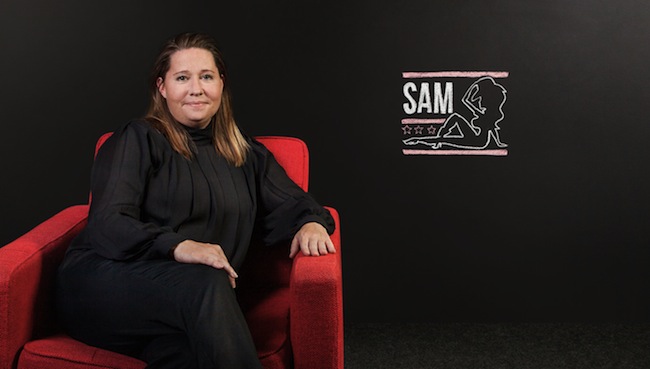 —Sam, is this the first time you have conducted this masterclass? What interested you the most in taking this opportunity to teach in Russia?
—Yes, this is the first masterclass I've done in Moscow. Previously, I have taught in the UK.  What I'm covering today is how we pitch to clients, how we work on their branding projects—all sorts of creative processes are put into the spotlight.
Lac.Project approached Identica primarily because we're doing a lot of work in Russia. They were quite keen that I would talk about how brand design works in the UK, so the Russian design industry—schools, students, agencies etc—could learn from us.
The reason I have agreed to come to lead this masterclass is because I think that Russia has now got opportunities to create some great consumer-facing brands that could start to get known globally. Not many Russian brands are well-known outside the country, except for big corporate brands like Aeroflot or Gazprom. So we see opportunities for many more consumer-facing brands to become internationally known and truly iconic.
—You studied Graphic Design at Brunel University. Why did you choose this degree, and how "cool" it was to work in design back then, in 90s?
—Design is a very difficult industry to get into. The reason I went into design was because I needed to find the way of being an artist and making money at the same time. When I was at art school, we painted, learnt fashion, interior design, graphics, illustration and there was something about graphics to me, which felt powerful, being able to encapsulate an idea into an identity or into a typeface; being able to use that to promote the company. I was never an artist that could paint literally. I was the sort of artist who could used shape, form and colour to communicate a different type of meaning—so I kind of used that sort of art to go into the design, which is still, I believe, an artistic form of using your creative skills to help the economy, to help businesses. I didn't know at that time that I could make money doing design—I didn't know it could be a profession until I started.
—Soon after graduation you landed a job at Landor London, then came Fitch and Interbrand in your career.  What attracted you most in WPP big name agencies?  Are you a career-oriented, ambitious lady?
—I've always been ambitious. I didn't know that I wanted to be a creative director as such, but I liked the title—it sounded interesting. And over the years I've found out what it means to be a creative director: you need to be quite strong in your views. It has always been my personal ambition to make things look better and behave better. I think creative people like to make the world a better place—that's what they do, that's why they get up in the morning. That's where my ambition comes from.
—You've just said that it's your ambition to "make the world a better place". Does that mean that you apply sustainability principles to the creative process, strategy or design?
—We do have a creative director who understands how businesses can become more sustainable – we only use that when we feel it's appropriate. When I say "we make the world better" I don't just mean ecology.
—But sustainability is not just about the environment; it has a social aspect, cultural aspect, inspirational aspect as well.
—Oh yes, we do this. We did a range of packaging for Ecozone , we made sure that with that packaging we would use minimum of glue lines. It was an environmentally friendly way of creating packaging. So, if appropriate, we will make sure we use sustainable technology, but it's not necessarily a key driver for us at Identica.
—In 2008, you won one of the fourteen Rising star awards, organised by Design Week. What was your winning project a HI-Q garage about?
—I'm a car driver myself and I came up with this idea by just thinking like a customer. I drive a car, I have to go to the garage, I have to have my wheels changed etc, but I don't know the technical part, I don't know how it all works—and I don't have to. The idea behind the HI-Q was to deliver the message that garages needn't be dirty places, that they can be nice, easy and functional.
—Was it just a concept or a real commercial project?
—Both. It's now the whole chain of HI-Q garages in the UK.
—About 3 years ago you joined Identica. What's their specific work ethos and philosophy? What makes this agency different for you as an employee?
—A few things, really. We wake up in the morning to try to make our company and our clients' brands more iconic and more memorable. So we have a process—whether we're working with an existing company or with a new company—we assess the components whether that brand has the potential to be iconic, to stand out and create the benchmark in the category. Our philosophy is to constantly strive make brands iconic.
Another thing that makes us different is that our production team is closely integrated into the creative team.
Above all this, we always put ourselves in our customers' shoes. We try to look at things we create as if we were the customers of something we design.
—Do you do any research before and after the project is delivered? For examples, do you do focus groups to research possible consumer feedback on a newly designed or a re-designed packaging?
—Yes, sometimes our clients have already done some research. Then we get to the finalization of the packaging stage: we create mock ups that go into focus groups and then we listen to what consumers think about those designs—this helps clients make a decision on what design route should go forward.
—Do you do it internally or do you use third-party companies?
—Sometimes the clients have their own company, but we also work with a research company who help us on different projects—so, it depends. The most important thing is that the design team and the strategy team are getting the feedback from the consumers during the research sessions.
—How would you describe your perception, your feel of the Russian commercial design, let's say in the FMCG sector?
—There are many Russian brands in the FMCG sector that—as we see it—have potential to become global brands, but at the moment there are too many brands in Russia that are looking to the west for inspiration.
—Can you name any examples?
—I wouldn't name any clients or brands to avoid getting myself into trouble. Generally, we see lots of "westernised" imitation on the Russian market. Let's take the The Body Shop in the UK and Organic Shop here—it looks pretty much like Body Shop in the UK, doesn't it..? When I think about Japanese branding, a very specific style springs to mind. Also when considering American and Swiss branding I think of a strong visual identity. I'm sure there must be something in Russian branding that would feel authentic and easily recognizable yet modern. Brands that are intrinsically Russian can be global and iconic at the same time.
—Your name, Sam, is it a short form of Samantha? But it sounds more like a male, not a female name, doesn't it? Have you had any problems or awkward situations because of that?
—Oh, it is a male name indeed: Sam is derived from Samuel. And I've always got into awkward situations because when people ring me up and ask if they can speak to Sam Stone, when they realize it's me, they say "But you're a woman"…
—I've noticed that your personal logo – featured on both Lak.Project's site and Identica's website –is a silhouette of a pretty lady with long hair and an impressive figure? Isn't it too sexist?
—Oh, it's not my personal logo, it's not a depiction of me, of course. When you look at Identica's website where all the members of the senior team are represented, you'll see we each name and draw our favourite inspirational icon. My favourite icon is Dolly Parton, a country singer, so this image relates to the country music culture.