Skype has set up partnership with Victoria Beckham as its new brand ambassador, tapped to "inspire and empower" users in exploring the service's broad possibilities. The campaign taglined Skype Collaboration Project is targeting younger generation of digital consumers, aged 18–34 through a series of fashion-related episodes that provide an insight into top fashion designers' lives.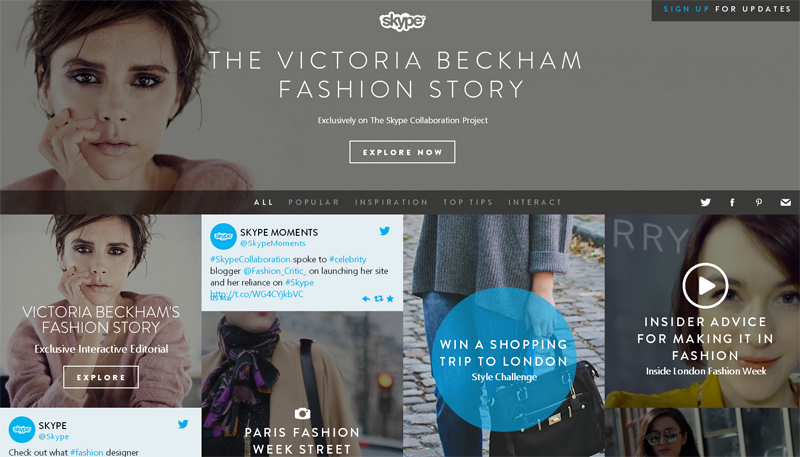 The communication effort, developed by Sunshine, is going to promote the service and show the difference between Microsoft's Skype with its eye-to-eye and conference calls and Google's rival Hangouts. To reach the younger audience, the campaign focuses on "storytelling formats that fit in with the hyper connected digital-enabled generation."
As part of the campaign, they have launched a micro-site with a series of  "Five Years—The Victoria Beckham Fashion Story" videos that explain how Skype has helped Victoria Beckham to manage her fashion business in London, during her trips all across the globe. There're three chapters that detail Victoria's success and illustrate every milestone with videos and photos from the archives.
The site is developed with an interaction in mind—visitors were encouraged to ask Beckham questions using video messages, and now they can read the replies. The dedicated page features fashion related tips and inspirations, trends, the "Take the boyfriend jeans" style challenge that ends in mid-March, and many more.
"What we are not doing is showcasing superfluously the capability of what we do. We've got a combination of Skype as a collaboration and enabling tool and then we use Skype's capability in terms of instant messaging and group video calling and video messaging to engage a global audience and get them actively involved in the story," commented Jackie Lee-Joe, marketing director at Skype, here. "We've got a combination of elements that drive this partnership that might be just a little bit different to what Google Hangouts is doing."