Starbucks teams up with media diva and philanthropist Oprah Winfrey to create a new product with wellbeing and social justice in mind. The Teavana Oprah Chai Tea, developed by Oprah Winfrey and tea experts at Starbucks, will benefit the TV celebrity's Leadership Academy Foundation.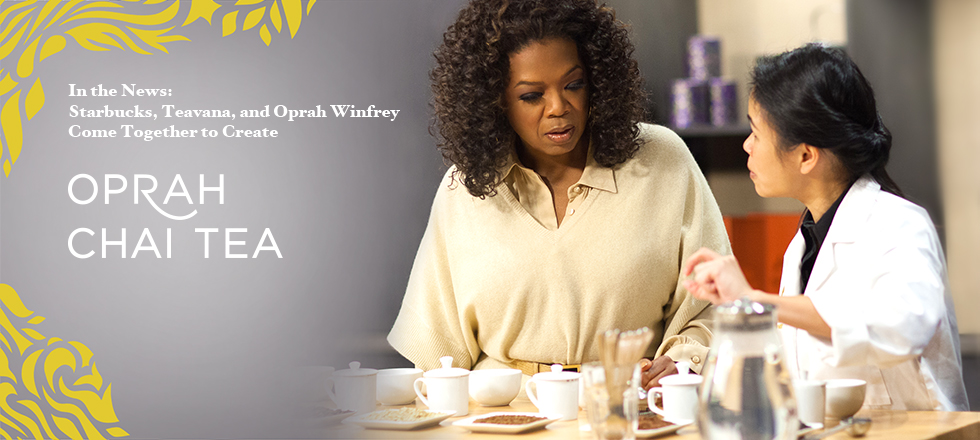 Each time the new tea products are sold, Starbucks will donate a yet unannounced percentage of the profit to the Leadership Academy for Girls to benefit educational opportunities for youth. Recently, Starbucks UK has launched a campaign to support most promising youth leaders in their work to improve communities.
The new Tevana tea blend crafted by Oprah Winfrey and teaologist Naoko Tsunoda features "a bold infusion of cinnamon, ginger, cardamom and cloves, blended with loose-leaf black tea and rooibos," says Starbucks in the press release. The design on the pack will be calm, with vignettes and dominating green gold shade. View the video of the announcement here.
The blend will be available in time for Mother's Day in the U.S. and Canada, which falls on May 11 in 2014, in two formats—handcrafted latte and loose-leaf tea. The brand invites consumers to sign up on the dedicated page to receive the latest news on the availability of Teavana Oprah Chai Tea.
"With the introduction of Teavana Oprah Chai, we are going to elevate the tea experience in the same way we did for coffee," said Howard Schultz, chairman, president and CEO of Starbucks . "Partnering with Oprah Winfrey in the creation of this distinctive and remarkable tea is a strong next step forward in accomplishing this objective, while also giving back in a meaningful way through the Oprah Winfrey Leadership Academy Foundation."