Sharing expertise and knowledge is probably the most effective way to make the world better in the long-term perspective. Tutorials, web lessons, guides and the like have become part of communication strategy of any brand that has a strong philosophy and a desire to make the world better through its tips and inspirations packed into a series of style, cooking, life, interior design, etc. lessons. Find some of the most captivating tutorials released by brands, non-profits, design gurus and more, launched within the past year, below.
Cooking   
On April 22-24, Electrolux hosted a series of 15 live tutorials, "Now You're Cooking," to provide the global audience with an insight into cooking and—which is also important—decorating the meal. The vignettes, which were streamed live, can be now watched online—beautiful videos of 30 min or so are accompanied with a detailed recipe and an illustrated guide on how to cook one of the 15 mouthwatering dishes for breakfast, lunch and dinner.
In fall 2013, UNIQLO released an engaging app to promote its new styles and color schemes through meals. The iPad application, "UNIQLO RECIPE," matches 24 original recipes to 24 outfits created by the brand. The colorway, textures and general look of the dish syncs with the style and colors of the chefs, who are featured in the brand's clothing items. Within the app, the brand reveals step by step description of recipes, crisp and vibrant illustrations, profiles of the cooks, and more.  
The Fish Tales Instagram video series includes episodes of 15 seconds maximum, teaching the international audience how to cook seafood properly. The super short tutorials are hosted by chef and author Bart Van Olphen from Amsterdam, who specializes in northern cuisine where fish is a key ingredient.
Apparel
Hermès has extended its tutorials, the beautiful "Silk Knots" app, with a new feature that allows to learn the scarf-tying techniques together with a friend. Now, the updated instructional package features new traditional vignettes on how to manage scarves in impressive and creative ways plus a collaborative video that can be viewed only when two devices are there. This aims to inspire consumers to watch the vignettes together and test the new skills right away, "using" the friend as a model or showing him or her the result of work immediately, in person. 
For more beauty tutorials, check out our review, «How fashion and beauty brands use digital wisely.»
Behavior
In late 2013, the RATP Group, or Régie Autonome des Transports Parisiens, released a lovely vintage-inspired book that explained the basics of behavior in metro. The "manuel de savoir-vivre," an etiquette guide, lays down 12 rules that should be observed by everyone who gets into a Parisian underground. The helpful tips in French relate to how to behave on the platform and on-board.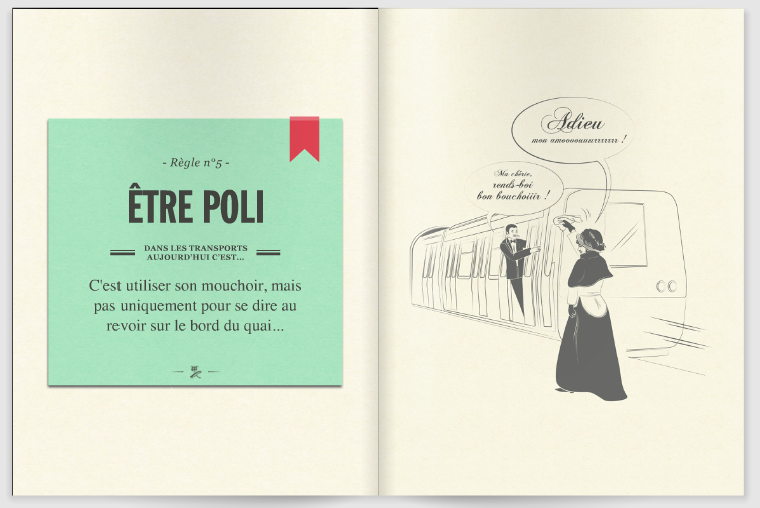 As part of its "Off the Wall" marketing campaign, Vans has launched a series of "How to Do Everything in the World" humorous vignettes starring extravagant Gavin McInnes. In his edgy and brutal manner, the middle-aged man explains how to drink, fight, fly, survive in prison, and pick up chicks. While these rules are designed mostly for men, women might find this information valuable as well.    
Almost a year ago, MTV released a book, "Guy Code: Unleash Your Manhood," that focuses on the rules that young adult males should keep to if they want to embark on "a journey from a shivering loser to a shimmering winner." The book incorporates laws of manhood that were revealed in the MTV2's popular reality comedy series, Guy Code, and provides insights into Manscaping, Bathroom Etiquette, Fighting, Sexting, et al. The edition was released both in print and digital (iPad ,Kindle or Nook).
Ahead of St. Valentine's Day, San Antonio Tourism re-launched its campaign to teach men in the USA some basics of gentleman behavior through a set of lovely illustrations and videos. With this effort, the travel company followed in the footsteps of Hendrick's Gin, Jack Daniel'sand Luksusowa, which had also revealed the code of manly behavior for various occasions.
Communication
Getting on with others may be the toughest thing ever, especially if you don't know the codes of behavior acceptable in another culture, community or professional medium.
Fashion mansion D&G released a gorgeous video, "Learn Italian Hand Gestures with Dolce&Gabbana male models," in which the brand explains the emotional and rather complicated gesture language of passionate Italians. The black-and-white spot teaches how to say "I don't care," "WTF?," "are they together?," "nothing," "to be afraid" and many more, using hands and fingers only.
Gesture language is essential to individuals with hearing impairments, but it might seem quite hard to understand for people who use written or spoken words. Alex Solis created a book, Signs & Doodles, "showcasing the American Sign Language alphabet through a combination of hand spelling, and adorable illustrations." The book features lovely doodles that help people easily remember sign language letters through visual associations. The project was seeking financial support on Kickstarter and was successfully funded after just a month.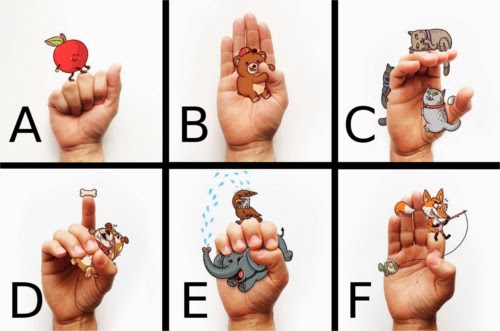 Visual perfection for illustrators and SMMs
In February, Instagram released a squared guidebook, "The Instagram Handbook For Brands," helping businesses inspire and engage their audience. The hardcopy handbook was set to reveal the strategies successful brands use in their work. The company said that this book "isn't broadly available" and posted a series of tips online—so far, the social media brand hasn't shared any open details on where to get this book, so maybe, the «launch of the book» was just a promotional trick.
The Type Connection website allows illustrators and web designers to find a perfect match for popular fonts to make their digital messages, created using more than one font, look beautiful. The online destination, inspired by the idea, voice and stylistics of dating sites, reveals a selection of "potential dates" for the font a user chooses. After the fonts are matched, the site provides an explanation and illustration of how these typographic elements can work together.  While the service doesn't look like a classic tutorial, it lets graphic creatives play with various fonts, discover their features and select the best match for their works.