Campari is continuing its art narration through on-bottle canvases with the latest installment of the Art Labels series. Campari's 2014 limited edition range includes three re-imagined works of Italian futurist painter and designer Fortunato Depero, who is one of the brightest representatives of the Futurist movement. He also designed a bottle for Campari soda in early 30-ies and created several posters to promote Campari.
The three new designs of this year's Depero for Campari series focus on the joy of consuming Campari-based drinks. Each of the labels is inspired by one of Fortunato Depero's works that illustrate the style that dominated in the world of art globally before the Second World War. The new labels are created using rich colors that epitomize the complexity of the drink and its "joie de vivre" philosophy.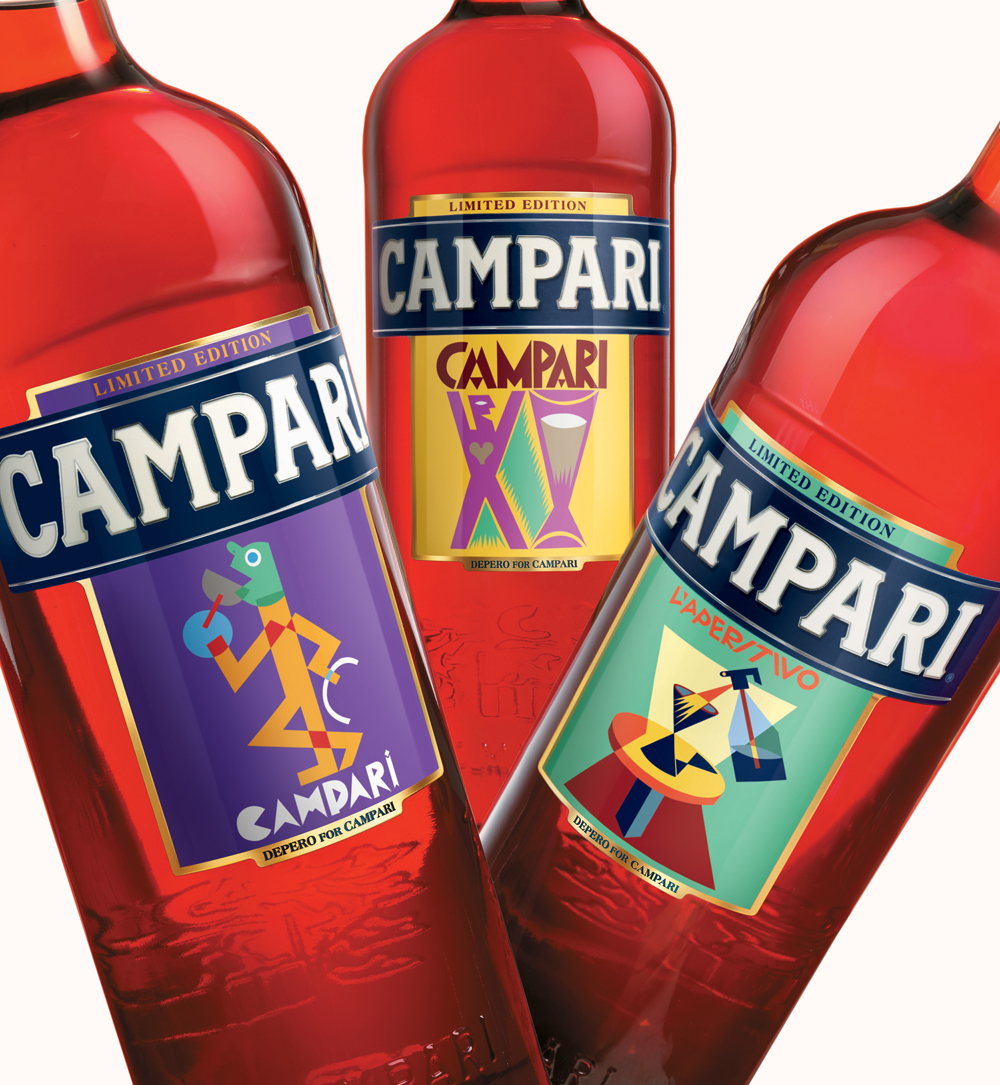 The first label—the yellow one—is based on Depero's a collage created in 1927 using colored pencils. It depicts a man with his arms up and an aperitif glass of Campari of the same height. A big heart is painted on the man's chest—the color of the heart is the same as the color of the liquid in the glass—to highlight the joy of tasting the aperitif. The second label—the green Art Label—was inspired by the black and white ink sketch, made back in 1928, that is centered around mixing a Campari-based cocktail. The third label—the purple one—originally was a collage created in 1928, featuring the signature little man by Depero as he's savoring a Campari.
The bottles of the new Campari Art Labels series will launch in Italy in May 2014, and will also be available across the globe later on. The range of Campari's artistic labels also includes romantic and graphic creations by such artists as Ugo Nespolo, Romero Brittoavaf, Tobias Rehberger, and Vanessa Beecroft contributing to the series since 2010.
"The new Art Labels want to be a tribute to a great artist, Fortunato Depero, who worked extensively with Campari and produced truly unique works of art, connected with the brand by an unbreakable bond. Much of the artist's production is kept at the Galleria Campari collection and is a piece of art history and of the company's communications," commented Andrea Conzonato, Chief Marketing Officer, Gruppo Campari. "The aim is to pay homage to the brand's tradition and celebrate it in a new and original way by reinterpreting an art movement that still today is contemporary and very modern. Thus, Campari wants to present its consumers with a special collection that is a testimony to the strong innovative nature of the brand".