Being a society still driven by consumption, we leave piles of waste behind us. With this, we do want manufacturers to save the humanity from a catastrophe brought by over-consumption and pollution by offering smart solutions that will minimize our negative impact on the environment. Now, bigger and smaller companies have not only to offer us a new product, but also take care about the previous, used ones in order to keep the planet a place to live, not a landfill. Scroll down to see a bunch of the latest initiatives aimed to prove that waste is valuable and it can be reused, recycled or repurposed to create new nice products—at bigger facilities or right at home, using the Precious Plastic open-source recycling machine (see it below).
Apparel
Pharrell Williams has collaborated with Bionic Yarn and the Dutch fashion brand G-Star RAW to launch a new denim line, produced using recycled sea trash including plastic bottles. The collection called Raw for the Oceans will launch internationally in August.
Similar efforts may source material—trash taken out from waterways,—using an innovative vacuum-on-boat that was recently designed by Sir James Dyson, a British inventor and industrial designer, who is behind the Dyson company manufacturing popular vacuum cleaners.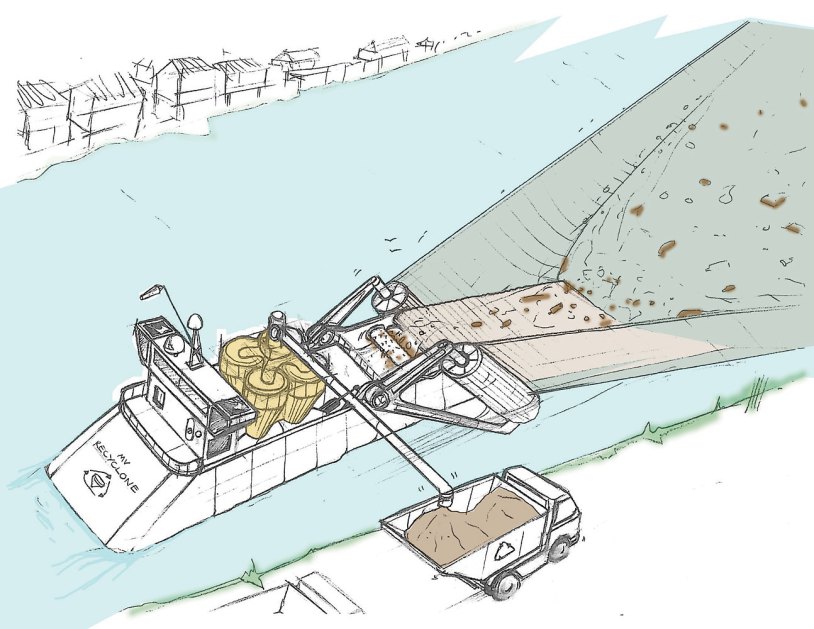 In early January, H&M announced its first-ever denim line crafted using recycled fabrics. The new pieces contain 20% recycled cotton that was collected through the retailer's international garment-recycling initiative, rolling out across 53 markets. The capsule collection was launched in selected stores starting the end of February. On April 10, the retailer released a new Conscious Collection of garments made of recycled fabrics.
The brand is also unveiling a new sustainable label, Clevercare, calling consumers to reduce environmental impact of washing and ironing. The logo will be featured on all of H&M's clothing tags by the end of 2014.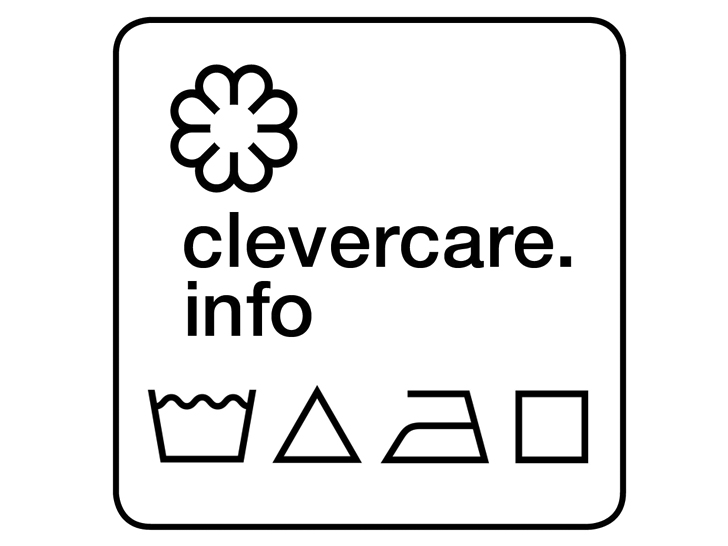 Natural resources
In fact, water, electricity, gas and other energy recourses can be wasted just like materials. Levi's has posted infographics, in which it shared how exactly it maintains sustainable water practices to reduce water waste in making its legendary jeans. The company not only strives to use less water, but also recycles the water it uses in the manufacturing process. "We recently made 100,000 pairs of Levi's women's jeans with 100 percent recycled water. End result: We saved some 12 million liters of this vital resource, enough to fill almost five Olympic-size swimming pools," the brand wrote in February 2014.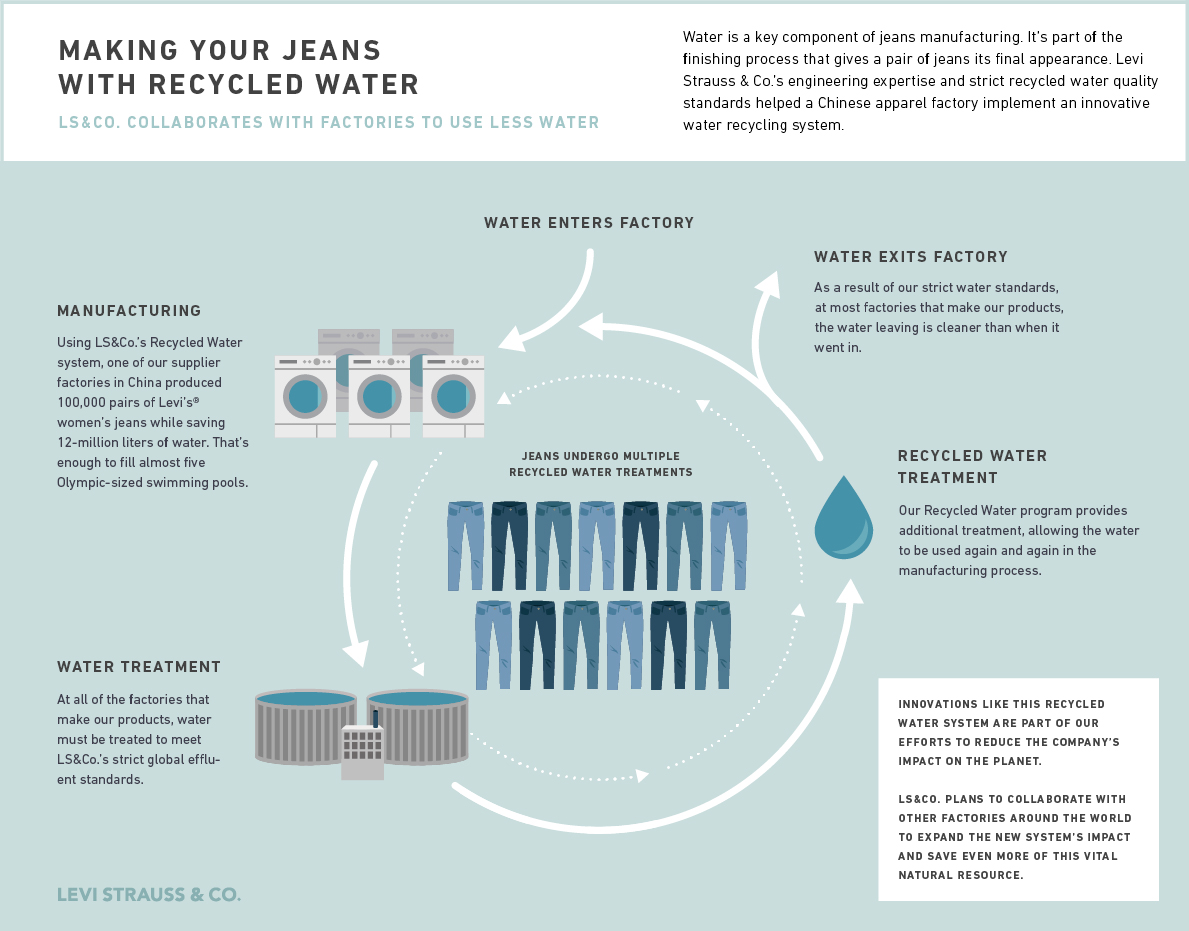 The latest application, LightsOut, visualizes electricity waste across the globe, inspiring consumers to report on examples of unsustainable power use and, of course, save energy in the grid themselves. The app is now in its early stage of development, but it has a big potential. The app allows people to snap a photo of inefficient use of light and upload it (with a brief description) to the special website.
Technology
Apple has rolled out a new program, under which the manufacturer will now recycle any old product consumers give back. Plus it will give a store credits for purchasing a new model for this. The credits are given for products that look re-sellable.  The company has also released a beautiful 1:30 "Better" film to highlight its goals and achievements in the sustainability field. The video appeared on the brand's official site, in the Environment section.
Packaging
One of the biggest contributors to the waste problem is the packaging industry. We use the product delivered in a box, bottle, any other container and then send the packaging to the landfill. How to make people use containers longer or to recycle them? That's the challenge. There're numerous bright efforts launched across the globe by major and smaller brands to address this problem—most of them now focus on treating packaging (or part of it) after the product is consumed rather than reducing the amount of packaging used.
For instance, Clever Cap is a new LEGO-inspired cap for bottles. Thanks to the smart design, the caps turn into little bright blocks that can be used for creating nice handy objects by kids and adults after the bottle is empty.
To tackle the problem of disposable dinnerware, Greek designer has developed a kit that lets anyone cook edible plates. KI•RA and The Edible Tower (Of Containers) comes as a collection of utensils that allows anyone to prepare food and container at the same time, for a picnic. With this kit, one can cook a bread-based box, which easily breaks off into pieces working as miniature plates.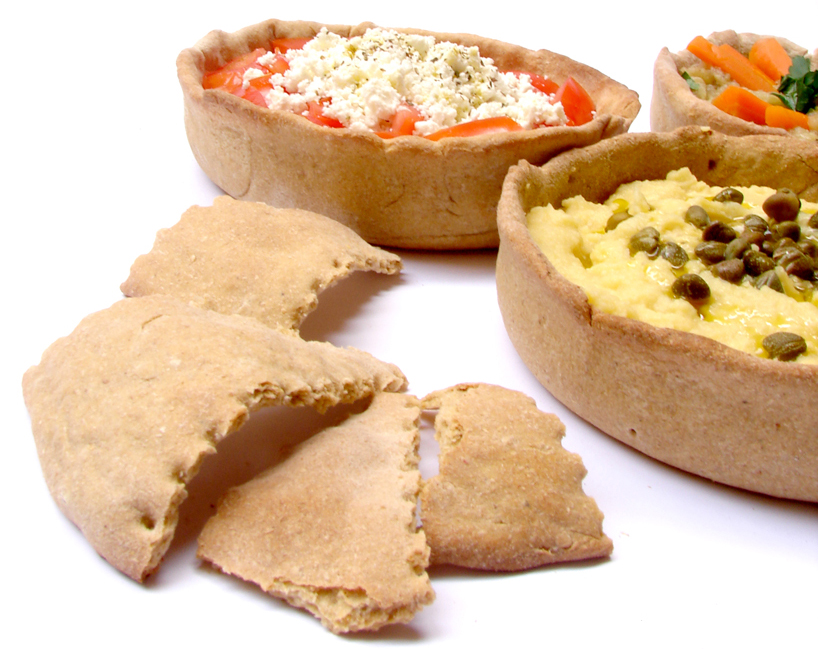 Earlier in spring, non-profit Global Citizen, musician Will.i.am and his "Ekocycle" effort, launched together with Coca-Cola, rolled out an initiative that called the world to live "A Day Without Waste" on April 9. The goal of the effort was to "bring awareness to the permanent, positive changes people can make each day," and also "to inspire and educate people to understand how individual actions can amount to change." On the dedicated page, consumers were asked to commit to a day without waste. In fact, any day can be this day.
Body waste
Now, the idea of turning sewage into fuel surprises no one. But using urine to "feed" on-rood gardens is quite novel. As part of International Water Week, Amsterdam's water corporation, Waternet, installed several temporary urinals in the city to collect urine in November 2013. Later, the company extracted the struvite from the urine, gathered during the active phase of the Green Urine campaign, to fertilize green roofs across the city. The total area of the green roofs planned to be "supported" with human piss was one hectare across the city.