The Alliance for Cancer Research, APREC, has tapped global pop star and breast cancer survivor Kylie Minogue to front a new campaign that puts a song up for auction for a good cause. As part of the "One Note Against Cancer" effort by Publicis Conseil, the non-profit is selling each note from the single, "Crystallize," composed by Kylie Minogue just for the occasion.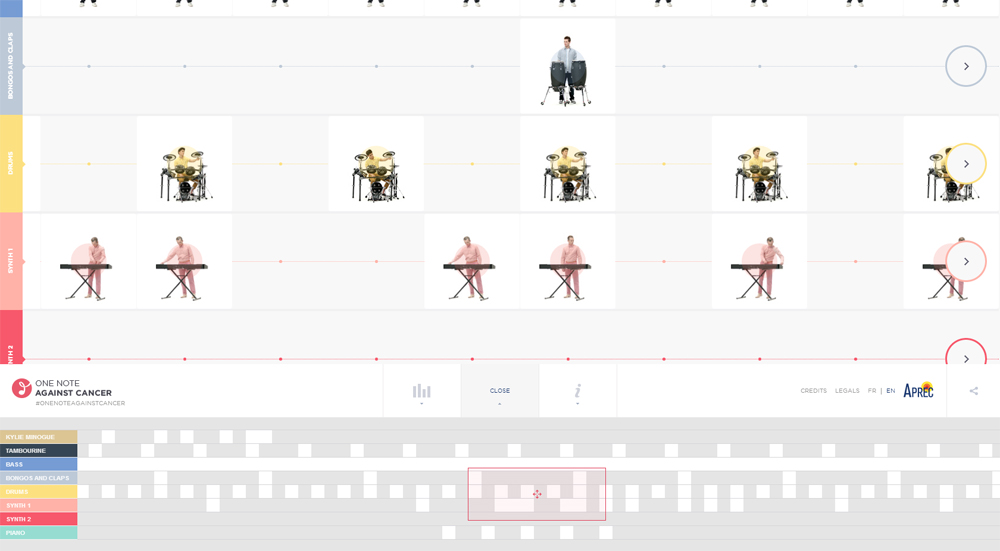 In the launch video, Kylie Minogue is asking the public to support APREC's research against cancer by buying notes from her new single. "They helped me, so let's help them," she says. The track includes 4,408 notes, and each of them can be bought on eBay.
Those who want to own this non-tangible piece, are invited to put in a bid through the dedicated website. The page features all the notes (bass, tambourine, piano, drums and more), and by clicking on each of them a little window pops up—it features basic information like which of the notes this is, the number of the note, the number of bids already made and the instrument it's played with. The total amount of each bid is €1.
Of course, the consumers who win the auction will receive the whole single, not just the note they've paid for. The names of the donators will be featured in the credits of the song's upcoming video, and they will receive the ownership certificate for the note they've purchased.
Raising funds through selling notes is just the first stage of the initiative. Soon, they will be selling the song "Crystallize" and the raised money will be also donated to APREC.