In its previous campaigns, Chipotle focused on its sustainable approach to delivering farmer vegetables, meat and bread to its customers. Now, it adds high quality food for the brain and soul to the healthy physical food.
Chipotle Mexican Grill is rolling out the "Cultivating Thought" effort that sets contemporary thought-leaders, authors and comedians to share their thought using simple medium—restaurant packaging, tapping into an old tradition of capturing creative ideas on paper cups and napkins. For this project, the brand has collaborated with Jonathan Safran Foer, who has become the curator of the series, and other nine influencers from various creative fields.
The brand's new packaging features thought-provoking ideas and cultural issues in the form of brief essays for 2-minute reading, which go along with stunning artwork in the natural coffee-inspired palette. The new packs, which are already available in a range of the chain's restaurants in the USA, will be rolling out nationally in the coming weeks.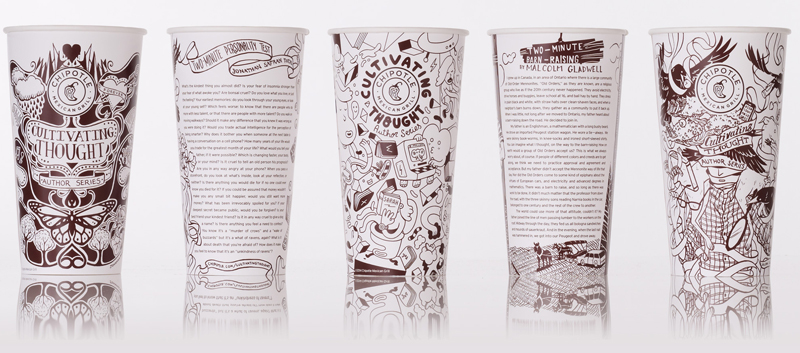 The pool of celebrities, who joined the "Cultivating Thought" project, include Judd Apatow (Golden Globe nominated writer/director/producer), Malcolm Gladwell (New York Times bestselling author, journalist and speaker), Toni Morrison (Pulitzer and Nobel Prize winning author), Sarah Silverman (Emmy-winning actress/comedian), Bill Hader (Emmy-winning comedian/actor/producer), and many more.
For a deeper insight into the project and the authors' approach, consumers are invited to visit a dedicated hub that features interviews with the writers, photos of the packaging and links to the web-pages of artists who illustrated the essays.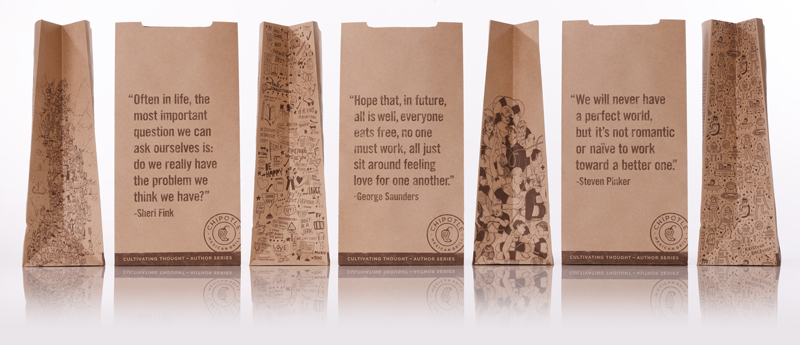 The essays are appearing on a cup or bag in Chipotle's venues, offering consumers an opportunity to eat their burger and seed some philosophical, positive, inspirational thoughts deep in their brain. The text pieces vary in topic and focus, designed to evoke a plethora of feelings and emotions in those who will buy the Chipotle's food in the new packs and spend a few minutes on reading the stories.
«We're hoping this will allow people to connect with the musings of these writers with whom they may or may not be familiar and create a moment of analog pause in a digital world, provoking introspection or inspiration, and maybe a little laughter,» says the brand on the dedicated page.